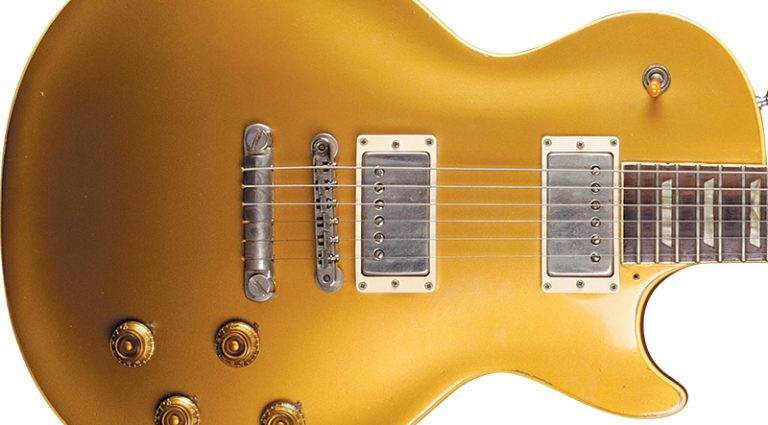 Duane Allman is regarded as one of the greatest talents to ever pick up the guitar, transforming music by crossing the boundaries of rock, soul, blues, country, jazz, and other styles. His all-too-short career encompassed hundreds of recording sessions (many uncredited) for various artists from Wilson Pickett and Aretha Franklin to his own groups (the Hourglass, the Allman Joys, the Allman Brothers Blues Band), and his incredible work on the Derek and the Dominos sessions with Eric Clapton.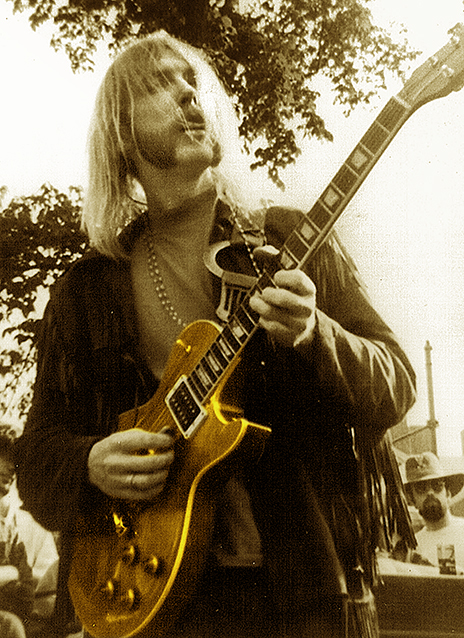 The sessions and subsequent album provided an excellent showcase for a certain 1957 Gibson Les Paul goldtop bearing serial number 7 3312, which its present owner has researched extensively and believes was featured on the bulk of Duane Allman's work, including what is arguably his most important – the Derek and the Dominos' song "Layla."
Scot Lamar, who now owns the guitar, says Allman acquired the goldtop in late 1968 or early '69, very likely from Lipham Music in Gainsville, Florida, which sold many instruments to Duane as well as bandmates Dickey Betts and Berry Oakley.
In September of '69, the Allman Brothers Band was playing the Peabody Auditorium in Daytona Beach with opening act Stone Balloon, whose guitarist, Rick Stine, played a plain-top sunburst '59 Les Paul Standard.
"Duane likes the guitar, so he trades his goldtop, 200 bucks cash, and a 50-watt Marshall head for the 'Burst," recalled Mike Boulware, a former music store manager who specialized in vintage instruments and has helped Lamar trace the history of the guitar.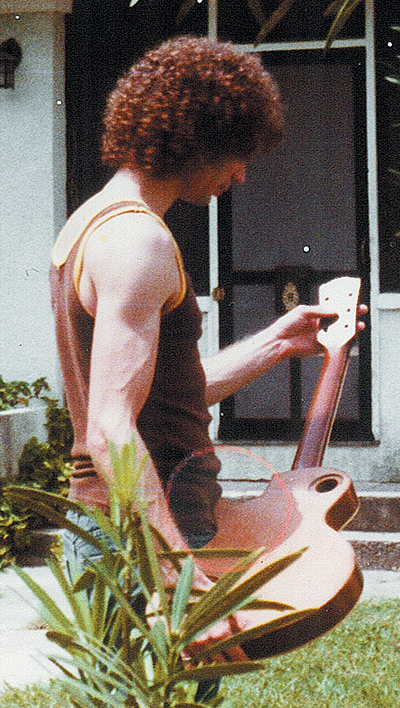 Not wanting to part with the pickups in his goldtop, Allman had one of his roadies put them in the sunburst – a common occurrence at the time, when the word "vintage" wasn't applied to old guitars.
"I saw Duane playing it in a battle of the bands at my high school – Gainesville High – in October of 1969," Boulware noted. "I was on the crew at that show, which was sponsored by Lipham Music."
Stine apparently later sold the guitar locally and somewhere along the line the gold finish was sanded from its top.
Fast forward to 1977 and Coastal Music, a small store in Daytona Beach, where owner Jim Omby takes it in trade. Local player Billy Bowers sees the guitar and calls his friend Scot Lamar, who buys it.
"I had a recording studio," said Lamar. "Billy knew I loved Les Pauls and knew I had the money to buy it."
Later that year, Lamar took the guitar to Gruhn's Guitars, in Nashville, to have the top refinished in gold, and have bit of wood replaced on the back of the headstock where a dog had apparently chewed it. Deciding he didn't like the top as it was, in July of '78 he took the guitar to Tommy Stinson of Strings and Things, in Memphis, hoping to get a more accurate gold applied. Then, in 1997 – when the art of guitar refinishing was far more refined – Lamar enlisted Tom Murphy at Gibson's Historic Division.
"He refinished the entire guitar, and did his famous 'historic' treatment to it," said Boulware. "He finally got the gold right."
In trying to establish credibility, any guitar that comes with a story like this one faces serious hurdles. And of course that isn't aided by the fact that nobody who hung around with the Allmans could have known 30 years ago that someday such details would matter. But Lamar says proof that this is in fact Duane's goldtop lies in photos of the headstock showing the old serial number. There is also video of Allman playing this guitar, shot from early 1969 and until the Layla sessions. The Tom Dowd documentary The Language of Music lends insight about Duane as a player, the Allman Brothers in general, and the goldtop specifically, as it is, in the words of Boulware, "easily recognized" in the video by a particular pattern in the pearl inlay at the 15th fret.

"I encountered the guitar again while working at Sabine Music in the late '80s," Boulware noted. "Scot brought it in for me and Charlie Hargrett to authenticate. Charlie, who was a founding member of Blackfoot and had shared the stage with Duane and the guitar, was working at Sabine after leaving Blackfoot for a while. And in 2001 I went to Scot's to inspect and further document it, and became convinced this was the guitar from 'Layla'.
"In my research, I compared all the inlays to find they all are a match for the known photos of Duane playing the guitar," he added. "And they are perfectly visible in many video clips, such as those shot at the Love Valley Festival that followed the second Atlanta Pop Festival."
Prior to obtaining this guitar, Allman played slide on sessions with Clarence Carter and others, but the development of the band coincided with his slide tone emerging as its own voice. Not coincidentally, that paralleled the September '69 trade for the goldtop.
Determining which ABB songs Duane used the goldtop to record is made difficult by the fact that those who were present remember different things. Personal memories of ABB concerts play a role, as do studio logs. And Boulware acknowledges that both can be suspect. "For instance, the Layla log shows overdubs were done in October, 1970, when the Brothers were actually back on the road," he said. "And Dominos keyboardist Bobby Whitlock recalls that 'Layla' was done before Duane left. He also has rendered a heartfelt note saying this was the main instrument Duane used in this period, and was very adamant about it being the guitar on 'Layla.'"
Studio logs confirm there are two sets of Live at Fillmore East recordings, he adds. "One, in February, 1970 (from the Grateful Dead's board), and the better-known version from March of '71, made after Duane sold the goldtop. It's heard on the first set of Fillmore records, as well as the first Allman Brothers album, Idlewild South, and the Layla sessions."
Considering the length of the time it was owned by Allman, as well as the classic recordings it helped to make, Lamar and Boulware believe this is the most important guitar in Allman history.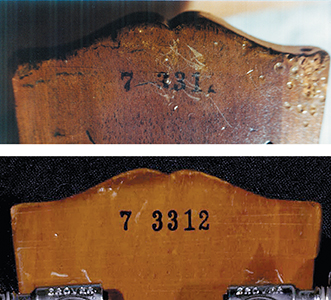 "Its tone, for me, represents the apex of rock, especially as it was used on 'Layla,' alongside Clapton's famous Stratocaster tone," Boulware said. "Not only was this the most important of his many guitars, it helped shape his trademark slide sound.
"We're all different people because we heard Duane," he added. "He did his most eloquent talking with his mouth closed and his ears and heart open."
Lamar regularly lends the guitar to players for public performances, recording sessions, etc. "To me it's a piece of fine art, like a painting or a sculpture, with the added bonus of sounding like God calling your name," he said.
---
Special thanks to Charlie Hargrett for background and research. An original member of Blackfoot, he shared the stage with Duane and the '57 goldtop more than once. Thanks also to Billy Bowers. Learn more about the guitar at duaneallmansgoldtop.com.
---
This article originally appeared in VG November 2008 issue. All copyrights are by the author and Vintage Guitar magazine. Unauthorized replication or use is strictly prohibited.
---
Dig into VG's vast article archive!
Be notified when the next "Overdrive" and other great offers from VG become available! Simply submit this form.