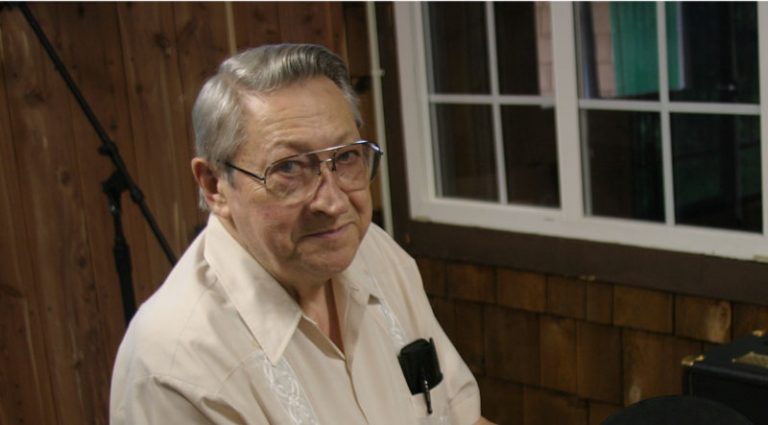 As the world marks the 50th Anniversary of the recording of "That's Alright Mama," one can't help but wonder what life would be like today if Scotty Moore had told Sam Phillips he didn't think much of Elvis Presley during their fateful audition. Who would have become the King of rock and roll?
Moore recently re-recorded 14 Elvis songs with original bandmates Millie Kirkam and D.J Fontana. Moore engineered the project,and lent his signature guitar tones to several tunes. Recovering from a subdural hematoma, remembering the old songs and licks has proven a challenge. But he is coming along well.
Moore still has the original Ray Butts amp (the third one made), with the cabinet stamped # 8. He remembers doing a show circa 1957 where the amp fell off the stage. He sent it back to Butts, who replaced the cabinet with one bearing the later number.
Moore also has Elvis' original record collection – many of the first records Elvis bought, including 78s of Big Mama Thorton's "Hound Dog," as well as "Baby Let's Play House" by Arthur Gunter, and other songs Elvis covered sometime during his career. Elvis gave Moore these records in the late 1960s, asking him to put them to tape.
July 5, 2004, marked the 50th anniversary of Elvis' first recording, "That's Alright Mama," and Moore was part of a celebration that saw him push a button that started the song playing for worldwide simulcast.
Vintage Guitar: Talk about working with Alvin Lee.
Scotty Moore: It went very well. We cut the tracks in my home studio, with D.J. Fontana, and Pete Pritchard on bass. Pete is touring with Alvin this summer. I overdubbed a couple of songs and added a few licks. But mostly I just sat and listened.
Could you give us an update on your health?
Well, the doctors claim I bumped my head sometime in the past [and it started bleeding] between the sack and the brain. It put pressure on my brain and messed up my playing and speech. It'll take three to six months to get it back completely.
Speaking of bad timing, how about the 50th Anniversary Party at Gibson in your honor?
[It was] the night I was operated on, so I didn't get to attend. All reports are that it went real good.
In 2000 you were inducted into the Rock and Roll Hall of Fame. Did that catch you offguard?
Yeah, I'm still kind of torn, because it's a political thing. I've always felt bad, because all of us – Bill Black, D.J. Fontana, and I – should've gone in the same time Elvis did because we were a group, not just side men.
Patsy Anderson at Graceland was probably responsible for getting me in. I know she was working on the whole group, but I've got a trophy and a jacket. If anybody wants to buy it, I'll talk to 'em (laughs). So that gives you my impression of it.
2004 is the 50th anniversary of rock and roll. Any events you'll be part of?
Yeah, there is an event in Memphis where Bill Black, D.J., and I will be inducted into the N.A.R.A.S. Hall of Fame (the Memphis Music Heroes Awards).
Other guitarists will be inducted, as well…
Right, Ike Turner and Gatemouth Brown. And there's a lot of controversy regarding the first rock and roll song. I'm not going to argue the point but a lot of people think "Rocket 88" was the first, and there's a few others, "Rock Around the Clock" was a little before us.
I can't explain it other than maybe Elvis was so different that he got a little more recognition. And I have to say, we didn't get along, but he had one hell of a manager (laughs)!
Back then, recording capabilities were a lot different. Were you using two tracks?
Oh, no. One track! When you got through, you were done.
So not many overdubs, huh?
No, you could overdub, but you had to transfer from one machine to another and, of course, you would lose some quality that way.
Elvis doubled his voice on one of the real early ones.
We did so many things. I remember "Shake, Rattle, and Roll." Elvis recorded it and wanted to put voices on it, so D.J., Bill, and I, and Elvis overdubbed the voices. That was the only [singing] I ever attempted.
People may not reazlie who else you've engineered.
There were many. I did a bunch of demos for Dolly Parton when she was starting out.
Carol Burnett?
Yeah. I did a lot of network TV stuff. They would have several artists on those things.
You have a new website, scottymoore.net?
Yeah, I've seen it. Jim Roy from Boston is heading that up. Gail Pollock feeds him the information.
You have a few new instruments.
It's kind of funny. When I quit playing for 24 years and I had only one guitar, I sold it and I kept the amplifier – the original Ray Butts echo amp. When I started playing again, I bought one guitar, and now I've got about a half-dozen. Gibson gave me two L-5s. One is their new L-5, the body's a lot thinner, but it's real comfortable.
Didn't they also give you a Tal Farlow?
A Tal Farlow model, right.
Isn't he one of your favorite players?
He sure is. I've always loved jazz. I can't play it, but I really love it. I like the old style. Some of the new stuff, I don't consider it jazz.
What are your plans?
Well, I haven't got all my playing ability back and there is still some pain in my right hand. But I can play rhythm real good, I just can't remember a lot of the notes. But it's coming back slowly, so hopefully in a month or so I'll be back to normal. Good Lord willing, as long as I'm able to get up and go, I love to play.
---
Photos courtesy of Kevin Woods and James Roy.
This article originally appeared in VG's Oct. '04 issue. All copyrights are by the author and Vintage Guitar magazine. Unauthorized replication or use is strictly prohibited.