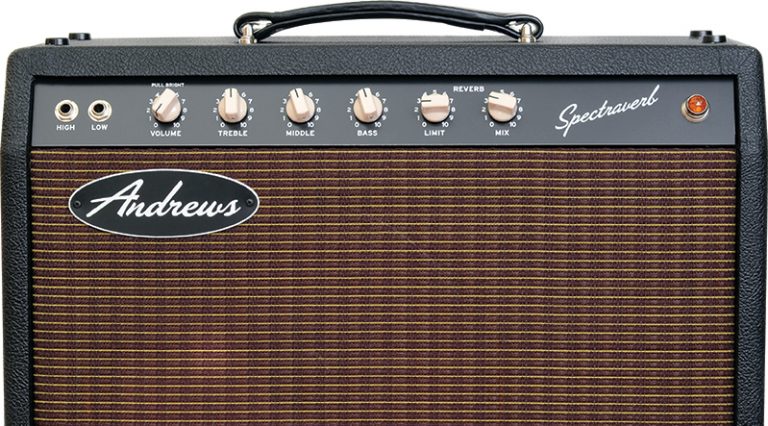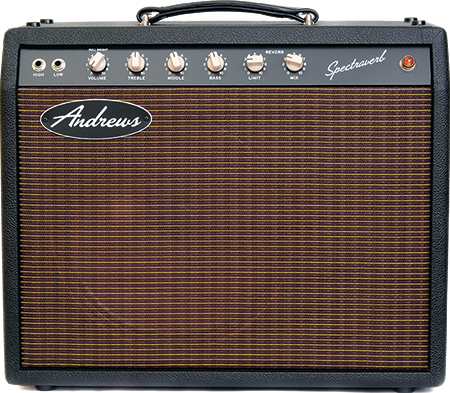 Taking inspiration from Fender's classic AB763 Deluxe Reverb, the hand-wired Andrews Spectraverb 16 uses a pair of JJ 6V6 power tubes (producing 16 watts), a GZ34 rectifier, two 12AX7 and two 12AT7 preamp tubes, a beefed-up output transformer with 4-, 8-, and 16-ohm outputs, glass-epoxy turret boards, and a tube-driven spring reverb with limiter circuit – all coupled to a Guitar Warehouse G12C/S 12″ ceramic-magnet speaker.
Aesthetically, the Spectraverb 16 has a Princeton vibe, with its mid-sized Tolex-covered pine cab, birch-ply baffle, leather-stitched handle, oxblood/old grillecloth and A/DA Flanger-style knobs on a black panel. 
Run with a late-model Strat and late-model ES-335, the amp delivered an abundance of classic blackface tone, with chiming highs, smooth/slightly pulled-back mids, and a tight, rounded low-end. The tone controls are well-voiced and interact nicely with one another. It didn't take much fiddling to dial in a very usable sound, and the Pull Bright control did a great job of adding sizzle to the 335's humbuckers.
Ask the Spectraverb for more volume, and harmonics and overtones increasingly enter the mix, along with a light, bluesy overdrive. For more-serious crunch, an Ibanez TS9 meshed very well, producing a rich, saturated overdrive. The spring reverb also recalled a classic blackface tone – clean and wet with a slightly darker dwell that didn't wash out the amp's tone even when it was dialed in heavy.
The Spectraverb's Reverb Limiter did just what Andrews claims it does, making the reverb much more pedal-friendly and allowing the player to drive the front end (and the reverb circuit) harder with an overdrive or boost pedal while not washing out or drenching the tone in reverb. We achieved a wet, lush, and clean sound with the Tube Screamer off and a wet (but not drenched) crunch tone with it on. The Limiter circuit did not squash the amp's tone, but affected only the signal going to the reverb circuit.  
Stylish and functional, the Andrews Spectraverb 16 is not just another blackface clone – it's an updated, upgraded circuit with its own vibe and a more-refined sound that still offers that familiar 1960s "California" tone.
---
This article originally appeared in VG November 2016 issue. All copyrights are by the author and Vintage Guitar magazine. Unauthorized replication or use is strictly prohibited.