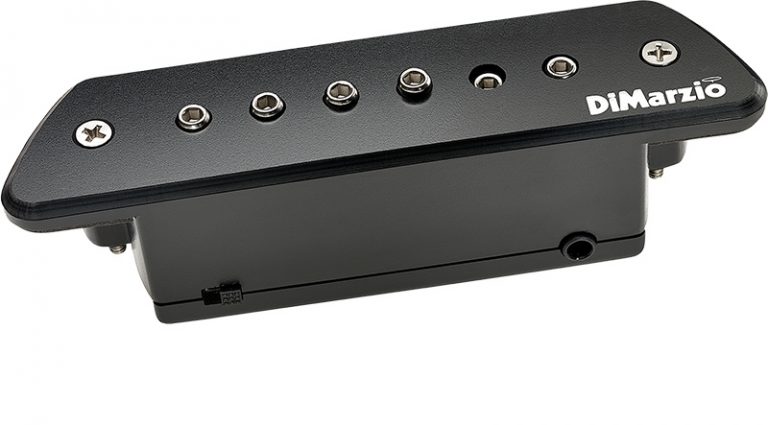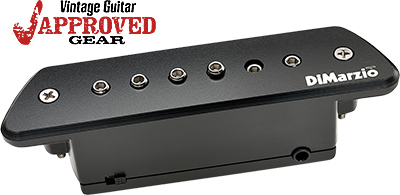 Back in the old days, adding a pickup to an acoustic guitar was a major operation that required a luthier's services. There was one exception, however – the spring-loaded magnetic pickup from DeArmond. It was easy to install and very effective at making an acoustic sound more like an electric.
DiMarzio's new sound-hole mounted pickup, the DP234 Black Angel, is reminiscent of that old DeArmond insomuch as it, too, is easy to install and uses a magnetic type of design. Unlike the old DeArmond, though, it can sound more like your acoustic.
The Black Angel ships with two cables. Both plug into a small hole in the body of the pickup. One is terminated in a Switchcraft end-pin jack (for semi-permanent installation), the other has a 10-foot cable terminated in a male 1/4″ jack. No soldering is needed to install either. Installation using the 10-foot cable and a Composite Acoustics dreadnought took less than five minutes and required only the tightening of two Phillips-head screws until the built-in sound-hole clamp was snug.
Once installed, the Black Angel performed well. It's quiet, and seemed immune to hum-generating fluorescent lights. All pickup types have their own variations from neutrality. A magnetic design like this which depends on picking up strings' motion rather than the instrument's vibrations, and tends to have a sound associated more with an electric guitar. That said, it does an excellent job of letting as much of the guitar's intrinsic sound come through as any magnetic pickup. For guitarists who want to use it with a stand-mounted mic, there's even a phase switch.
Unlike the DeArmond pickup of yore, which had a big 'ol Volume dial on it, the Black Angel needs to be tethered to some kind of external volume control, be it a footswitch or DI box with a knob. But, you'll never find yourself with a dead battery because it uses no batteries.
Any guitarist who usually plays an acoustic onstage could use the Black Angel for that occasional situation when going with pickup directly into a DI is the best option. No, it won't sound exactly like your guitar does, acoustically, but it will deliver a clean, dynamically responsive output that will let your guitar be heard in any situation – and it installs in minutes. That's pretty heavenly.
---
This article originally appeared in VG December 2015 issue. All copyrights are by the author and Vintage Guitar magazine. Unauthorized replication or use is strictly prohibited.
---