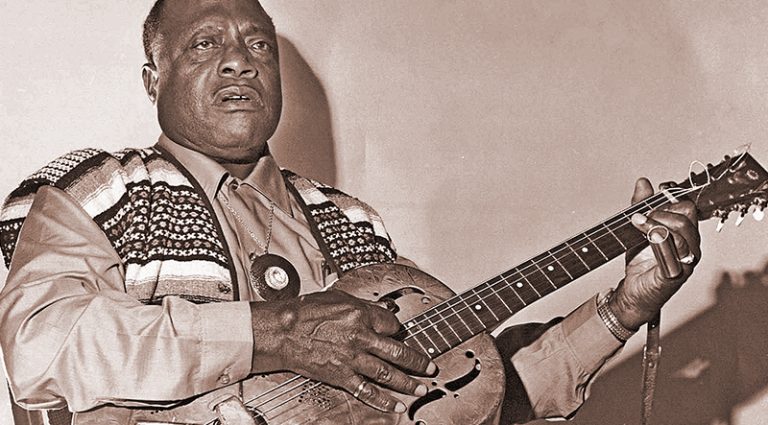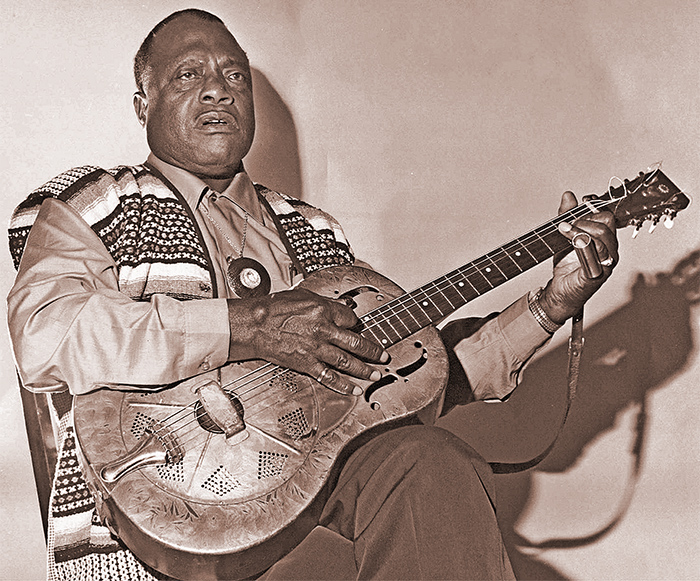 "Hard Rock." That's the name used by Mississippi blues man Booker White to christen his 1933 National Duolian. And Hard Rock was a hard-traveled guitar – much like White himself.
Booker Talifiero Washington White had many a nickname too, a testament to his years as a cotton picker, mule driver, hobo, Negro League shortstop/pitcher, boxer, preacher, chain-gang convict, factory laborer, and yes, musician. He was known as "Washington White, the Singing Preacher" on his 1930 Victor sides; "Barrelhouse" in honor of his recording fame when his second session in '37 yielded a hit (while he himself was imprisoned in Parchman Farm, the Mississippi State Penitentiary, for gunning down a man); "Big Daddy" to his white blues fans during the folk-blues revival thanks to his '73 LP; and "Bukka White" a transliteration of the first name that he reportedly never liked but became the best-known.

Together, White and Hard Rock were the quintessential Mississippi blues combo on the revival scene in the '60s and '70s, from college shows and blues festivals to the Avalon Ballroom and Fillmore halls, opening for the rock bands influenced by his music. In hindsight, White's use of Hard Rock – along with Son House's playing a Style O at the same time – may have been the most visible use of a National and one of the main inspiration for the broad fascination today with National resonator guitars, from John Hammond, Jr. to Johnny Winter to Mark Knopfler and beyond.
White's playing itself was equally influential. If you believed his braggadocio, he inspired House's slide playing: "Son House got that slide from me," White once said. "He wasn't using no slide when I run up on him. He wasn't using even the bottleneck, too. And after, the next time I'd see him, he had a bottleneck. And so he's been bottlenecking ever since."
In fact, White's slide work was so daunting it prompted his cousin, B.B. King, to give up trying to play with a bottleneck. "I could never, ever play slide guitar like Booker," King said – which is one reason he developed his own, totally different style and his famed butterfly vibrato technique to mimic the sustain of White's slide.
Peter Daniels' recent biography of White and Hard Rock, The Legend of Booker's Guitar, shares several epic stories.
Poor Boy Long Way From Home
White was born sometime between 1900 and 1906 – he himself wasn't certain – near the crossroads community of Sparta, Mississippi, far from the Delta and closer to Tupelo. Named for African America hero and Black-rights orator Booker T. Washington, White later said he "was born with music in me" and he spread the story of his life in song, much like his namesake.
When he was just a child, he launched his musical career, playing fiddle at square dances alongside his father, John White. At the age of 9, he was given a guitar, and suddenly life as a plantation cotton picker lost any charm as he devoted himself to music. Throughout his teens, he worked in the fields, moving to the Delta for more jobs and better pay.
"The foundation of the blues is from the Mississippi Delta," White later said. "It started right behind one of them mules or one of them log houses, one of them log camps or the levee camp."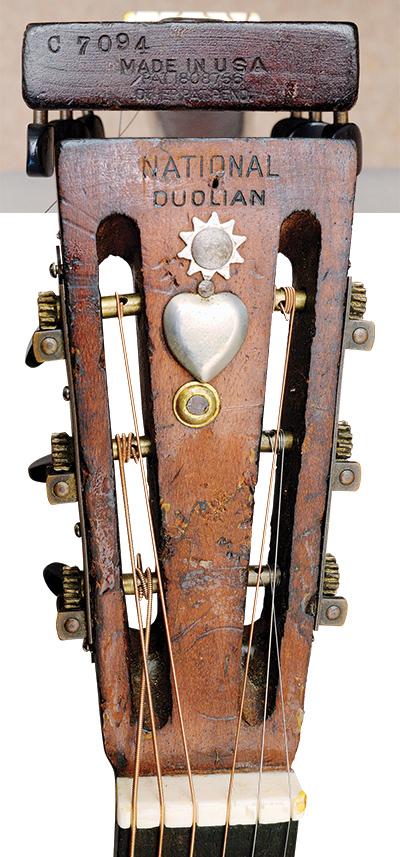 He lived first around Grenada and later on the Dockery Plantation near Cleveland, which was pioneering blues man Charlie Patton's home base.
Patton became White's model and mentor. White watched him perform at Dockery and around Clarksdale, learning his songs and studying his showmanship – singing and showing off as he played, picking the guitar behind his head, even dancing on the back of the guitar, White remembered.
White's first good guitar was a Stella, the pride of many a Delta blues man, which he received as a wedding gift from his father. He roamed far and wide, living for spells in St. Louis and traveling throughout Mississippi and the Midwest playing roadhouses, poolrooms, and street corners wherever there was spare change to be had.
He first recorded in Memphis on May 26, 1930, for Victor Records thanks to Ralph Peer, the producer who discovered Jimmie Rodgers and the Carter Family for Victor in '27. Realizing there was talent to be found, Peer hired a network of scouts throughout the South, including Ralph Lembo, who owned a furniture Store in Itta Bena, Mississippi. Lembo paid White $240 and gave him a new guitar for cutting a quartet of songs, including his fast-talking "The Panama Limited" train song and rollicking gospel tune "I Am In The Heavenly Way."
During the Depression, though, there weren't many other recording opportunities, so White moved on. He played ball for the Birmingham Black Barons, where he bragged that he had a special pitch called the Hudson that he used to beat the legendary Satchel Paige.
He later landed in Chicago, where, thanks to Big Bill Broonzy, he got the chance in '37 to record again, this time for pioneering blues producer Lester Melrose at the American Recording Corporation. Among other tunes, White cut "Shake 'Em On Down," which would become a humble hit. White had to enjoy his success while in Parchman Farm for murder.
The state pen provided White with experiences that he shaped into songs. "I know that was a good place to study music," he later recalled. "I was writing songs and sticking them in a crack somewhere until I got out."
His prison band performed for the state governor, then for musicologist John Lomax on May 23, 1939, where White cut his "Po' Boy" playing guitar lap style with a slide. Based on these performances, he was soon granted a pardon by the new governor.
Free at last, White headed back to Chicago and Melrose, who recorded him again at ARC in '40, playing songs inspired by his days in prison, including "Parchman Farm Blues," "When Can I Change My Clothes," and "Fixin' To Die Blues" (later covered on Bob Dylan's debut LP). It was to be White's last recording session for several decades, as he returned to Mississippi, and later Memphis, where he settled in to factory work during and after the war.
White's career was famously resurrected in '63 when a postcard from blues fans John Fahey and Ed Denson addressed to "Booker T. Washington White, Negro Blues Recording Artist of the 1930s & 40s, c/o General Delivery, Aberdeen, Mississippi" made its way to him. The duo recorded White for their Takoma Records label and set him up to play the coffee shops and folk festivals of the blues revival alongside House, Skip James, and others until White's death in '77.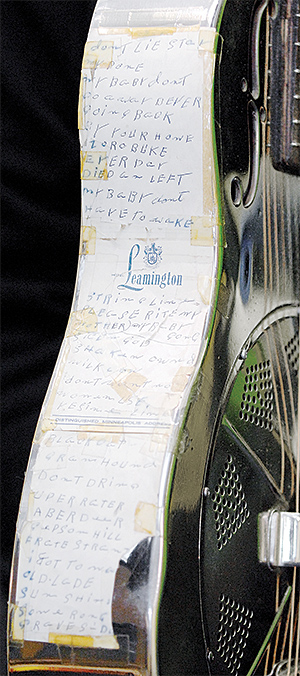 Scratched and Scarred
When and where during his wandering life White got his hands on Hard Rock is not known. His sides of the '30s and '40s sound as though they were recorded on regular acoustic guitars – he always professed a love for Stellas – and it wasn't until his '60s and '70s LPs that he's obviously picking a National.
Still, B.B. King remembered White having Hard Rock in Memphis back in the day. As White recalled, "I been having them [Nationals] ever since they started makin' them. I first see one in'39. Every time I get rid of one I'd get another one, step up you know." He likely got Hard Rock in Memphis in the '40s, and he played and beat on the guitar for at least three decades.
Hard Rock, serial number C7094, was one of the transitional-model Duolians likely built in 1933. It boasted the larger body with the 12-fret-to-the-fingerboard neck before the arrival of the smaller 14-fret version around '34. And whereas the early large-body Duolians had flat f holes, the rarer transitional models had rolled-in f holes similar to what became the norm on the smaller guitars.
Hard Rock began with a crystalline-gray "frosted Duco" finish. Along the way, White added a heart-shaped charm and a sun (or star) talisman to the headstock.
But with the wear and tear of hopping freight trains and being toted to thousands of juke joints from Mississippi to St. Louis, Chicago to New York City, the Duolian became scratched and scarred. White finally had the original finish removed in '72 and Hard Rock was chrome plated to shine like new.
The Duolian proved ideal for his propulsive playing. Few guitarists picked harder than White, who got percussive rhythms from the steel body, screaming slide lines from the strings.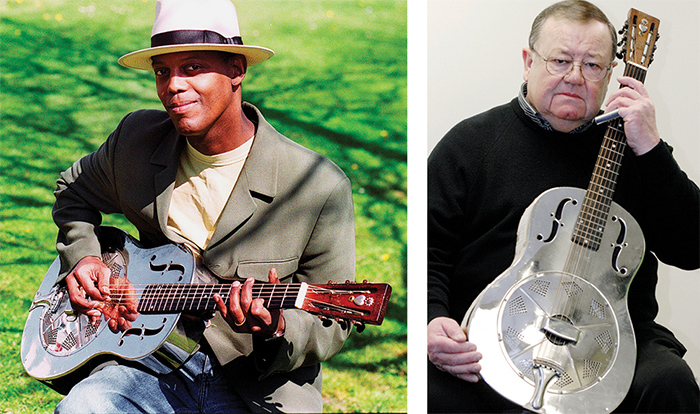 "It is loud – I don't need no mic – and also I play so rough," he once explained. "I would have busted many guitars, but this one can stand rain and punishment. I stomp them, I don't peddle them."
By the mid '70s, Hard Rock was so worn out and fragile that White had to re-learn some of his old songs in lower tunings that didn't exert so much pressure on the infamously bendable neck. Around the same time, he found another National – a Style O he named "Lovene." He played it until his death.
Hard Rock might have ended up in a pawn shop or worse if it wasn't for an acquaintance made by White – English photographer Keith Perry, whom he met during a tour of Great Britain. The two shared music, photos, and letters, and became long-term friends.
In later years, Perry wrote to White, "If you ever hear of a guitar similar to yours up for sale in the States, I'd be very interested to know about it." About a year before White died, he wrote back, "Well, you've been good to me. You've sent tapes and photographs over to me. If you send me the cost of postage and packing, I'll give you my old guitar."
Eventually, the gift arrived. "Booker had sent it the way it was – the way he had played it in concert," Perry remembered. "He included everything – the strap was still on there, the bottleneck slide was inside, and even an iron bar he used when performing lap style. Everything was just the way he'd left it – there was even an airline tag bearing his name still attached from his last trip with the guitar."
At first, Perry was reluctant to touch the Duolian, but he soon decided Hard Rock was meant to be used. He shared it around, and has photos of it being played by Knopfler, AC/DC's Brian Johnson, skiffle hero Lonnie Donegan, Dave Stewart, Derek Trucks, Bill Wyman, Don McLean, and others.
In 2010, blues man Eric Bibb wrote "Booker's Guitar" about Hard Rock, and it became the title track to his 2010 CD of the same name. The chorus paid homage to the guitar's legacy:
Booker's guitar's got a story to tell
Of hard-earned hope and unshed tears
Booker's guitar rings like a bell
It's gonna keep on ringin' for a thousand years
---
Thanks to Keith Perry and Peter Daniels.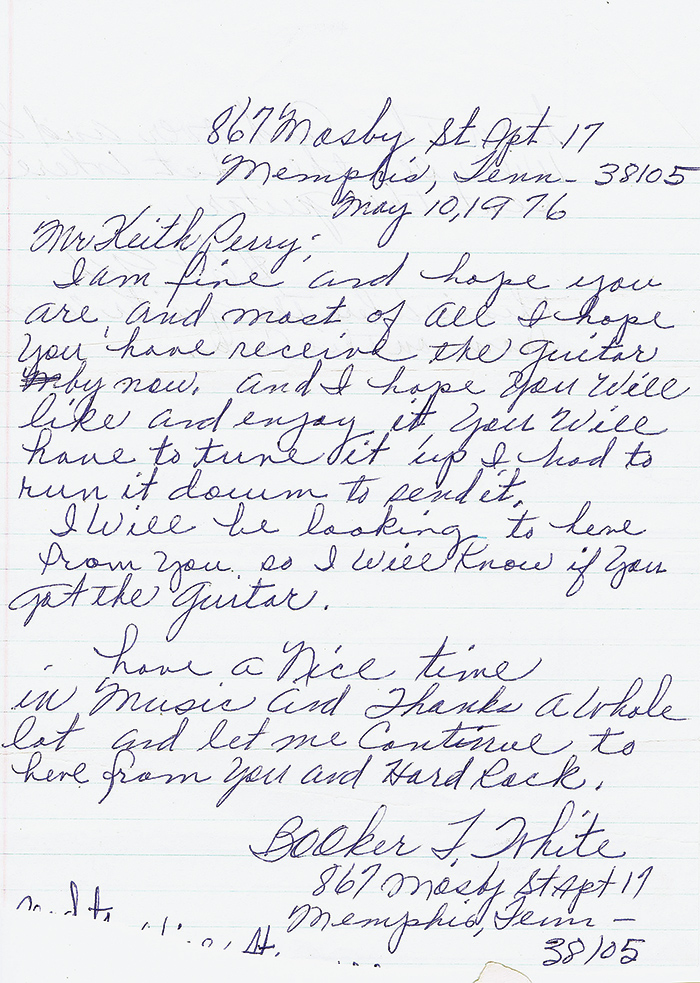 ---
This article originally appeared in VG September 2016 issue. All copyrights are by the author and Vintage Guitar magazine. Unauthorized replication or use is strictly prohibited.
---