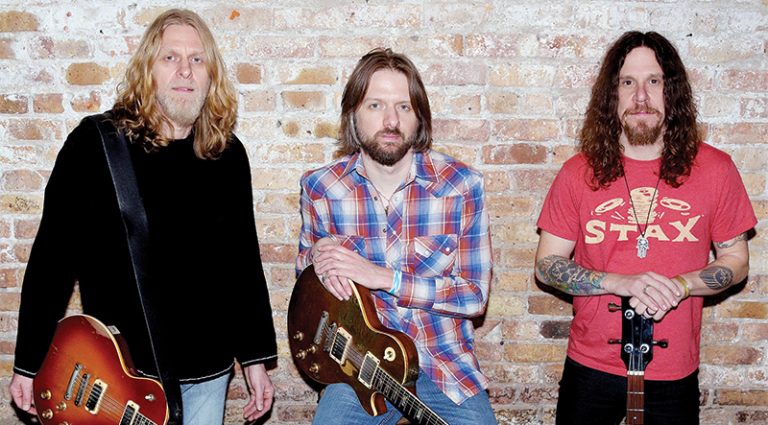 The Steepwater Band, based in Chicago, has been a trio for most of its career, purveying guitar-based Americana. Guitarist Jeff Massey, bassist Tod Bowers, and drummer Joseph Winters recently added guitarist Eric Saylors, and the change has worked well.
"Eric was playing in an Indianapolis-based band called the Healing Sixes, and on occasion we would perform shows together in the Midwest," said Masse. "Usually, when we shared the bill the night would end with a jam. We realized very quickly that Eric had taken the time to learn a lot of our songs."
"I was a huge fan of the band before I had any idea I would end up with these guys," Saylors concurred. "(It's) always great to meet new cats that inspire you to learn their tunes. When asked to sit in, I always wanted to play Steepwater tunes."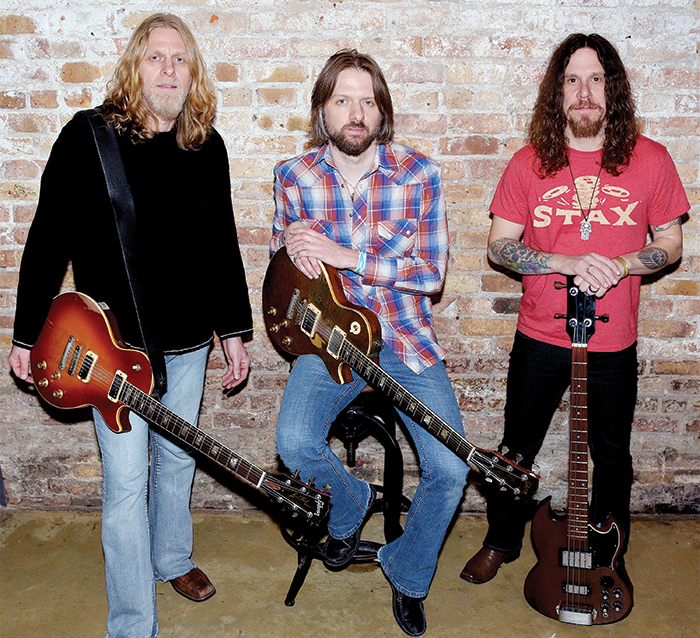 The band's sixth studio album, Shake Your Faith, was recorded in Cleveland and produced by Jim Wirt, who has also worked with Incubus and Fiona Apple.
"We didn't have a big budget," said Bowers. "We had 12 days to record and mix. That didn't leave much time for second guessing. But Jim allowed us to be spontaneous in the studio and let the songs come to us."
The players brought plenty of guitars and basses to the sessions – Massey used a Gibson '57 Historic Gold Top, a '65 Gibson Firebird, an '09 Fender Custom Shop '57 Relic Strat and an '03 Gibson SG.
Saylors' instruments included a '70 Gibson Les Paul goldtop – "a routed Deluxe with T-Top pickups robbed from my '69 SG" – a '72 Les Paul Deluxe with original mini-humbuckers, a '72 Telecaster, '74 Gibson ES-335, and a Tonemaster lap steel. Acoustics included a '73 Mossman guitar and a '68 Gibson mandolin. 
Bowers' bass lineup consisted of a Fender '57 reissue Precision, a Gibson Grabber 3 reissue, an Italia Mondial, a Höfner Icon violin bass, a '96 Epiphone Jack Casady Signature, and a '69 Gibson EB-2 borrowed from a friend. He also used a mid-'70s Fender Jazz owned by Wirt.
While the album title and the lyrics to many of the songs might lend the perception that it's "message" material or faith-based, Massey begs to differ.
"I could see that, but when I write lyrics, my goal isn't to be preachy or religious," he detailed. "I'm definitely not attempting to come across as defending a specific religion. I see faith as a belief in having some kind of purpose in life and trusting we are all here for a reason."
Steepwater has never been shy about its use of effects, and here they follow their practice of keeping them subtle; the most obvious are Uni-vibes and envelope followers.
"As always, we used them when they seemed like a natural way to serve the song," Massey noted. "Textures and sounds have a way of popping in our heads at the right time, for the right purpose. We just use whatever sounds good to our ears and helps a song come across in a certain manner."
"The effects feel good while playing them, and always fit the section of the song," Saylors added. "It goes well when Jeff is using more fuzz pedals and I stick more to overdrives. Our tones work together." 
"I used some fuzz bass here and there," added Bowers. "But, for the most part, I went straight into my '73 Ampeg V4, miked by a RE20. No DI was used – only my amp, which I love. I couldn't be happier with my tone on this record."
Unusual tunings can be heard, as well, such as Massey's Open G-minor on "Break," while "I Will Never Know" employs the lap steel.
"I used the Tonemaster through the '65 Super with the reverb on about 7 and kicked on my Fulltone Deja-vibe for the solo," said Saylors.  "And that's the old '68 Gibson mandolin in the chorus sections."
The band is pleased with Shake Your Faith, and is touring Europe and the U.S. in support of it, extending into 2017.
"We're in Spain as we speak, and having a blast," said Bowers. "The folks here are great. They're big-time music lovers. It's such a great place to visit."
"I'm really happy with the result," Massey said of the album. "It's been a blast playing the new material live. The music feels like a big step forward, but still sounds like us."
---
This article originally appeared in VG September 2016 issue. All copyrights are by the author and Vintage Guitar magazine. Unauthorized replication or use is strictly prohibited.
---