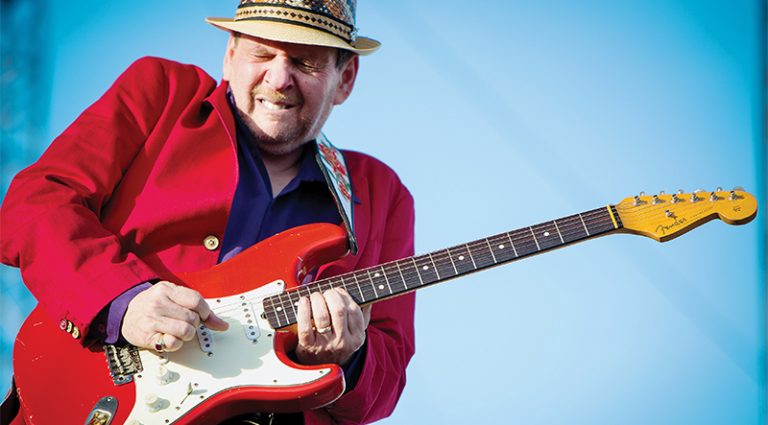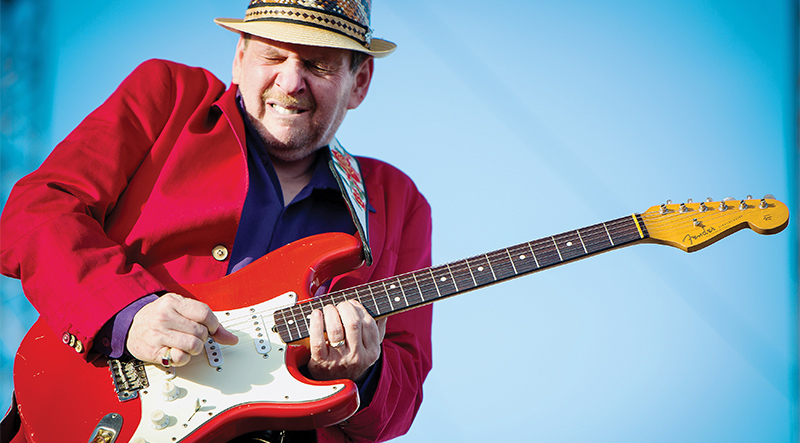 Ronnie Earl is one of the most prolific blues guitarists working today. And though his solo career now spans almost three decades, he shows no signs of slowing down.
While studying education at Boston University, Earl experienced an epiphany watching Muddy Waters onstage; taking up the guitar at the relatively late age of 21, he first gigged in Boston before traveling to Chicago and Austin, where he began working with Kim Wilson.
His first solo album, Smokin', was filled with precise solos amidst melodic tunes and it announced the arrival of a player with a compelling style that has carried through 23 others.
Earl is today experiencing a resurgence. Releasing an album each year over the past three, they've been met with progressively greater praise and all charted on Billboard, with 2015's Father's Day climbing to #3.
The albums, including 2013's Just for Today, along with Good News, from '14, signaled a change of direction for Earl – one that includes new people and new sounds.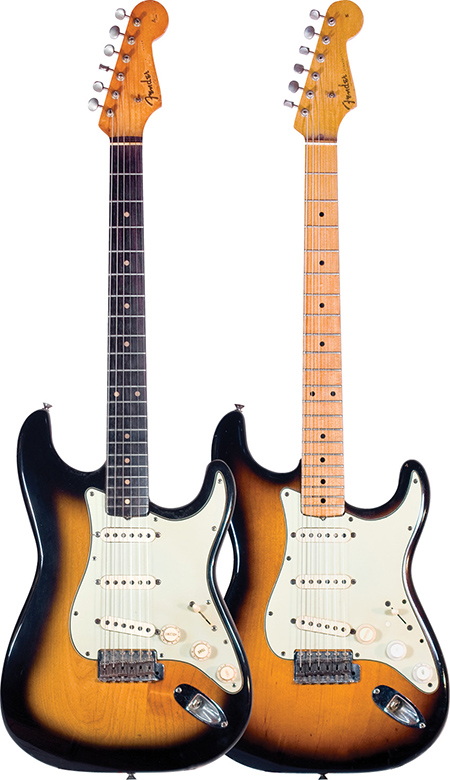 How long have you been with your core band?
We've been together about 15 years. We're like a family; we know each other so well it's like a spiritual connection – it's not a backup band. I have a lot of confidence because I know that whatever I call off, they can play. The solos are always different, but the core music is there. We have a very large book of tunes, but I always get the feeling from [bassist] Jim Mouradian and [drummer] Lorne Entress, and support from [organ/piano player] Dave Limina. I wouldn't have it any other way. I've had many offers to go places with a different bands behind me, but then we're just jamming. These are actual songs.
Just For Today is all instrumental except for "I'd Rather Go Blind."
That's with Diane Blue, who I've known for 10 years. I wasn't looking for a singer at all, and never expected to have a lady singer, but she'd sit in with us in various cities and I started thinking how it feels like a "God thing" – that's what we call it. It gives me a chance to be in a supportive role and I love the whole thing.
"Blues for Hubert Sumlin" sounds almost like something Stevie Ray Vaughan might play.
Stevie was a contemporary of mine, so I was very careful not to copy his style. To me, it's more based on old Freddie King instrumentals where he's playing double-stops. I gave it a different progression.
On Just For Today, you pay homage to your influences – John Coltrane, Hubert Sumlin, Robert Nighthawk…
I love Robert Nighthawk – he's so overlooked these days. He took that slide style from Tampa Red and made it his own. He played in the open markets on Maxwell Street in Chicago and had that smooth style Earl Hooker later brought to the forefront. He's one of my favorites, but he's not known that much because he died when he was 40. I love playing the "Robert Nighthawk Stomp," which is a very old Chicago-style song. With Dave Limina playing a boogie, we tried to get that old Maxwell-Street feel, like early Muddy Waters.
My first love has always been Chicago blues. That's where I learned to play my music. When I play there, it's kind of full circle.
"It's not enough for me to play guitar; I need to work on my higher self and be the best person I can be."
You've lately been working with some talened young guitarists.
Yes, like Nicholas Tabarias; I flew him out for our last four albums because he's so gifted. In Boston, we have Peter Ward and Pete Henderson. I think Paul Holdman and Laura Chavez are really good, too.
When you play, are you thinking about the styles of other musicians?
I can't play like anyone else. "Rush Hour" is for Otis Rush, but I can't play like him. I just try to put his energy, soul, and feeling into what I play, and capture his spirit. I'm a strong purveyor about playing with dynamics, bringing it up and bringing it down. I don't hear a lot of that in music these days. I hear a lot of volume and a lot of notes.
What is your basic setup?
Just a Strat through a Super Reverb; never used an effect in my life. I've got a couple of Custom Shop Strats, a couple of reissues, and four old Strats from my days of touring constantly.
Is there a guitar or an amp from the past that you don't have any more that you would really like back?
No, because I always kept my old Strats, thank God. I was broke a lot when I was on the road and I didn't know that I was poor or even what poor meant, but I always kept my guitars. I have two rosewood-neck '60s and two from the '50s with maple necks. If I had gotten rid of one of them, I would have regretted it.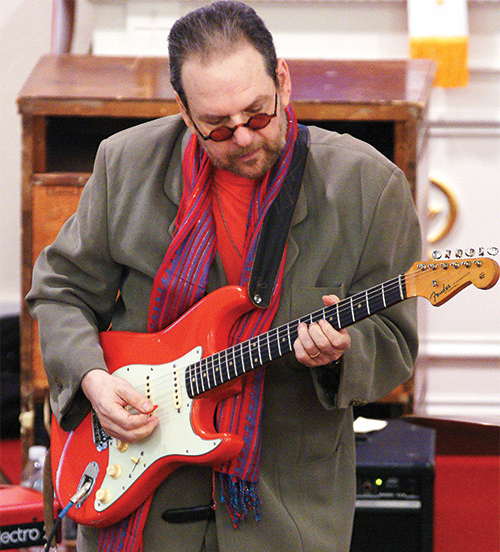 How many Super Reverbs do you have?
Three. Two come with me to the shows and one is in reserve. They do need repair pretty often. To me, they're perfect for everything, especially playing quiet, pretty notes. Sometimes it seems there aren't enough pretty notes played these days.
On Just for Today, only one track has vocals, while there are four on Good News. Was Diane taking on a greater role in the band by that point?
She wasn't actually in the band at that point; it wasn't until we finished the last album that I just said, "She's in the band." She sings a segment of the show and I still play a lot of guitar because the audience wants to hear that.
Over the three most recent albums, you incorporated more people, including three additional guitarists on the newest album.
That's Nicholas Tabarias, who was also on Good News, along with Tim O'Connor and Larry Lusignan. I'm very comfortable with myself – not overly confident – but I feel we have room at the table for a few more people. I brought them in just to see what would happen and let the music take over. Nicholas does serve as sort of a rhythm guitarist, which goes back to my love of Muddy Waters, who always had two guitarists in his band. Plus, it's nice to have your friends there with you – very comforting, very supportive.
"Running in Peace" is a topical number about the Boston Marathon bombings. Have you ever done a song that was based on a specific historical incident?
No, not really. The last time Kim Wilson and I recorded together, we did a tune called "Child of a Survivor," about my family, who are holocaust survivors. It's part of my personal blues history.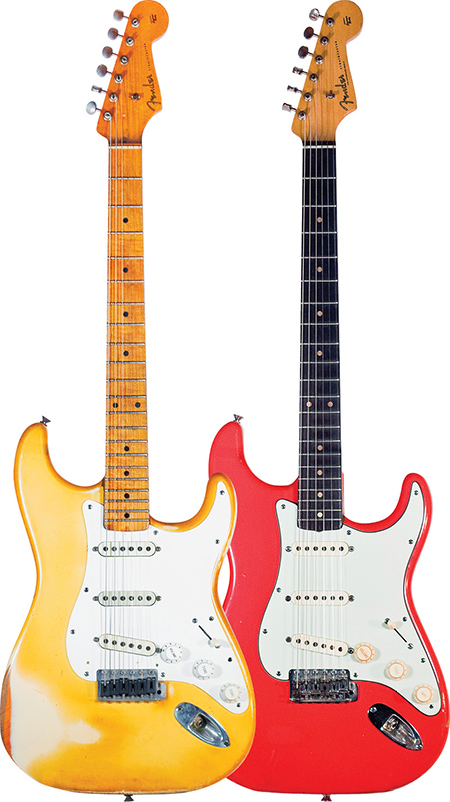 "Running in Peace" is about a very specific incident. What was the motivation for that song?
It was co-written by Ilana Katz Katz, who was at the finish line of the Boston Marathon when the bomb went off. Boston, my home town, was in a state of shock and fear after the bombings. The answer just had to be the blues. The whole city was put on hold until after the trials were over later. I never experienced anything like that. So, it was important, to me to get a message out about that. I feel the world's pain a lot, and that influences my playing. Everything in my music is feeling. Every generation goes through a tumultuous time, but it seems like we're going through one after another. We're getting lessons from a higher power, about guns, about war. We're getting hit over the head with it until the people in control learn. But like in "Running in Peace," I feel that there's still hope for humanity and mankind.
You music offers a lot of interplay between despair and hope.
There's always hope – light at the end of the tunnel. There are a lot of beautiful people in music and the arts, and I feel we're here to help one another. In the music business there's sometimes a lot of focus on getting ahead. I had to take myself out of the rat race a long time ago because it was interfering with my ability to play from the heart. I listen a lot to people like Stevie Wonder – people who speak widely about the challenges in life.
Where did you find vocalist Michael Ledbetter, who sings on Father's Day? He sounds like a young, powerful Otis Rush.
I heard him in Nick Moss' band, in a little joint. Nick told me he was a distant relative of Huddie Ledbetter, and as soon as he started singing, I looked over at a friend and said, "He's amazing." That night, he sang with Diane, and though they'd never met, it was amazing. No rehearsal. He's on nine tunes.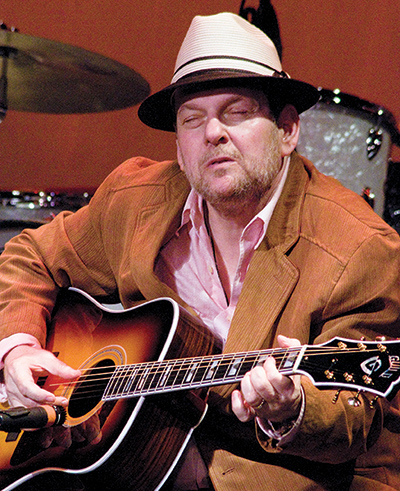 What made you decide to use horns on Father's Day?
I was just trying to change things up, make it a lot different. I can't remember the last time I used horns on an album, but that's Mario Perrett on tenor sax and Scott Shetler on baritone. They both took solos on "Moanin'," which is a churchy song from the 1950s. They're both well-versed in soul-jazz and are probably going to be on the next album.
There are also new guitar tones on the new album. "Follow Your Heart" has a hard-edged solo outro that doesn't sound like other parts.
That's Nicholas playing a 335. When we were mixing, the engineer said, "Are you okay with this guitar coming in like that at the end?" I said, "That's what he played, so put it on there."
The last song, "Precious Lord," sounds like you dialed back the Tone knob.
I did. It couldn't have been any other way; not a lot of notes, not very bright-sounding. It needed a lot of warmth – it's not mournful, it's prayerful. The muted tone brings out the warmth of hope, I think.
How long did it take to record Father's Day?
The whole record was made live in a day and a half, with no overdubbing. All the records are made in a day and a half or two days. We don't have the budget to do it any other way. What we do have is a lot of experience playing music with each other, especially the core band.
Where did the title come from?
The relationship between my father and me healed just two Father's Days ago. It was like a spiritual awakening. My wife said, "The title should be Father's Day," and I said, "Yeah, I know that." What else could we possibly call it? It's in honor of him and that there are 12-step programs that can help any family situation. Just pick up the phone and tell them you love them. Sometimes the phone weighs a thousand pounds, but pick it up anyway and let the healing begin.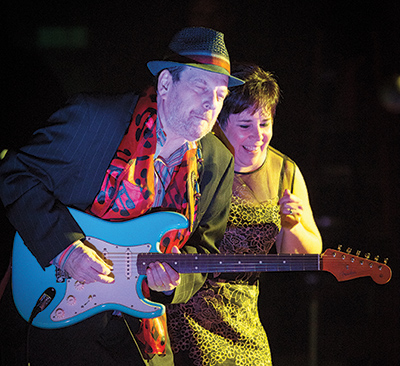 There are a lot of types of blues. Which do you like best?
I love traditional blues; it's what I was brought up on. The first time I saw Muddy Waters, he had Louis Meyers with him, and I was never the same. Then I got to play with Muddy a couple of times in some little joints in the south side of Chicago. I'm too blessed to be stressed.
Do you have an overall philosophy about music?
I'm very much into the spirituality of music. I've been clean and sober for 26½ years. Music has given me a second chance in life. I sometimes feel there isn't enough credit given to the old masters, and sometimes not enough to up-and-coming people. I think we're put on this earth to help other people. It's not enough for me to play guitar; I need to work on my higher self and be the best person I can be. That will affect the music. And, I want to carry on the tradition of the old masters like Earl Hooker, Robert Nighthawk, and Robert Junior Lockwood. The last time I saw Lockwood, there were only 50 people in the place. We were very close; he was like a grandfather to me. He played on my Surrounded by Love album, which was an incredible honor. Otis Rush, unfortunately, had a stroke, I just went to see him. What an incredible force he was, but you don't hear about him much anymore.
How do you feel about where you are in life and in music today?
I feel really blessed to be still doing this, still playing music, and that people still want to hear me. I don't have a high-powered manager and I'm not really in the music industry anymore – I play mostly in the Midwest and East Coast. Because I play so hard and we play for three hours, I can't do more than two or three dates before I have to go home and recuperate. That's why I don't tour. The blues takes everything out of you if you're pouring it out, and I do.
What's in the future for you?
I'd like to go to California, travel a little bit more. In May, we're going to play a festival in Atlanta. I'd also like to make a record that's a little more focused on the guitar, but then I don't want to saturate the market with my playing. I'm really a "live" guy, so maybe we should do something live.
In the end, I just hope people take good care of themselves, emotionally, physically, and spiritually.
---
This article originally appeared in VG July 2016 issue. All copyrights are by the author and Vintage Guitar magazine. Unauthorized replication or use is strictly prohibited.
---