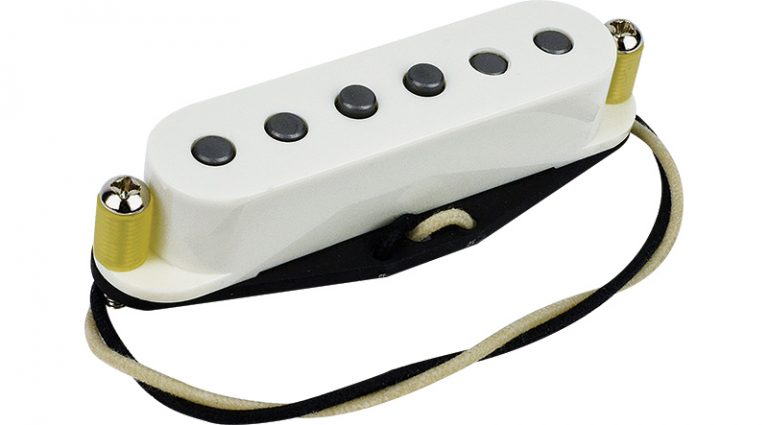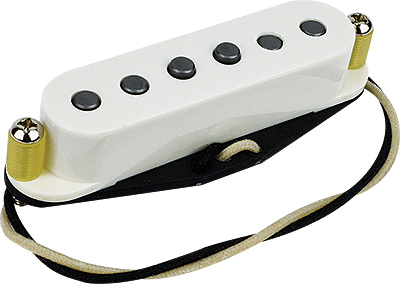 Players love that single-coil sound but hate the noise and hum that generally come with them. For the most part, "noiseless" pickups, whether stacked coils, side-by-side coils, or other designs, have meant something of a compromise between tone and hum-free operation.
The new Mojotone '58 Quiet Coil Strat Pickups use traditional side-by-side coils with blade poles for hum canceling, but also incorporate traditional vintage-style single coil components in their design, such as 42-gauge heavy formvar wire, standard-height fiber bobbins, custom-formulated patented alnico 5-style magnets (instead of plain steel blades with a magnet underneath), and cloth-covered lead wires – all to capture true single-coil tone.
The Mojotone '58s also match the DC resistance, inductance, resonant peak frequency, and capacitance of 1950s single-coil pickups and even feature faux staggered pole pieces to convey a vintage appearance. The pickups utilize standard mounting hardware, a five-way pickup selector, and 500K potentiometers, which means they are drop-in replacements – no mods needed.
We received a trio of tester Mojotone '58 Quiet Coils preinstalled in a custom Frankenstrat with a maple neck and fretboard and plugged it into both Vox AC10 (EL84/12AX7) and Fender Blues Junior (EL84/12AX7) tube combo amps.
The Quiet Coils offered up plenty of that high-end bell tone sizzle associated with true single-coil pickups. The set was also well balanced with a bright and snappy bridge pickup, a punchy middle pickup, and a throaty neck pickup, not to mention tons of quake in the two and four positions.
As their name suggests, the Quiet Coils show little to no effect in any of the selector positions from other electronics or whether the guitar is facing the amp. We did experience a bit of noise when dialing in heavier overdrive on the amps, but nothing out of the ordinary.
The Quiet Coils have an (very) slightly fatter sound than traditional single-coils with the overdrive on, but retain the high-end snap, clarity, and note separation of true single-coils. That 1950s single-coil tone with silent operation might seem like something of a pipe dream, but Mojotone '58 Quiet Coils offer just that: a classic Strat single-coil bell tone with quiet, noiseless operation.
---
This article originally appeared in VG July 2016 issue. All copyrights are by the author and Vintage Guitar magazine. Unauthorized replication or use is strictly prohibited.
---