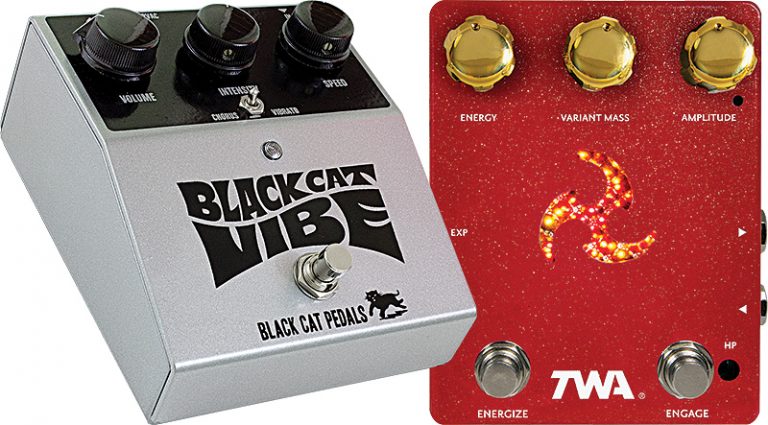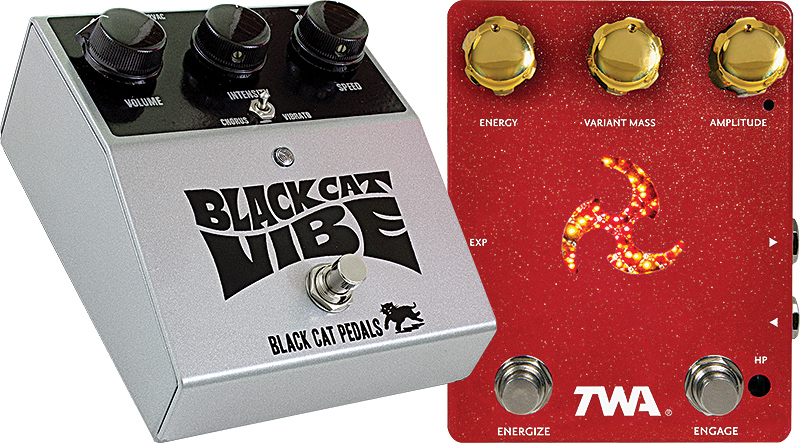 In today's world of proliferating boutique pedals, guitarists have a staggering array of divergent options. Case in point, the Black Cat Vibe and TWA Triskelion Mk. II make for a pair of pedals, which couldn't be more different.
The Black Cat Vibe is based on the original Uni-Vibe of the 1960s and '70s, evoking that hazy, swirly tone associated with Jimi Hendrix, Robin Trower, and David Gilmour. The Black Cat is elegant in its simplicity with just a few controls – Volume, Intensity, and Speed, as well as a Chorus/Vibrato toggle and On/Off footswitch. Other features include a 12-volt adapter jack and an expression-pedal input (for controlling speed, pedal not included).
Inserted between a Telecaster and a 1×12 tube amp, the Vibe sounded full of tonal mojo that didn't diminish the guitar's voice. In fine analog style, the Black Cat's coloration remained natural and organic.
Don't be thrown by the "Chorus" toggle setting. That's the epic Uni-Vibe sound – a warm, underwater tone associated with songs like "Machine Gun" and "Bridge of Sighs." In other words, not an icy chorus-pedal effect. Crank the Volume knob to add preamp grit to the signal, and set the Intensity and Speed to taste. The fat, luxurious sound is impressive. Simply classic psychedelic-guitar tone.
Flipping the toggle to the Vibrato side of the circuit delivers a more mechanically perfect sound and that "warble" you'd expect. It's not as hazy and musical as the Chorus setting, but everyone from surf to alt/modern players could find a use for it. Overall, the Black Cat Vibe is a killer boutique box that will make your inner Jimi very happy. It's one of the best Uni-Vibe clones on the market.
In contrast, the newly tweaked version of the TWA Triskelion TK-02 Mk. II is like a pedal from another planet. You may wonder, "Is it a synth? Is it a Martian fuzzbox?" TWA describes it as a parametric EQ with an optional gain boost, so perhaps it's all of those – and more. Inside sits a powerful filter that can dramatically shape tone, from thin and nasally to fat and gnarly. It's all based on a vintage '70s pedal called the Systech Harmonic Energizer, deployed by Frank Zappa for his unique, otherworldly tones.
The Triskelion has controls labeled Energy, Variant Mass, and Amplitude, which might be translated, respectively, as overall tone shaper (known as "Q"); powerful mid-EQ sweep; and gain that can add a wallop to your tone's bottom end. All three are highly interactive. Footswitches include Engage (on/off) and Energizer (boost), and an expression pedal jack. Interestingly, there's also a front-mount DIP switch called HP, which is a high-pass filter to cut the bottom accessed through a small opening in the bottom-right corner of the metal housing.
Unscrew the back and you'll find more tone and gain switches to further customize the Triskelion's sound to the player's taste, as well the option to attenuate the output so it doesn't smack your amp's preamp so hard (that's how powerful it is!).
We had a blast cranking the Triskelion and discovering all the staggering array of sounds available in this one box – from those cool, lo-fi synth sounds (think of Zappa's potent Pignose tone on Apostrophe) to fat wah-like tones – all of which can be doused in heavy fuzz and lit on fire. The box can be set up conservatively as something of a surgical EQ control, or hot and raging for howling lead tones.
The TWA Triskelion Mk. II is a pedal you have to hear to believe and great for those in search of something fresh and dangerous.
---
This article originally appeared in VG July 2016 issue. All copyrights are by the author and Vintage Guitar magazine. Unauthorized replication or use is strictly prohibited.
---