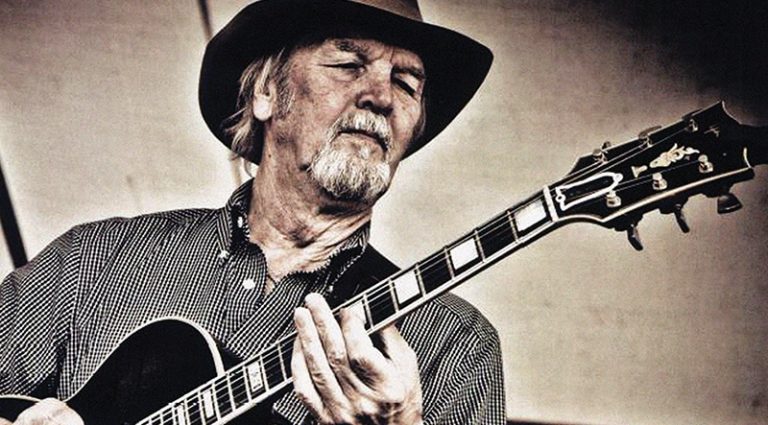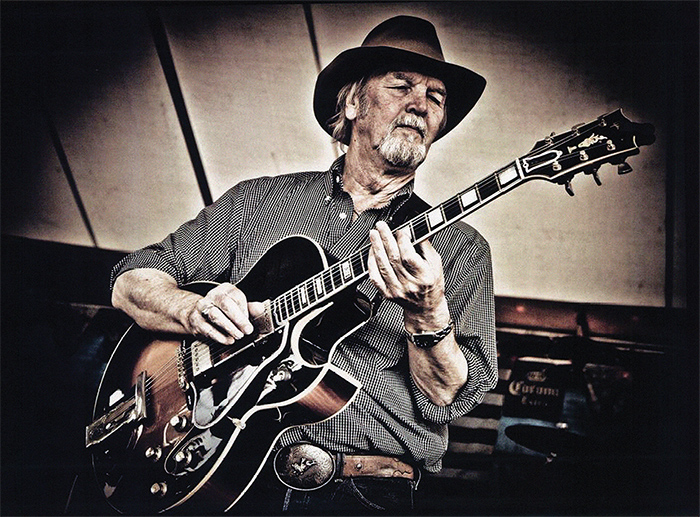 Jerry Miller is back. For many he never left – especially admirers of his innovative playing with the legendary Moby Grape. Clapton, Page, and Stills are on that list, as well as dozens of guitar heroes.
Miller reached out to VG to share a preview of his newest recording venture, which finds him moving in many directions at once, set on a course to reaffirm and redefine his legacy.
"It's going to be diverse," he said, which is a given for a player who segues from "Stormy Monday" to "Round Midnight" in the blink of an eye. With the tentative title of Back To The Top, he's ready to show what 65 years of honing his craft sounds like.
It has been over two decades since Miller's last official studio release, Life is Like That, but he hasn't been idle in the interim. Rather, he has been writing, arranging, and sharpening his skills with regular performances in his native Seattle-Tacoma area. Pacific Studios, Tacoma, is handling the tracking and recruited members of his working trio, drummer Glenn Hummel and bassist Kim Workman, as well as several respected local musicians. Miller is excited about getting back to basics and to be recording in the classic Charles Neville tradition with an emphasis on live playing without using click tracks, auto-tune, or "processed garbage."
With his blues/jazz/country/rock pedigree, Miller intends to tip his hat to the greats who inspired him. "That means the Kings, T-Bone Walker, Kenny Burrell, Wes Montgomery, Albert Collins, Little Milton… even Pete Johnson boogie-woogie."
But this is no contrived tribute album; he's focusing on original material that reveals his continuing growth as player and composer and building clever arrangements with varied meters, tight Grape-inspired vocal harmonies (he'll also be singing some lead) and is bound to add horns to offset his ubiquitous guitar improvisations.
"I want to discover new ground, approach it with the right spirit, the right people, and fluid chops. Guitar improvisation is an important aspect along with rhythm-section interaction, especially for the blues and jazz things. Some of it will be tightly structured in the pop sense with overdubs and some will be looser and funky."
Regarding guitars, front and center is Beulah, Miller's iconic, well-seasoned '62 Gibson L-5 CES that has been with him since before the Grape, and a selection of axes including a single-pickup Epiphone Regent and a Jack Dimentel solidbody. One of his secret weapons is a renovated '50s tweed Gibson Explorer amp with a single 10″ speaker.
"It's older than dirt, covered with coffee stains and cigarette burns," he said. "It sounds extremely clean and quiet but, turned up, gets nasty overdrive."
He'll also be plugging into his signature Tone 4×10 Custom-Reverb amp by Will Roemermann (essentially a beefed-up tweed Bassman), old blackface Fender Super Reverb, and a reissue Fender Deluxe.
Miller is self-funding the album's production through a Kickstarter campaign and invites anyone to participate. More can be found at his website, thejerrymillerband.com.
---
This article originally appeared in VG June 2016 issue. All copyrights are by the author and Vintage Guitar magazine. Unauthorized replication or use is strictly prohibited.
---