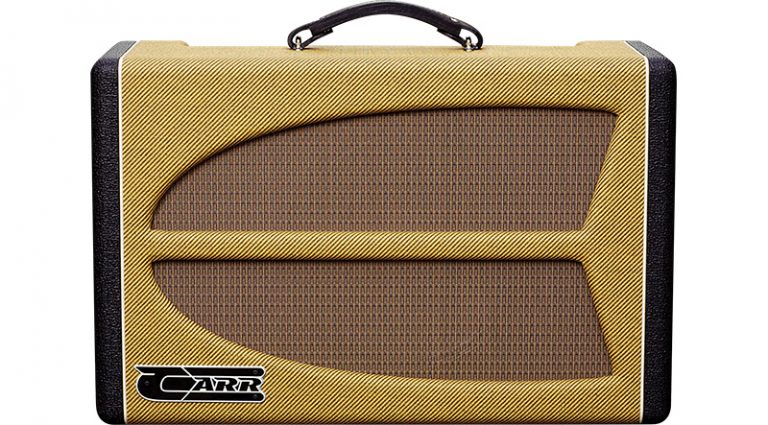 Carr Amplifiers has a fine reputation for high-quality, boutique tube combos with tons of vintage style and panache. Their gear offers point-to-point wiring, tasty tone circuits, high-grade components, and dove-tailed cabinetry, all the things tube connoisseurs crave. The Lincoln is their latest offering, a swank-looking 1×12 combo based on a mint 1964 Vox AC10 that builder Steve Carr bought from a collector in England. There was something about the personality of this vintage amp that appealed to Steve and begat the Lincoln. Let's warm up the tubes and jump in.
Tube combos have a huge array of sounds and personalities, from clean to dirty, as well as varying degrees of sonic fatness and tone voicing. Looking at the Lincoln, you might assume it's a vintage box that offers "retro" tones, from clean to lightly overdriven, as many amps in this category are. We were happily surprised to find this wasn't true – the Lincoln delivers a rainbow of tones, from sweet 'n' clean to some seriously crunchy flavors. The amp has two power stages, one with a loud 18 watts, switchable to a house-broken 6 watts that won't irritate the neighbors or your significant other. Significantly, it's also a "wide cabinet" 1×12 design, which delivers a bigger tone than a small-box 1×12 (like a Fender Princeton-type design). This dramatically affects the Lincoln's tone, which we'll get into later, but be aware you can also order the amp was as a 2×12.

The basic specs on the Lincoln include 18 watts of output (again, switchable down to 6 watts via an attenuator switch), two channels with independent tube reverb on each, and a Celestion G12M-65 Creamback 12-inch speaker housed in a North Carolina yellow-pine, dove-tailed cabinet. Under the hood you'll find two EL-84 power tubes and four 12AX7 preamp tubes, which help account for the Lincoln's vast range of clean-to-crunch tones. Controls on Channel 1 include Volume, a Normal/Bright switch, Treble, Bass and Reverb 1, while Channel 2 sports Drive, High/Low toggle, Tone, Master, and Reverb 2. There's a Channel Switch toggle lurking between the two reverb knobs, but this is bypassed when the footswitch is plugged in. The rugged external box allows you to jump between channels, as well as kick in an overdrive Boost.
In market crowded with boutique tube combos, you might wonder what makes the Carr Lincoln a unique offering and rightly so – there are zillions of amps out there. In our tests, however, the Lincoln revealed a big, brash persona that grabbed our attention quickly. Using a variety of Fender and PRS planks, the amp delivered a massive range of tones that evoke such common tube-amp terminology as "chime," "bloom," and "sag." These are words that describe the subtle magic of the valve experience and the Lincoln exhibited that kind of sonic girth and warm top-end that is hard to emulate without tubes, though many have tried.
On the cleaner side, we found all sorts of classic '50s and '60s guitar magic, from British Invasion "AC Top Boost" to Fender twang. Country and jazz players will dig the clean palate (especially with the fine reverb circuit), while blues and rock and rollers will like the middle overdrive section. You can certainly dime out the Clean channel for a bit of hairy gain or keep it all clean and add your favorite overdrive pedal to the Channel 1 mix. Conversely, dial back the Drive on Channel 2 for another world of semi-grungy sounds – there's a bonanza of sounds to pick from, from B.B. King to Peter Green and beyond.
Our ears were pinned back when we pushed up the Drive in Channel 2. By virtue of the Lincoln's retro styling and vintage cabinet work, you might think it's one of those Class A-styled amps, but this Carr is ready for your best hard rock and even metal tones, we should add, without an overdrive box out front. Within moments of jacking up the gain, we were in heavy rock heaven. Even on the fun 6-watt setting, we found lots of saturated goodness, but go ahead and kick it to a very loud 18 watts for extra scorch.
As noted earlier, the tube-amp market is densely crowded, but this combo makes a strong statement for itself. This Carr has terrific, if not stunning tone and a premium build, so you're getting the kind of custom, small-shop attention that many players desire. In all, the Lincoln is a tube amp you can play and enjoy for decades.
---
This article originally appeared in VG May 2016 issue. All copyrights are by the author and Vintage Guitar magazine. Unauthorized replication or use is strictly prohibited.
---