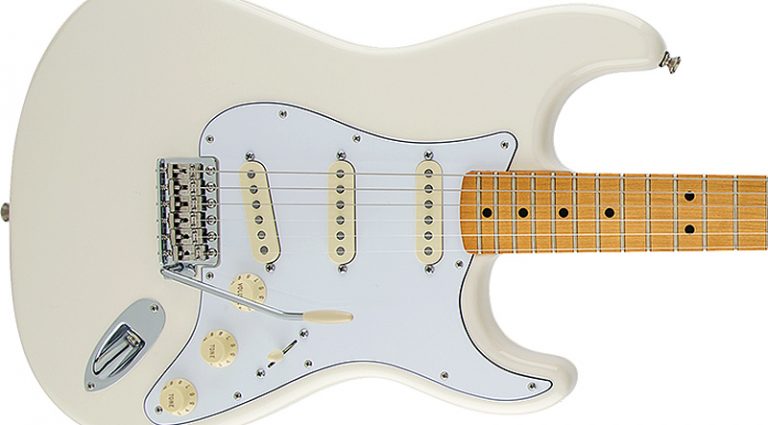 Pity the poor right-handed masses. Emulating the vibe of Jimi's various Strats has always been tough on them. Some players chase down one of the precious few vintage left-handed Strats, flip it over, restring it, and suffer the oddities. Others swap lefty necks onto righty guitars. Either way, it's never quite right (pun intended).
Fender's seeking to right that wrong (pun also intended). The new Artist Series tribute Stratocaster features a right-handed body fitted with a reverse-angled bridge pickup and a reversed '70s-style headstock.
Fender's done something like this before, of course, with various different detail arrangements. There was the Jimi Hendrix Tribute Stratocaster launched in '97, a couple of Voodoo Strats, and the '68 Reverse model.
So what makes this new guitar special?
First, there's the affordable price. Second, there's the price – coupled with solid quality, as has become the established norm for Fender's made-in-Mexico axes.
The famed contour body is crafted from alder and finished in gloss polyester, and it's available in the appropriate color schemes of Olympic White and Black. The pickguard is suitably three-ply with aged-plastic parts. An engraved neck plate features a silhouette of Mr. Jimi with an "Authentic Hendrix" inscription, while a replica of his signature graces that reversed headstock.
The four-bolt neck is maple top and bottom, again with a glossy poly coat. It's C-shaped and radiused at 9.5″ with a 1.650″ nut – all standard late-'60s/Woodstock-headlining fare.
To recapture that era, Fender adds its American Vintage '65 Gray-Bottom single-coils – controlled by a five-position switch, as later times demand.
And the advantage of not having to flip over a left guitar? All your controls are in the right place. So, the looks are there. Now, what about the sound?
We plugged the Jimi into a Vibro-King and immediately selected its most distinctive sonic feature – that reverse-slant bridge pickup.
Eyeing the guitar, you don't really notice the pickup's flipped axis because you're drawn to the headstock. But look more closely, and it seems… well, wrong. Try playing it, though, and you instantly grasp where one important aspect of Hendrix's sound came from.
The reversed pickup alters the stagger of the pole pieces, just as Jimi would have had on his righty guitars; this subtly revises the string-to-string volume balance. The result? The bass strings ring with enhanced upper-register harmonics. There's no loss of pure bassy-ness, just more trebly definition within the bottom end.
At the other extreme, the treble strings have more low-end grind – like they've been doing a crossfit routine in their quiet time.
This is all-around cool. Hit those R&B-approved 7#9 chords that Jimi made forever famous and you get a whole new tone that you maybe didn't realize you were missing out on. You probably never sounded so good playing "Purple Haze."
Switch to the in-between position with that bridge pickup out of phase with the middle pickup and the sound gets even more lowdown and skunky.
Jump up to the neck pickup and the American Vintage '65 struts its stuff. The tone is rich and pure and lovely – especially for a Strat, or any guitar, at this price point. Add an Octavia and Fuzz Face – along with the right licks – and you're in business.
No doubt there'll be a dialectical debate about the virtues of that reversed bridge pickup, but the subject of the flopped headstock is where fans will get truly hot and bothered.
You either like the look, or not. Yeah, it riffs shamelessly on Jimi, perhaps to a silly degree. But it is pretty cool.
There are two other things to consider, though. First, tuning the strings requires a certain dexterity. No biggie, but it's different. Second, if you go for the reverse-headstock's funky appeal, let it be known that everyone will expect you to do your darnedest to live up to the legend you're emulating. In the guitar world, them are big shoes to fill. Good to think about (and, no, the Jimi Hendrix Strat doesn't come in a lefty version).
---
This article originally appeared in VG May 2016 issue. All copyrights are by the author and Vintage Guitar magazine. Unauthorized replication or use is strictly prohibited.
---