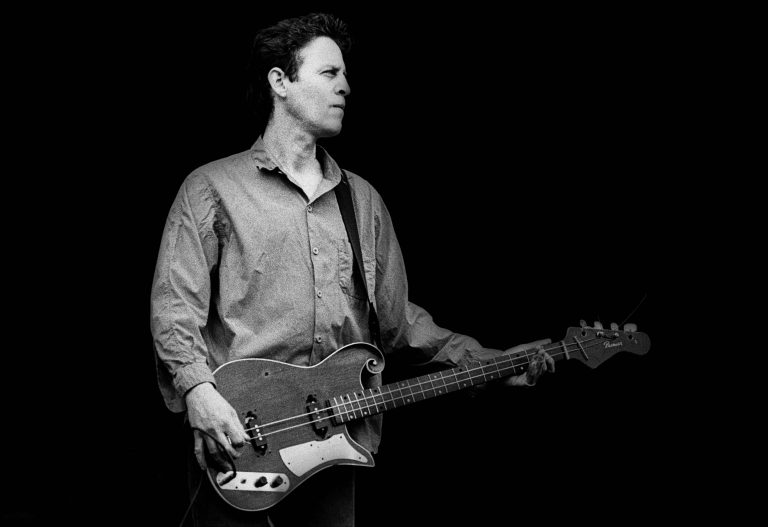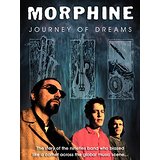 They were a band like no other – either before or since. That was the inevitable description of the rock trio Morphine, from critics to TV hosts to fellow musicians like Henry Rollins and Los Lobos' Steve Berlin. The band's self-described "low rock" hit you in your pelvis instead of your head, as stated by drummer Billy Conway, in this 90-minute documentary of the group's rise and abrupt end.
Formed in '89, Morphine grew out of (and overlapped) the blues quartet Treat Her Right, led by singer/songwriter/bassist Mark Sandman, who simultaneously played in several groups in the Boston area. Sandman switched from a Telecaster played through an octave divider to a Premier bass with only two strings, played bottleneck style. He recruited Dana Colley, who played tenor and bass saxophones, but usually baritone. Drummers Conway, from Treat Her Right, and Jerome Deupree alternated tenures and sometimes played together. That's right – a rock band with no guitar and no keyboard. As Sandman said, "Even though it was kind of sparse sounding, it seemed full to us."
Sandman's concept was minimalist, noir, and low-fi (they often recorded parts on portable home cassette boards) but truly visionary, combining primitive rhythms and hypnotic riffs with jazz sensibilities and Sandman's literary bent.
Music documentaries often get knocked for not showing complete songs, interrupting performances with narration or interviews, but director Mark Shuman makes that m.o. work, constructing the story of the band instead of making a concert film. Along with archival interviews with Sandman, there are current interviews with Colley, Conway, and Deupree, along with manager Deb Klein, soundman Phil Davidson, tour manager Mark Hamilton, producer Paul Kolderie, and Sandman's girlfriend, Sabine Hrechdakian, as well as admirers Berlin and Rollins, and an archival interview with Joe Strummer of the Clash. There is plenty of music, but the interviews provide an insightful, intimate picture of Morphine, as they progressed from playing small clubs to festivals with 60,000 fans.
The band recorded five albums, with its sophomore effort, Cure For Pain, their masterpiece. Before album number five, Night, was released, the group set off on a European tour in July '99. But at the second gig, outdoors in Palestrina, Italy, after a soundcheck that nearly induced heat stroke, Sandman's knees buckled during the set's second song, and he fell backwards. He died of a massive heart attack at age 46.
Shuman handles Sandman's death with sensitivity rather than voyeurism or sensationalism. A special feature is Colley reading from the diary he kept, beginning with their first days on the road. His words are a cut above the expected "road stories," bordering on poetry without lapsing into self-consciousness – like the documentary itself.
This article originally appeared in VG's May '17 issue. All copyrights are by the author and Vintage Guitar magazine. Unauthorized replication or use is strictly prohibited.