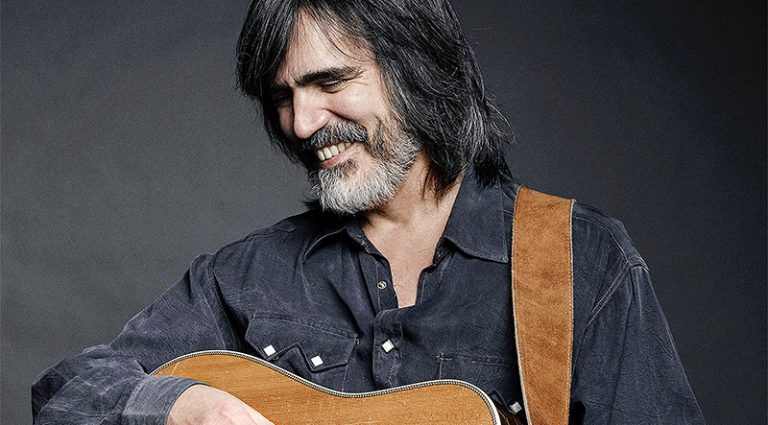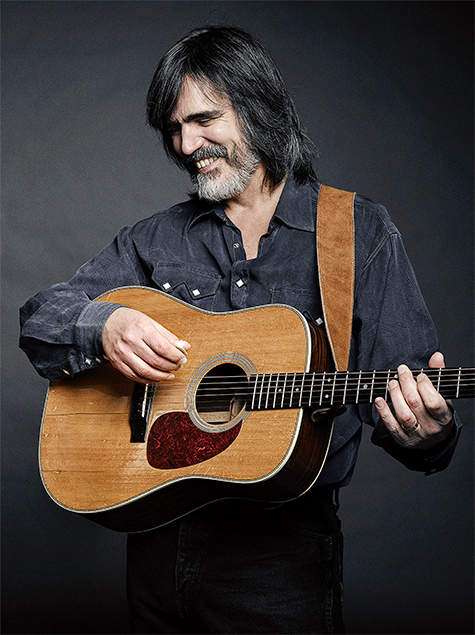 You've probably seen his face, and maybe even watched his hair and beard go from black to gray. Whether it's fiddling with Bob Dylan, supplying steel at the Americana Music Awards, playing lead for Bruce Springsteen's MusiCares Person Of The Year honor, or sitting in with the Roots on "The Tonight Show with Jimmy Fallon," Larry Campbell is the guy who gets the call.
Campbell is probably best known for his time in Bob Dylan's band – as a member of Dylan's "Never Ending Tour," from March '97 to November '04 – playing acoustic and electric guitars, fiddle, mandolin, steel, banjo, and cittern. He appears on Dylan's Love And Theft, the Masked And Anonymous soundtrack, Unplugged, and various compilations.
Not to be confused with the West Coast musician of the same name (who contributed to Backstreet Boys and Britney Spears albums), Campbell has gigged, toured, and recorded with a gamut that runs from Judy Collins to Keith Richards – with Joan Osborne, Leon Redbone, Phil Lesh, B.B. King, K.D. Lang, Ry Cooder, Jim Lauderdale, Cyndi Lauper, Buddy and Julie Miller, the Black Crowes, Happy Traum, Little Feat, Doug Sahm, Paul Simon, Lucky Peterson, John Herald, Peter Wolf, Rosanne Cash, and countless others along the way. He was also instrumentalist for several Broadway plays.
The native New Yorker's producing credits include albums by Jorma Kaukonen, David Bromberg, Hot Tuna, Catherine Russell, and the Dixie Hummingbirds, to name a few. In 2007, Campbell produced the Grammy-winning Dirt Farmer by former Band singer/drummer Levon Helm. He went on to produce two more Grammy winners for Helm, Electric Dirt and Ramble At The Ryman, and he's worked extensively with Helm's daughter, Amy Helm, and her band Ollabelle.
In 2005, Campbell released Rooftops, an impressive CD of mainly traditional fiddle tunes played on solo acoustic guitar. But it wasn't until 2015 that the ultimate accompanist took center stage (at 60, with his wife by his side), producing Larry Campbell & Teresa Williams. "I was really trying to blur the genre line on this record," he says – and the couple succeeds, with a tasteful, seamless blend of soul, country, folk, and rock. "And I wanted to bring in extra instruments only if I felt they really had something to say in the song, to define the mood of the song."
In 2008, Campbell received the Americana Music Association's Lifetime Achievement Award for Instrumentalist. To enhance our discussion, he took the time to personally photograph pieces from his guitar collection.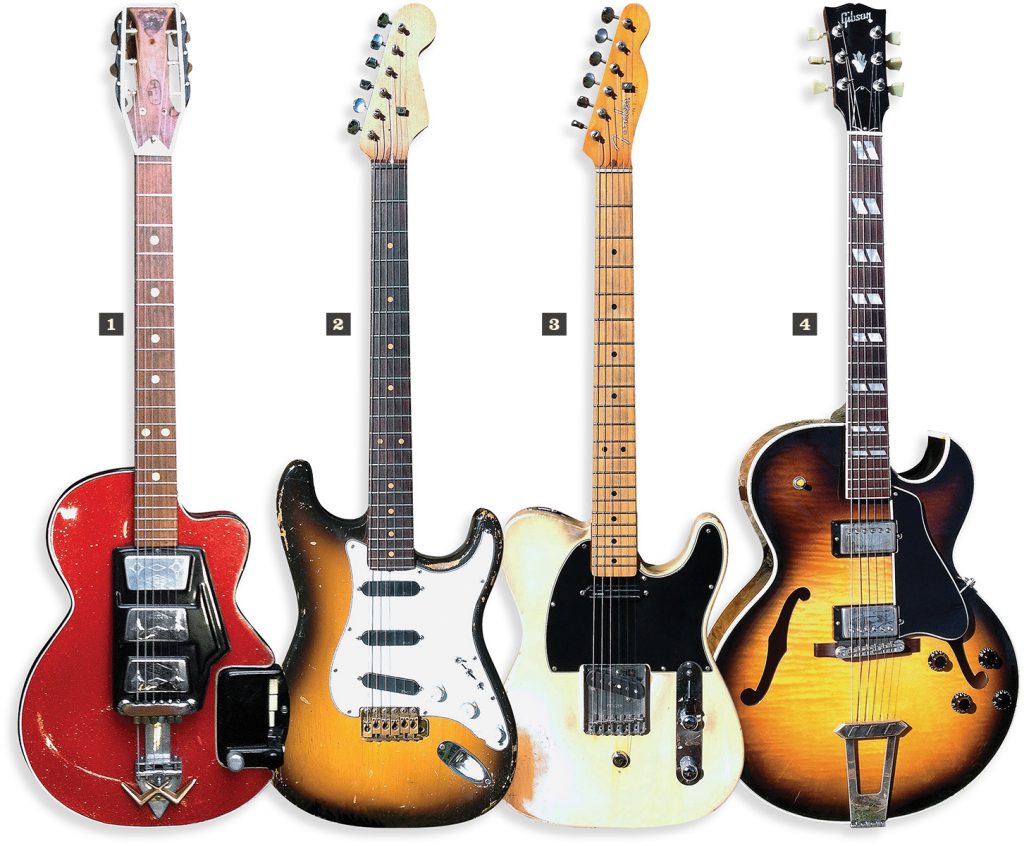 When did you realize you wanted to be a musician?
The catalyst that blew open the doors for me, to this world, was February 9, 1964 – the Beatles on "The Ed Sullivan Show." I was almost nine years old. That was sort of the Big Bang to me, and the universe has been expanding for me since then. In August of '66, I got my father's Sears Silvertone acoustic and said, "Okay, I'm doing this." Ever since, I've been like a bee going to every flower I can possibly find and grabbing some pollen from it.
At one point, my goal was to be a completely well-rounded New York studio musician – which I was for a while. And I knew in my head that to meet that goal, you really had to be able to authentically recreate any style of music that anybody wanted. Everything from dirty Delta blues to Broadway shows. What I tried to do – and am still trying, and will never feel like I can stop trying – is to get as close as I possibly can to the essence of the style I'm asked to play.
Often on jingle sessions I'd be asked, "What style musician are you?" I'd say, "Well, I feel comfortable in almost any genre except maybe heavy metal and real jazz." That's where I might have no business dabbling. Anything else that is real honest American music, I do feel comfortable in. And I try to alter my style to fit the artist.
It's incalculable how many budding guitarists the Beatles appearance inspired. But most kids' ambition was to then become a rock star. To view "session player" as your goal is a pretty mature attitude – instead of just wanting girls chasing you down the street.
Of course that adoration was attractive. I mean, women chasing you – who's not going to go for that? But the strongest pull, to me, was always the guitar solo, the guitar playing, the guitar part. I wanted to be George Harrison more than I wanted to be Paul McCartney. And from the Beatles I discovered Chuck Berry, because of George doing "Roll Over Beethoven." Then I heard Chuck's guitar playing and just said, "Whoa, man!" That was the beginning of me finding the roots of where these British guys got their music – and found it right here in the backyard. Chuck Berry, Muddy Waters for the Rolling Stones, and then I was also enamored with the whole folk-music movement going on at that time. I discovered Rev. Gary Davis via Pete Seeger's "Rainbow Quest" TV show. Scared the hell out of me. "How can he make this sound?" I just started grabbing all these influences. The guitar was just speaking to me, and it overrode all the facade trappings of music performance. Sure, you never stop hoping this is going to lead you to a roomful of women (laughs), but if that's your only motive, you're going to start dropping like the other flies. The love of the creation of the music has to be at the core of this or you're not going to have a career – or you'll have a brief, shiny career.
With music being the objective, what was it like growing up in New York City?
It was an experience (laughs). The first band I was in, the drummer was Bob Thiele, Jr. His father was a great record producer, who did B.B. King's records on ABC, Gabor Szabo on Impulse. (Ed. Note: Thiele also produced, among others, Duke Ellington, T-Bone Walker, John Coltrane, Charles Mingus, John Lee Hooker, and Louis Armstrong's "What A Wonderful World.") Bob, Jr. is doing real well in L.A. now, doing the music for Sons Of Anarchy and a bunch of other stuff. But his dad would get us into all these great music events. One I particularly remember was at a tiny club in New York called Cafe Generation; he took us there to see B.B. King, with Chuck Berry opening the show. I was completely blown away by both of them.
From '67 through '69, I was at Fillmore East every weekend, and I saw everybody. Hendrix, Cream, Jefferson Airplane, Grateful Dead, Steppenwolf, Moby Grape – what a great band that was. Anybody that was on the scene at that time. And the beautiful thing about the Fillmore was this great diversity of music, so I got to see all the blues guys. There'd be shows with Pentangle as the opening act, then a band like Rhinoceros, and then Albert King. I didn't care who was playing; I was going. That exposure had a lot to do with my development as a musician and my thirst for variation in styles. Everything turned me on, and I had to try to conquer it.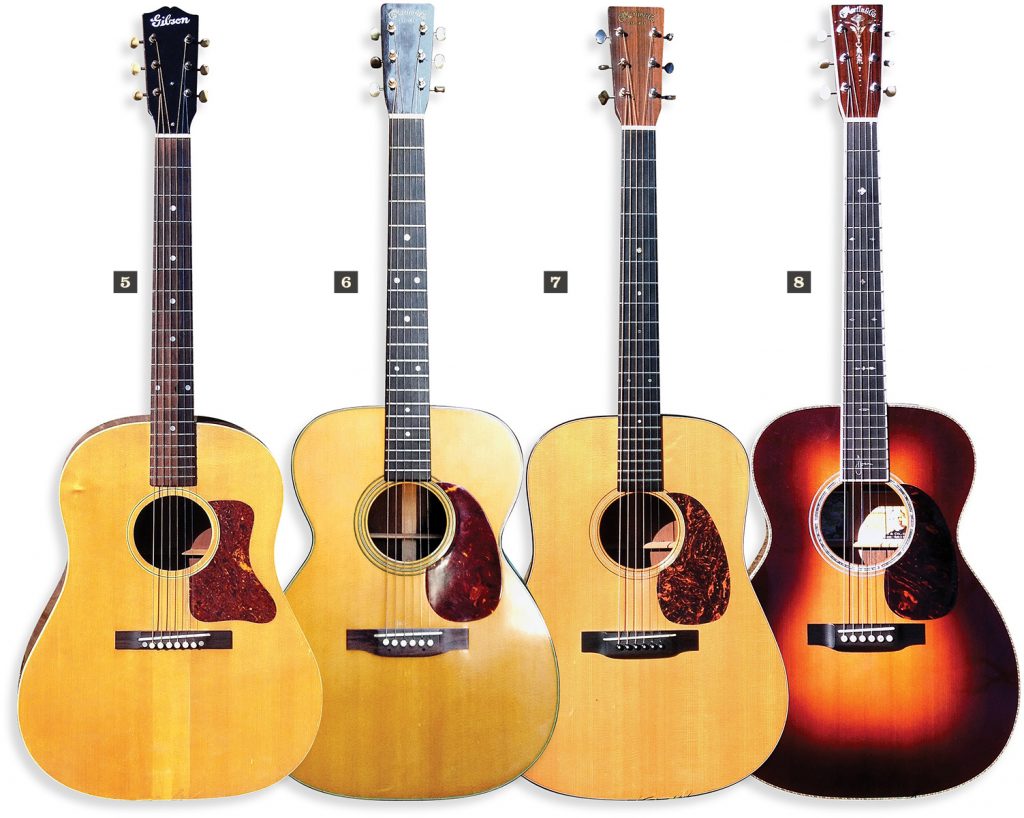 Who were your main guitar influences?
Well, the first guy would have to be George Harrison. Then it gets a little murky. Jerry Miller in Moby Grape was an eye-opener for me. He just had an approach that was beyond a lot of guitar players at the time. And Hendrix – come on! I sat with those records forever. And certainly Clapton.
But Jerry Reed was a big one for me, and James Burton, Clarence White. And I've gotta give it up to Albert (Lee), too; he just took that James Burton/Jerry Reed country thing to a new level and redefined the genre and vocabulary. I saw Heads Hands & Feet at Fillmore East, and it was the first time I saw him do "Country Boy." I said, "What the hell is this?" Years later, I saw him do it with Emmylou, and I said, "Okay, I'm stealing everything I can from that sonofabitch" – as many Telecaster players in the ensuing years have done. I don't think there's one hot Tele player in Nashville now who wouldn't give it up for Albert to some degree.
On steel, all the names are big influences – Lloyd Green, Buddy Emmons, Curly Chalker – but the guy who spoke to me the loudest was Bobby Black from Commander Cody's band. There was something so lyrical about his playing; any time I heard a solo or backup part that he did, I had to emulate it.
Certainly for his melodic sensibility, Lloyd Green is in a category by himself. And Buddy Emmons – the man's on fire. I voraciously grabbed what I could from all these guys.
Your Rev. Gary Davis-style fingerpicking on gospel singer Marie Knight's album Let Us Get Together is a departure from what people usually associate with you.
He was one of my early influences. When I saw him on that Pete Seeger show, I couldn't really buy records much in those days, but we had the public library. So I went and grabbed all the Rev. Gary Davis records I could from the library, and tried to grasp what he was doing, and I just couldn't do it. It was a little too abstract for my brain at the time. But soon after that, I saw Jorma and Jack (Hot Tuna) at Fillmore East, with Jorma doing "Hesitation Blues," and I'd progressed a little by that point, and I understood Jorma's approach to the Rev. Gary stuff better than I understood Rev. Gary doing it. So I grabbed that Hot Tuna record and stole every note I could from Jorma's interpretation of the Reverend's stuff. That gave me a certain facility and more confidence to explore the fingerpicking country blues thing even further. From there I got to Blind Blake and Blind Lemon and back to Rev. Gary, and through the years would dabble at this stuff. It got to where, as Jorma had his own interpretation of Rev. Gary's stuff, I developed my own interpretation of that. What I ended up doing was taking Rev. Gary's thing and sort of re-interpreting it to a more-consistent thumbed bass line. I tried to keep his melodic approach on top, but he had a very sporadic thumb. That's what threw me initially, when I was trying to jump into his stuff.
Being able to keep a consistent alternating thumb, with a melody on top and a little bit of rhythm in the middle – that's what really knocks me out. That's how I altered Rev. Gary's style to fit my thing.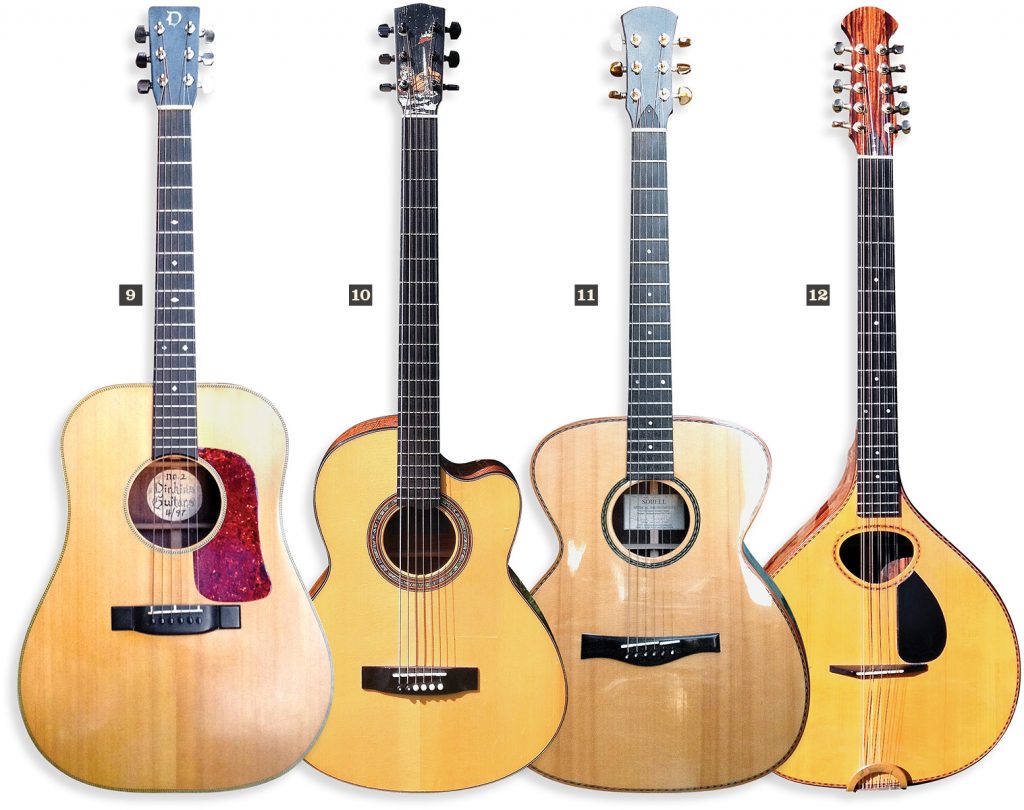 Other than Rev. Davis, were there other important acoustic guitar influences?
Primarily Doc Watson. He would be my first serious acoustic-guitar influence. I loved everything he did. His fingerpicking, his flatpicking, his singing – his whole thing. I couldn't get enough of him. Also, Blind Blake was a big influence. And Django. In DADGAD tuning, Richard Thompson.
I've gone from flatpicking to exclusively thumb and fingers on guitar. I put on those fake, glue-and-powder nails on my index and middle fingers. I flatpick on mandolin, but I do down with the thumb, up with the finger if I'm doing single-string on guitar. With the acrylic nails, I've been able to replicate a flatpicking tone. I was fingerpicking so much – on acoustic, steel, banjo – going back and forth to the flatpick just became awkward.
Do you think your experience as a supportive player was good training to become a producer?
Absolutely, 100 percent. To be a good backup musician, you've got to listen. You have to constantly be listening and absorbing and analyzing what everyone else is doing and how you fit in. That was always fascinating to me, and also inspiring. That's what drove me to start arranging. As an arranger, get in there in the studio and help people realize their vision.
During my time in New York as a studio musician, I also had a four- or five-year stint as producer for a Japanese karaoke company. It was the best education I ever got. And this was when it was done by real musicians, not synths. We would get about 30 tunes a month, Motown tunes or maybe country, that I had to strip down and get every detail about what the guitar player, the drummer, the bass, the strings were doing, and then replicate that with musicians in the studio. A lot of things I couldn't stand to listen to, but it was still educational. We did a couple of tunes by the Carpenters, who were always kind of background music to me; I never felt one way or the other about it. But when I started understanding the production values of their records, it blew me away. It was just brilliant record producing. When you leave yourself open to stuff that doesn't initially move you and see what's underneath the surface, you can broaden your horizons in ways you never imagined.
When did you start making music with Teresa?
We were married in 1988, but I met her in '86. She's from West Tennessee, and she was doing a gig at the Bottom Line and needed to put a band together. A mutual friend called and asked if I'd do this gig. This was at the tail end of all this urban cowboy nonsense in New York, where every woman with a guitar thought she was a country singer. I was a little hesitant, but he told me she was the real thing. So I went to the rehearsal, where I quickly discovered she was the real thing, and she knocked me out. So our first meeting was playing music together.
During the early years of our marriage, she'd be doing theater, and I'd be out with Cyndi Lauper or K.D. Lang or Bob Dylan and different people, but she and I started developing a repertoire. A month after I left Bob's band in '04, I got a call from Levon, saying, "Come on up here and make some music" – which was the beginning of the greatest musical chapter of my life. Levon's daughter, Amy, was in Ollabelle, and I'd just produced one of their records. She heard Teresa and me singing together and got the idea that we should all come up with Levon and just record some tunes. That turned into Dirt Farmer, and we both became part of the Midnight Ramble band. Every time we made music with Levon, it was the ideal musical situation, because the audience was part of the band. It was all about inclusion and community and musical generosity. There were no egos, no agendas, other than having a great time making music.
Talk about playing in a band with Levon as the drummer.
Oh, man! You have never played a blues shuffle until you've played a blues shuffle with Levon Helm. It's like you're sitting in a hammock, rocking in the breeze. The guy was nothing but feel. Finesse had nothing to do with Levon's drumming. There was no distance at all between who he was and what he did. Every note he sang, every beat he played, every strum on the mandolin came out of him as naturally as breathing. That kind of immediate, honest expression is irresistible. You can't not be moved by that.
It's not like he had perfect time or he played the most interesting fill or that he had a huge vocabulary on the drum kit, but none of that stuff mattered. What mattered was the way he would make a song feel. After running through a song a few times, then playing it a few times, we'd always get to a point where it felt exactly the way that song was supposed to feel.
It was a lesson in simplicity. I've played with other drummers who technically could run rings around Levon. And I'm not saying that's something you should avoid; a lot of different drummers knock me out. But Levon had his particular thing that was unique to him, and it was always a great place to be. Never failed.
In 2012, we lost Levon. During the Electric Dirt sessions, we had some down time, and Teresa and I started doing this album, including a couple of rhythm tracks with Levon. One of them survived onto the record, "You're Running Wild."
After Levon died, Teresa and I had to decide what we wanted to do. I've been producing records all along, and still want to continue doing that, but I also love making music with my wife. As I said, I was never attracted to being the guy out front, but doing this with her, it gives me the impetus to get out there.
Our goal with the record was to get it done, so that we can say we did it, just for its own sake – not for any commercial value that it might have. It kind of took on a life of its own. But when I could finally listen to it with some objectivity, I could honestly say it's an accurate representation of what we wanted to say.
There was a time in my life when I was standing on street corners playing fiddle or guitar for coins, and I remember enjoying every minute of that. I was playing an instrument, people were listening, and I was making enough money to eat that night. But the attraction to me has always been primarily being an instrumentalist. Until recent history, I never saw myself as the guy in the spotlight. It wasn't as big an attraction to me as the guy making the music happen.
---
This article originally appeared in VG June 2016 issue. All copyrights are by the author and Vintage Guitar magazine. Unauthorized replication or use is strictly prohibited.
---