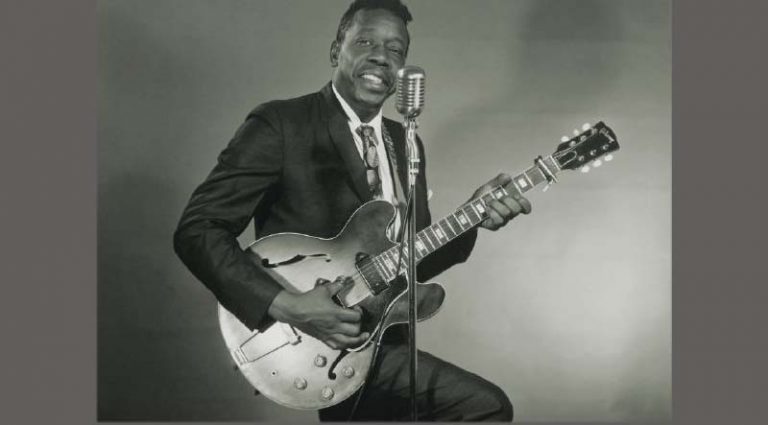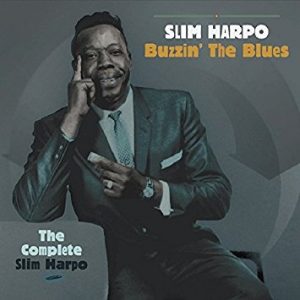 Mick Jagger admonished the world back in 1968, "What's the point in listening to us doing 'I'm A King Bee' when you can listen to Slim Harpo doing it?" His statement not only summed up the early philosophy behind the Rolling Stones – despite the band's superlative cover of that song, and later of "Shake Your Hips" – but was oh-so true. No one does Slim Harpo like Slim Harpo.
The problem has been that despite numerous greatest hits collections over the years, tracking down more than a handful of well-known, oft-covered songs has been a challenge. This makes the five-CD Buzzin' the Blues boxed set all the more welcome. It collects all of Slim's released sides, album tracks, plus numerous unissued cuts, alternate takes, and a live show.
The blues of James Moore, a.k.a. Slim Harpo, have been a primal influence on rock and roll. He walked a fine line: his music was some of the most pop-sounding blues, and yet it still ran deep and true. No wonder the Stones, the Kinks, the Fabulous Thunderbirds, and many others covered him, while the fabulous guitar lick in "Shake Your Hips" inspired Billy Gibbons' "La Grange" riff.
The best thing about this boxed set is all the amazing Slim Harpo music you've probably never heard. There's his quintessential, reverb-drenched swamp pop, but there are also deep blues, R&B crossovers, and some tracks that even move into proto rock and roll, such as his 1960 Excello single "Bobby Sox Baby." And while the '61 live set is not of superlative sonic quality, it is one of the earliest surviving shows capturing a blues artist in their prime.
About that great "Hip Shake" guitar riff: just who came up with it? Slim was primarily a vocalist and harp player, although he also picked guitar. Influenced by his hero John Lee Hooker's "Boogie Chillun" and likely Bo Diddley's "Bring It To Jerome," it may have been Slim himself who came up with the lick and played it – or at least the second guitar on the track. But he also surrounded himself with a cadre of Louisiana's best players – a revolving musical chairs of guitarists in his hard-working band, including Jimmy Johnson and Otis Hicks (aka Lightnin' Slim). Whatever, this collection uncovers the many boogie riffs and hot licks that spiced Slim's music.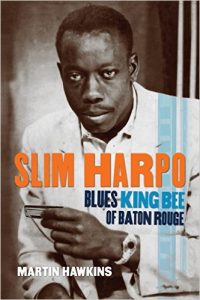 The box also includes a hardcover, LP-sized liner book compiled by Martin Hawkins chronicling Slim's recording history.
Hawkins has also just released a stellar biography of Slim that's both a detective story in sleuthing through the mysteries of his life and a masterpiece of blues scholarship into the little-covered Baton Rouge and greater Louisiana scene.
The author does a masterful job of uncovering details of Slim's life – and pointing out the ambiguities and enigmas that remain. He looks at Slim's place not only in not only in the regional but also the national blues scene, along with cohorts such as Lightnin' Slim, Leslie "Lazy Lester" Johnson, and more. And he delves into the influence of legendary swamp pop producer, J.D. Miller. Plus, the book is a great read.
This article originally appeared in VG's April '17 issue. All copyrights are by the author and Vintage Guitar magazine. Unauthorized replication or use is strictly prohibited.