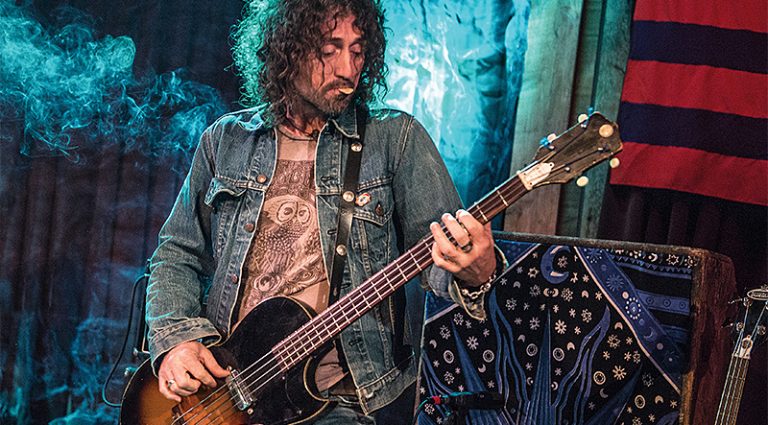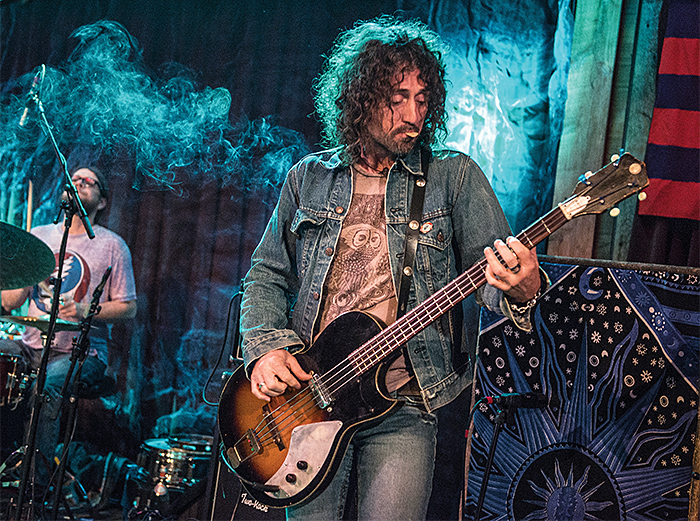 Mark "Muddy" Dutton is one cool cat with an impressive resumé and an affinity for the budget-friendly basses of yesterday.
Dutton laid down his retro grooves in bands alongside notable guitarists Craig Ross, Marc Ford, and Gilby Clarke before finding his home with Chris Robinson Brotherhood in 2011. Described by Robinson as a "farm-to-table psychedelic band," Dutton's vibe and penchant for vintage instruments make an excellent fit.
"When I first started jamming with Chris, I brought in my Danelectro," Dutton said. "I got into the Danelectro Mustangs after seeing Bill Wyman play a three-quarter-sized bass and realized he and I both have smaller hands."
Dutton has played everything from a Gibson Ripper to a Rickenbacker 4001, but it was ultimately pawn-shop hollowbodies that would become most associated with his style and personality.
"That's my favorite period – Silvertone, Danelectro, and Kay. They're harder to play, and they make me feel more connected to the music."
Early on with Brotherhood, Dutton switched to a '67 Kay archtop. "I have to bring something that speaks for itself, tone-wise. The Kay laid down this bottom under all the chaos the band was creating, and it worked. Everybody nodded and went, 'Wow, that sounds really good.'"
He's currently touring with two Kay flat-tops and his '67 archtop.
"There's something about the Kays that just makes you play differently. They pull something out of you that a new guitar simply can't. They have a wood bridge and when you hit a note, it just kind of dies out. It makes you approach the song differently and leaves you plenty of time to think about where you want to go next. That gives the music a bit more breathing room."
Dutton is also playing a custom bass made by New Jersey luthier Robert Mondell.
"He came to some shows and said he wanted to make a bass for me. I told him I'm really happy with the Kays and it would take a lot to beat them. They just really have something that no other bass has. Still, he took a leap of faith and showed up at a gig with this bass he made me. I plugged it in and loved it."
Partial to his Kays, Dutton had a few requests for Mondell.
"I said, 'Make it a hollowbody, with the strings through the body. Improve the bridge, but still use wood. And, I won't play anything that doesn't have Speed Bump Pickups.' Aesthetically, I asked him for a marriage between a Zemaitis and Kay. Sure enough, he did it. I go back and forth with that and my Kays."
Dutton's sound is delivered by way of a custom Showman/Marshall hybrid built by Fred Taccone of Divided by 13 Amplification.
"I was using a '70s Bassman for a while, and I loved it, but it didn't have the volume I needed. I'd heard about Fred, so I went to see him, and the second I plugged into it, it was unbelievable. It sounded like everything before the '70s. I took one on tour and Neal [Casal], our guitar player, heard it. Next time we went out, he had one. Then Chris got one. So, the three of us are playing Divided by 13, which is a little out of character for me, but there's no one I know who is more connected to that craftsmanship of the old days. Fred uses old capacitors, and everything is hand-wired."
Dutton also has a few tools at his feet helping carve out his tone.
"I'm using an old Dunlop Univibe, a bass wah, an MXR Carbon Copy, an envelope pedal, a Semaphore Tremelo, and a Bigfoot, by Analog Man. The Bigfoot is the only bass pedal that gives that real fuzzy bite on the top while maintaining the bottom-end. I don't know if he makes them anymore; he gave one to me and one to Tony Levin."
Of his playing style, Dutton notes, "At one point in my career, I learned that you can get so hung up on 'I have to have a '79 such-and-such with a green pedal and bell-bottom pants.' It ain't about that. It's about listening to the music and connecting. For me, it's simply a matter of not overplaying or overthinking. You have to use that part of your brain that you go to when you're driving down a highway after a gig and all of a sudden, you're pulling into your driveway and you don't remember the last hour. You just let go, and it just happens."
---
This article originally appeared in VG March 2016 issue. All copyrights are by the author and Vintage Guitar magazine. Unauthorized replication or use is strictly prohibited.
---