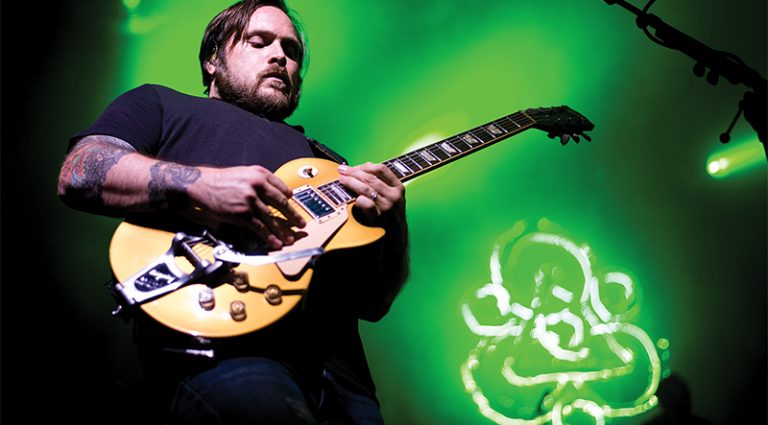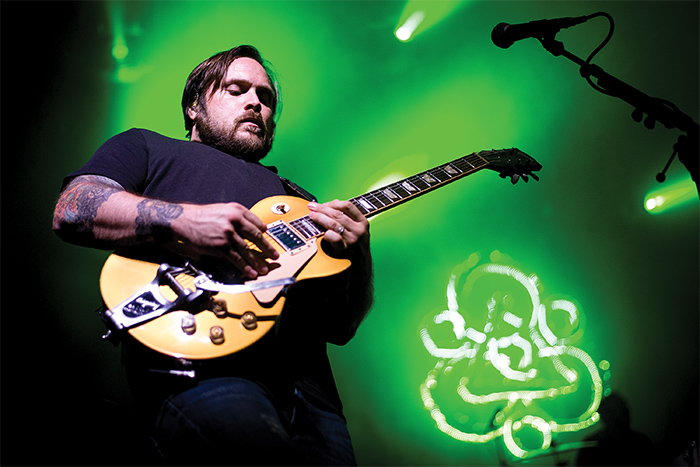 Few rock bands have explored the "concept album" format as thoroughly as Coheed and Cambria; the band's first seven full-length discs followed a sci-fi story line (known as "The Armory Wars" and created by singer/guitarist Claudio Sanchez). But with its recent eighth studio set, The Color Before the Sun, the band opted out of the concept genre. Guitarist Travis Stever spoke with Vintage Guitar shortly before the album's release.
How did you and Claudio approach the guitar parts on The Color Before the Sun?
There were a couple of songs where it's more old Coheed, where Claudio had a song and I added guitars to it, and it just worked that way. But there were quite a few little parts where he was particular on this record. When we started it, he didn't even know if some of these songs were going to be Coheed songs. If you take a song like "Atlas," that would be more of a song where I wrote guitar parts over the song that he had – he really liked it, and that's how we went forward. Or if you take a song like "Island," that part he already had and I embellished the rest of the guitar parts around that. But it was a little different in the sense that he had more of an idea with a few of the songs – exactly where he wants it to go. Once it would come to a point where it was, "Okay, this is the vibe," then I could go for it.
How was it working on the band's first-ever non-concept album?
The concept has never really affected us, musically. We've always gone for a cinematic feel in the album, so it flowed. Because that's what we like. But it's not that the concept dictated that. During a track listing, it wasn't like, "This is where this is going to happen in the story." Yes, the songs were built from a concept standpoint, but they're also built from a real-life experience standpoint when they're written – especially musically. They would come together with what sounded good, and that goes for The Color Before the Sun, as well. It was trying to make sure everything was perfect, and we cut everything live.
How was it, recording live?
We were pretty much scared s***tless at first, because it was something we'd never done. Just trying to go through each song, we went through the track listing and did a song a day. We busted through that in less than two weeks. Once we got through "Island," "Eraser," and "Colors," it was like, "Okay, we can do this." But we were rehearsing it like, "Let's have these songs as prepared as possible. Everybody have their parts together, but when it comes down to it, maybe it will be the old way of laying down scratch guitar and adding drums to it." But when we got there, that was one of the things Jay Joyce did as a producer, he pushed us off that edge, and was like, "You guys are going to do it this way." So we started "Island," and it worked. We kept going down the line, and I think about halfway through the record, everybody was like, "Oh, we are doing it this way!" I think that approach will probably come up more in the future for the band, because there is a certain energy.
Which guitars and amps did you use?
Ninety percent of the time, I used a goldtop Les Paul. They did a traditional version of the Les Paul Standard and about eight years ago I got it, and it's turned into my favorite guitar. I used a Stratocaster on one part that I overdubbed. On the chorus of "Atlas," I doubled the guitars to add a little extra feel to the chorus, but literally, doubled the exact same thing I played live. Pretty much the whole time was just the goldtop Les Paul, and I think I used my Black Beauty on one song. As for amplifiers, I used my Mesa Boogie Mark V a lot, and also a Matchless combo amp for quite a bit. As for the dirty and clean, on the Mark V, I use that regularly, but we'd add on a Memory Man, the Boomerang Phrase Sampler, the Hotcake pedal, and for reverb, it was the Boss 20XL.
Which Coheed tune are you most proud of, from a guitar standpoint?
I love playing acoustic guitar, and there was something I wrote for the album No World for Tomorrow, called "The Fall of House Atlantic." I was super proud of the fingerpicking style I used on that.
---
This article originally appeared in VG February 2016 issue. All copyrights are by the author and Vintage Guitar magazine. Unauthorized replication or use is strictly prohibited.
---