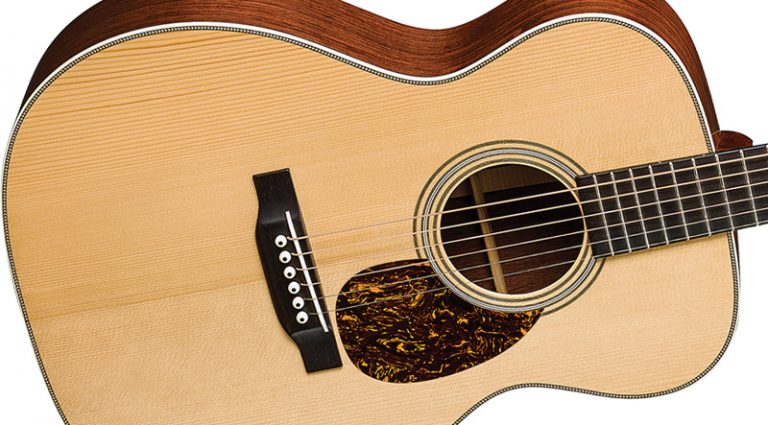 If you've ever played a fine vintage guitar, you know how two things jump out at you immediately: 1) they're often quite light, and 2) they display a big, vibrant tone. Martin is one of several makers in pursuit of re-creating vintage lightness and big tone with pinpoint accuracy. Their OM-28 Authentic 1931 is a recent example.
First, a quick lesson on aging wood. Good vintage guitars are sometimes lightweight due to water content, or more accurately, lack thereof. The more wood ages, the more moisture it sheds, resulting in a lighter (yet stronger) material. Martin has devoted a substantial amount of R&D to this area, discovering the merits of torrefaction, a method of roasting wood in an oxygen-free, pressure-controlled environment. This process is the basis for Martin's Vintage Tone System (VTS). They have even checked the cellular structure of certain vintage flat-tops and replicated specific aged grain patterns in newer woods. Benefiting from VTS, the OM-28 Authentic 1931 is an orchestra model that purports to be "vintage" right out of the case.
Though this OM-28 looks like a classic Martin flat-top, a lot of premium features and appointments make it stand apart. Look for the VTS solid Adirondack spruce top and top braces with Madagascar rosewood back and sides covered in a vintage-gloss finish. The 20-fret guitar has a mahogany neck with a 25.4″ scale, ebony fingerboard, and 20 frets (14 clear of the body), with an ebony bridge. Historical appointments include "zig-zag" back strip and Style 28 rosette (Authentic 1921-1931); top herringbone inlay; and a neck attached with a dovetail joint and hide-glue construction. Also look for a 1.75″ neck width at the nut and tasteful diamond-and-squares inlays, as well as a diamond-shaped volute (where the neck meets the back of the headstock) and open-gear butterbean tuners. The lack of a Martin logo on the headstock is another cool old-school touch.
Pick up the OM-28 Authentic 1931 and you'll notice it's as light as a feather, much like a good vintage guitar. With Martin's Authentic 1931 Barrel & Heel shape, the very comfortable neck has a soft V profile and a bit of width that assists with fingerpicking and fretting. The OM-28 has a very even tone with a nice low-end sound and mellow treble – not unpleasantly bright or harsh, like some acoustics. But what will dazzle you, in a word, is the instrument's projection. Clearly, the VTS process has created a drier piece of Adirondack spruce that moves, vibrates, and pushes air out of the sound hole in impressive fashion. Certainly, you'll want to carefully humidify the instrument per Martin's specifications, but after just a few minutes of playing, the Authentic 1931 makes a strong case for torrefaction.
In all, Martin's VTS system appears to be a genuine shift in the high-end guitar market, one where aesthetics all too often outweigh tonal quality. There will always be players who crave a decorative guitar with figured woods and fancy inlays, but with the Authentic 1931, Martin takes a different tack. Instead, the OM-28 does what a guitar is supposed to do – sound and play great. This is a connoisseur's instrument, something for the guitarist who wants to play a simply stunning acoustic, not just look at a museum piece. We might add that if you blink at its price tag, you should consider what an original, early-'30s OM-28 costs these days (over $30,000 – in some cases, double). The Authentic 1931 is a value for a premium American-made flat-top.
Call it "roasting" or call it "torrefaction" – Martin's VTS aging process is the real deal, and its OM-28 Authentic 1931 is a hands-down masterwork.
---
This article originally appeared in VG November 2015 issue. All copyrights are by the author and Vintage Guitar magazine. Unauthorized replication or use is strictly prohibited.
---