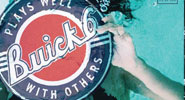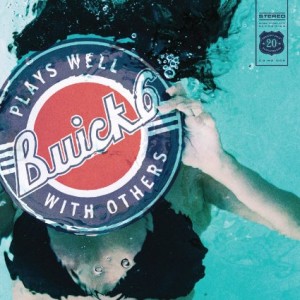 You're likely wondering, just who is this Buick 6 and who do they play well with? Good questions. The trio is Lucinda Williams' backing band, which has also become her opening act for many a show since the release of Williams' 2014 double album Down Where the Spirit Meets the Bone.
The ensemble comprises Williams regulars drummer Butch Norton and bassist David Sutton, along with guitarman Stuart Mathis who joined her for the album and has since become a highlight of the shows.
Mathis' resumé includes lead guitar duties with the Wallflowers since 2005, session work with the likes of Chris Isaak and the Indigo Girls, and a couple solo albums. He also shares tour-bus driving duties.
This self-produced CD is pure sonic joy – and the band's obviously having fun here, as well. You can hear it in how well they lock in with each other and in their interplay. The 13 tracks are band-authored instrumentals, with a couple exceptions.
The album kicks off with the stellar "Haptic Feedback," an exploratory jam riding atop a greasy backing vibe. Mathis' foot is as busy as his hands, sampling his array of effects pedals. Great stuff.
"Cowpunk" is a spaghetti-western musical with honky-tonk guitar, a jawharp melody line, and a chanted mantra. "Plymouth Fury" is a lowdown blues that segues into harder rock. Sutton's bass is happily funky, dueling with Mathis and his arsenal of stompboxes.
"Soundcheck In Delaware (6/7/14)" sounds like the middle of a Grateful Dead space jam with soft arpeggios and glorious delay echoing Mathis' lines, the energy building throughout – which didn't always happen with the Dead. "My 2 Sense" kicks off like a Stevie Wonder outtake before moving into other dimensions. The band also plays a stripped-down instrumental take of Williams' "Righteously" and Williams herself adds haunting vocals to a spaced-out version of Bob Marley's "So Much Trouble In The World."
Buick 6 certainly plays well with each other. Think Booker T and the M.G.s in terms of establishing a groove and riding it out. In her shows, Williams is effusive in appreciating their effort.
This article originally appeared in VG's April '16 issue. All copyrights are by the author and Vintage Guitar magazine. Unauthorized replication or use is strictly prohibited.