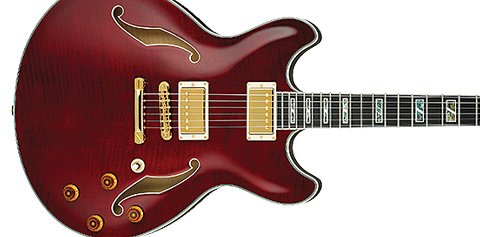 Ibanez EKM100
Price: $2,799.99 (list)
Contact: www.ibanez.com
Fans of contemporary soul, jazz, and funk should be well aware of Soulive. Since 1999, the band has been entertaining audiences around the world with contagious grooves and jazz-inspired sounds.
After the band recorded its first EP, guitarist Eric Krasno thought change was in order. A Stratocaster user, while recording, he felt its solidbody timbre wasn't quite right, especially in the context of an organ trio. He then jumped to a semi-hollowbody guitar, which helped him evolve from using blues-rock licks and skanking rhythms to a fresher approach inspired by Wes Montgomery and Grant Green.
As the band's profile was rising, Krasno teamed with Ibanez to develop a guitar that combined the classic sounds of the Ibanez semi-hollow models he owned with the neck dimensions of a '59 Gibson ES-335 reissue from his personal collection. He also wanted an edgier, brighter-sounding guitar that was visually attractive. The result is the Ibanez EKM100 Eric Krasno Signature model.
Sporting a beautiful flamed-maple top, back, and sides, the EKM100 is a formidable piece of craftsmanship. A three-way toggle, two Tone knobs, and two Volume knobs control two DiMarzio 36th Anniversary PAFs in the neck and bridge positions. The gold-colored Gotoh bridge and tailpiece, along with other matching hardware, complement the guitar's Wine Red finish. Made in Japan, the guitar is adorned with Gotoh Magnum Lock tuners, 22 jumbo frets, bound ebony fingerboard, striking pearl and abalone block inlays, and a bone nut.
With a thickness of 23 millimeters at the first fret and 26 mm at the 12th fret, the super-chunky one-piece mahogany neck could be a deal-breaker for some, but any guitarist who has a hankering for guitars with huge necks has come to the right place. The EKM100 is no dinky budget model for the novice player. Rather, it's a guitar for the performing artist who considers the big picture in a band context.
Plugging into a variety of Fender blackface combo amplifiers, one is met with a plethora of smooth, bright sounds and just the right amount of woody semi-hollow goodness. The EKM100 jangles, pops, and cuts. It's edgy, bright, and top-end-favoring sound is by design; for Krasno, it helps him compete for EQ space against an organ and organ-bass parts in the band's mix. Other semi-hollow-body guitars might offer warmer jazz tones, but they often get lost in a bottom-heavy mix. The EKM100's sharper sound carves its own niche while providing lush jazz-blues accommodations. Played solo, you won't hear the deep, warm lows and the mellow jazz tones you might hear in a vintage ES-335, but the Tone controls and some EQ from the amp can dial in a lot of that, even if it goes against the nature of the EKM100. This guitar is not the best choice for ultra-warm and intimate solo jazz guitar performances. It was made to reign supreme in a bass-heavy band environment, with every note distinctly heard.
Onstage with even the boomiest bass player and keys, the EKM100 gets props for its organic temperament and mix-jumping articulation. Though a bit unwieldy because of its neck size and weight, convincing blues, rock, rockabilly, and jazz performances were a success. Its super-clean, ultra-clear humbuckers responded perfectly to overdrive pedals, giving even the muddiest settings more clarity and punch. With all its lush woodiness, it offered all the positive attributes of an earthy semi-hollow-body guitar, and none of the woofy, muffled, darker characteristics.
The Ibanez EKM100 is a top-tier guitar for the guitarist with big ears – and big hands to match.
---
This article originally appeared in VG March 2015 issue. All copyrights are by the author and Vintage Guitar magazine. Unauthorized replication or use is strictly prohibited.
---