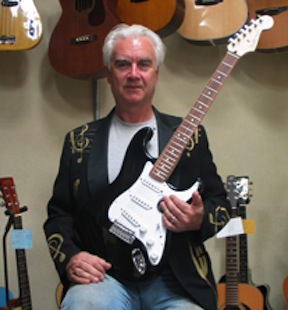 Mark Pollock, a noted guitarist, shop owner, and guitar-show promoter, passed away November 13 from respiratory failure after an extended battle with cancer. He was 64.
Pollock acquired Charley's Guitar Shop and the Dallas International Guitar Festival Dallas show after his close friend Charlie Wirz, who founded both, died in 1985. He eventually sold Charley's and, in 2002, opened TransPecos Guitars, in Alpine.
Pollock was co-creator and longtime host of the "Far Out West Texas Blues Show" on Texas public radio station KRTS, and was a key supporter of the blues-music scene who loved to share with listeners his knowledge of Texas blues. He was also an acclaimed guitarist on the state's blues circuit, earning spots as a sideman who backed Freddie King, James Cotton, and Lowell Fulson, and also formed the bands Kingsnake (later renamed Anson Funderburgh and the Rockets), Mark Pollock and the Midnighters, the Nightcrawlers (with singer/drummer Doyle Bramhall), and Blue Collar Crime
"Mark was a loving husband, a loyal friend, a wonderful partner, a gifted musician – on and on," said Jimmy Wallace, with whom Pollock ran the Dallas festival until Pollock sold his share in 2007. "If you ever needed help with anything, he was your man. I will miss him more than words can express. He's getting Heaven organized this very moment!"
"Mark always treated me with respect and kindness," added Les Haynie, proprietor of Blue Moon Music. "I can only aspire to do the same. It's such a loss."
Pollock is survived by his wife, Mary.