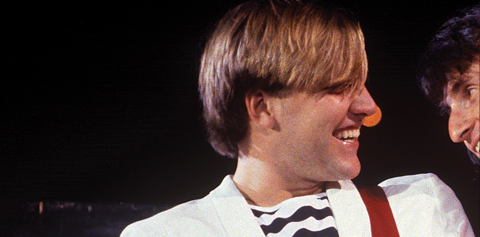 "A lot of critics perceived us as being pretentious," says Rush guitarist Alex Lifeson of his band's early years. "We were not representative of where they thought rock was heading." • Responding after being asked about a comment he made in the award-winning 2010 documentary Beyond The Lighted Stage("We always felt it was us against the establishment."), Lifeson elaborates. "We only cared about playing and performing best we could. If people hated us for whatever reason, that was fine. Everybody's got the right to like and dislike something, but it was painful, at times, to read stuff that was just plain nasty."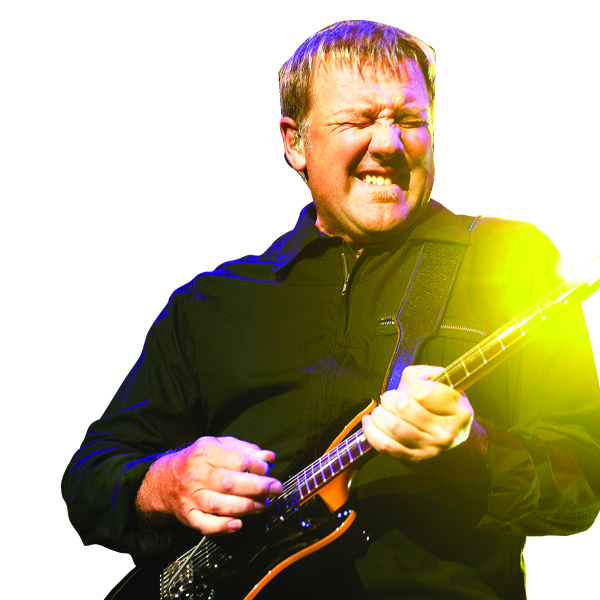 Lifeson was born Aleksander Zivojinovie to Serbian parents in British Columbia on August 27, 1953. At age 11, he was given a Japanese-made Kent acoustic guitar as a Christmas present from his father, but his first formal musical lessons were on the viola, which he laughingly acknowledges, "…wasn't the coolest thing you could do back then!"
In the summer of '68, Lifeson joined friends Jeff Jones on bass and John Rutsey on drums to form a band they called The Projection. Jones left after one gig and was replaced by a schoolmate named Geddy Lee as the band evolved to become Rush. Six years later, as they prepared for their first American tour, management decided that Rutsey, whose diabetes was exacerbated by what they saw as excessive use of alcohol, couldn't handle the stress of touring. So, Neil Peart took over on drums, and would subsequently become the band's primary lyricist. In the decades that followed, Rush amassed more than 24 gold and 14 platinum albums, placing them in the company of the Beatles and Rolling Stones in terms of sales.
Their eponymous 1974 debut reflected the influences of Led Zeppelin, Cream, Deep Purple, and The Who. But by the next album, 1975's Fly By Night, they began relying on their own musical instincts and Peart's more-literary lyrics. With the 1976 release of 2112, the band was hitting its stride and released a string of impressive efforts leading up to 1981's Moving Pictures, which includes its best-known song ("Tom Sawyer") and remains its biggest seller.
Through the group's many musical changes, Lifeson has provided unique guitar work on electric and acoustic guitar, as well as on mandolin, bouzouki, mandola, and keyboards. In concert, he incorporates a multitude of electronic effects, including bass pedal synthesizers.
Rush uses a MIDI controller in concert, which allows them to re-create the intricacies of their album sounds without having to add musicians or employ backing tracks.
On the band's just-completed tour, Lifeson used several Gibson guitars, including his trademark ES-355, a '58 reissue Les Paul sunburst, '59 reissue Les Paul with tobacco-sunburst finish, and a Howard Roberts Fusion, along with two Martin acoustics (D-10 and D-12) and a Garrison OM-20 octave mandolin.
The Rock and Roll Hall of Fame has just completed this year's inductions, and Rush has once again been bypassed. What are you feelings on that?
It's not a big concern. It's a business that makes a lot of money and I have no problem with that, but it's not a real representation of what rock music is about. There are certainly a lot bands in there that I admire, like Zeppelin and U2. But if we're not wanted there, I really don't care. Being inducted is not going to change my life at all.
As an aspiring guitarist, were you more impressed with Jimi Hendrix, or Eric Clapton with Cream?
Oh, from the very beginning, Hendrix blew my mind. He was just amazing. There was no thinking about ever reaching his level. Everything he did seemed so nuanced and out of this world, especially at that time. You could never replicate that tone, or how he played those things. I certainly didn't have the dexterity to do it. As a kid, Clapton's solos seemed a little easier and more approachable. I remember sitting at my record player and moving the needle back and forth to get the solo in "Spoonful." But there was nothing I could do with Hendrix.
What about Jimmy Page as an influence?
Jimmy Page has always been my absolute guitar hero. From the first time I heard Zeppelin's first album, I wanted to play just like him. I wanted to dress just like him. When I finally got to meet him in '98, I was so nervous, like a little kid. My hand was shaking when I handed him a copy of my solo album, Victor, on which I had written something saying how much he meant to me.
Any other major influences outside of the usual suspects?
I loved Steve Hackett's playing with Genesis in the early '70s; the way he worked melodies into the context of the music. He would stay in the background for the rhythmic stuff, but when needed, add a line that echoed or complemented a keyboard. It was always tasteful and sounded great.
You saw The Who play live in '67, when you were 14 years old. What do you remember most about the show?
They were opening for Herman's Hermits, and were simply amazing. I remember watching Townshend, noticing his strumming, and how the voicing in his chords was unique and covered a lot of territory. It was incredible.
You started taking classical guitar lessons when you were 17…
Yes, and I was very serious. I enjoyed the discipline, but the following year, 1971, the drinking age in Ontario was lowered from 21 to 18, and we went from playing two or three gigs a month to playing six days a week in clubs, and sometimes Saturday afternoon. Everything became full-time, so I had to give up the lessons.
Was it a matter of ego that you decided Rush didn't need a second guitar player?
Actually, I was very self-conscious about my playing in those days. And we did have a couple of other guitar players; Geddy's brother-in-law played rhythm guitar and keyboards the first year. Then we had Mitch Bossie for awhile, but he was more about image than playing, so it didn't work out.
There are still times when I'd like to have another guitar player in the band… most times (laughs)!
In Beyond The Lighted Stage, you say 2112 was a do-or-die album because the record company was considering dropping the band.
Well, there was definitely pressure to do something similar to our first album, which really reflected our roots and was very Zeppelinesque. Before we released 2112, we did Caress Of Steel, which was much more experimental than our early ones and an important part of our growth. But because it was a commercial failure, there was a lot of pressure to make something Mercury considered more palatable to a rock audience, not so esoteric.
That idea probably didn't fly well with the band.
Definitely not. Even though all of us were very broke at the time, we weren't going to buckle and remake our first album. We figured, "At the end of the day, Rush is about who we are and what we are. If we can't do the album on our own terms, what's the point? We may as well go back to working straight jobs instead of becoming a bar band for a few years then ending everything."
So we went into the album with the passion of having to fight the establishment again. And the music resonated with fans and became very successful. It really bought us our independence and freedom from ever having anyone at a record company influence or control how we do our music. A lot of musicians from other bands look up to us for that, because that's the ideal for any musician.
To what do you attribute the enduring popularity of "Tom Sawyer?"
There's the spirit of the lyrics – that swagger. There's that keyboard opening, that bass sound… that's a real signature. Neil's drumming is spectacular on it. Every time we play the song live, it's a challenge for him to reproduce it. I guess, structurally, the song is very sound. It's not particularly repetitive, and has some interesting dynamics. I could never have never imagined that 30 years later, it's still very active in terms of requests that it gets for television and film usage, and, of course, radio airplay.
You reportedly only did five takes on it. Is that typical of the way you work?
Yes, most of my solos are like that. I prefer doing very few takes. Over the years, I've found that when I'm soloing, I get stale very quickly. I'm too self-aware of my playing. Everything works best for me when I'm impulsive.
Which three of or four Rush tracks do you think best display your virtuosity? 
Boy, that's a tough question. "Limelight" definitely has one of my favorite solos. "Kid Gloves" is probably my second favorite; really off-the-cuff. Listening to it always makes me smile. "Natural Science" is always a challenge to execute in concert.
What were the first guitars you used after the band became popular?
I bought a Gibson ES-335 on our first tour, then got a Les Paul in '76. Those were my main guitars until the late '70s. I also had a Strat as a backup and for a different sound. I dropped a Bill Lawrence  humbucker in it, and a Floyd Rose vibrato. In '76, I got another 335 – my white one – which became my main guitar. I love that guitar and still use it on tour and in the studio. It's a perfect weight, and has real creamy tone.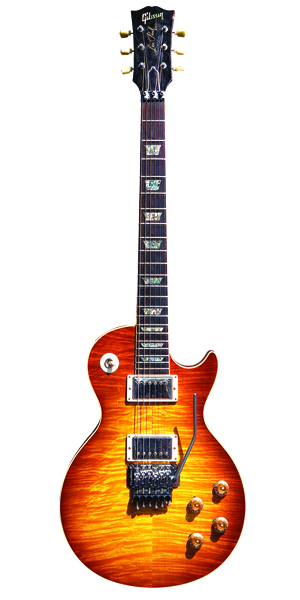 What were your next ones? 
I started using a Howard Roberts Fusion as my main guitar for a few years, then a Signature, which was a Canadian-built copy guitar that was awful to play – very uncomfortable – but had a particular sound I liked. The last few years, I've used Gibsons almost exclusively. There's nothing like having a low-slung Les Paul over my shoulder! The tonality and playing is so great, so traditional.
You've also used PRS guitars. Would you agree that Les Pauls typically have a heavier sound than a PRS?
Most of my experience has been with the PRS CE, which has a smaller body, which gives it a smaller presence and tighter midrange. The vibrato is fantastic; you don't need a locking nut and I never had any tuning issues with them. The Les Paul seems more expressive to me. Their sustain is different, and the guitar resonates in a different way.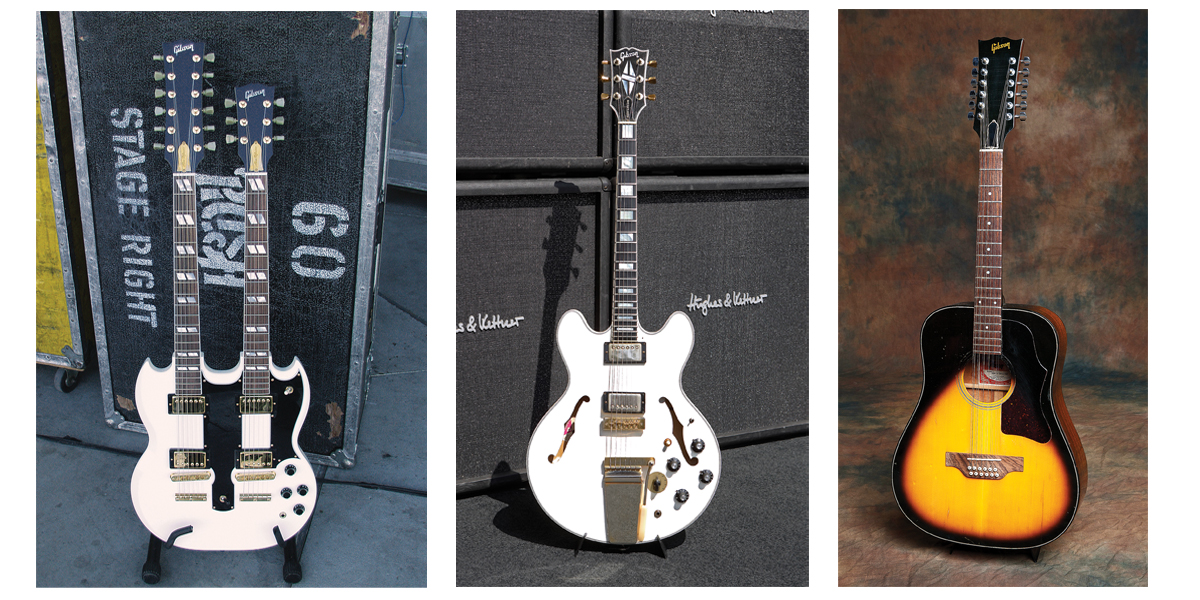 How is work on the new album coming along?
Well, our intent was to have it out this year, but after we started it, we thought, "Let's go on a short tour, get in shape, then finish it." Then the tour did so well that there was pressure on us to do another run, then we decided to do another leg. We'll take a few months off after it's finished, and complete songwriting. Geddy and I are working on several new songs to balance out the six we've already written.
As a band that has been recording for nearly 40 years, it must be a real challenge to come up with new ideas and avoid becoming a caricature of yourself.
That's always our ultimate worry. We're always concerned about repeating ourselves, always looking to go in different directions. But it's difficult. You don't want to go toofar outside what you're known for just because you think you have to. Lately, I've been trying to challenge myself with different tunings, particularly in the context of songwriting, because the guitar becomes totally different, and having Geddy play off what I'm doing with the tunings sometimes takes us in new directions. I think we have a pretty good understanding of what our older fans want. I don't think they want us to keep doing the same old thing.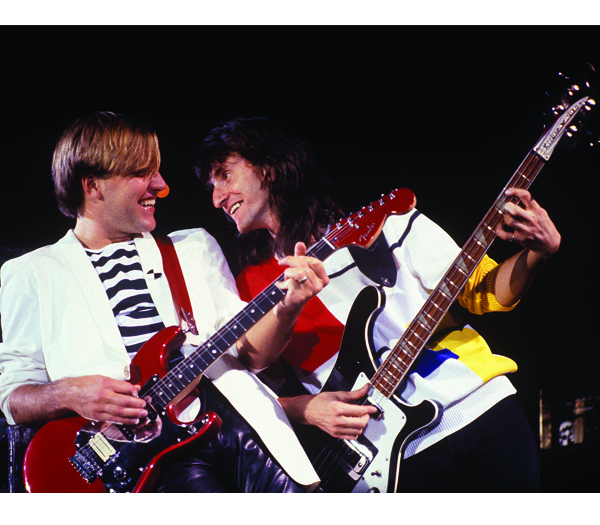 Is there such a thing a typical Rush fan?
I don't know. Since the documentary, we have a new level of popularity and a broader fan base. There are a lot more females at shows than in the past because there are things in the documentary that women relate to – the connections we have with our families, and the women we married when we were young and have been with ever since.
The typical Rush fan? Hard to say. Probably fairly intelligent; very interested in music and information. Knowledgeable.
Do you think rock music is healthy in 2011, or are its best days in the past?
Well, a lot of the music on classic-rock radio has great staying power. When that music was made, times were very different – the listening experience, the presentation. Now, communication is instantaneous and broad. Yeah, there's a lot of lousy music around, but there are also a lot of different kinds. You have to look hard to find a niche you're interested in.
I have to admit, music doesn't connect with me the way it did when I was younger; when I really enjoyed the experience of spending the time exploring the talents of a particular artist. Also, having a nice big album cover to look at while I was listening to the music was a much richer experience than downloading and having an iPod with 1,000 songs.
It's been a very long time since rock dominated the music charts.
Yeah! What happened? Is it because of the quality of music? This generation has grown up on different influences. Rap and hip-hop isn't my cup of tea. I try to be open-minded about it, but honestly I don't see any real quality there. I recently had to bring my TV into a place to get repaired, and while I was standing in the queue, I was watching a huge TV on the wall. The sound was turned off, and there was some concert footage of Ricky Martin with all this dancing. It looked so ridiculous. Music is all about dancing now. To me, it has lost the plot. Is all that dancing really more important to people than real music?
What's the secret for keeping a band together as long as Rush?
Well, I think mainly it's that we've always gotten along. We keep things light and fun, and have always been a great challenge and inspiration to each other. Geddy and I will get together to talk about what we're going to do next, and we'll sit around, drink coffee, laugh, and fart. He's still my best friend in the world. We just happen to be in a band together. Me, Geddy, and Neil are like a brotherhood. We're family, and we work hard at staying as one.
---
This article originally appeared in VG September 2011 issue. All copyrights are by the author and Vintage Guitar magazine. Unauthorized replication or use is strictly prohibited.
---