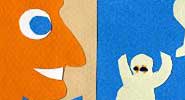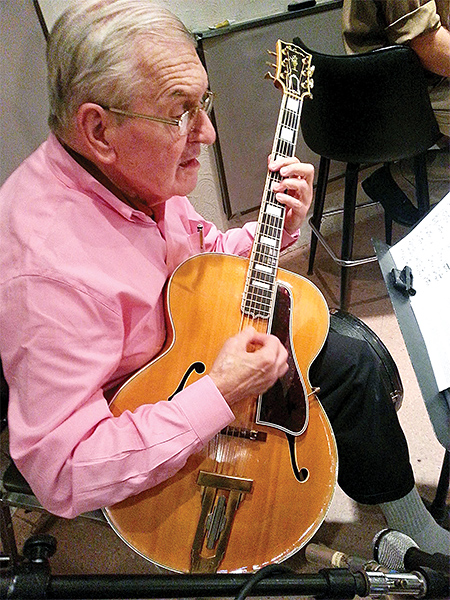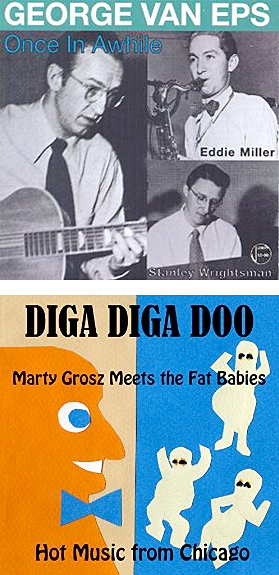 Marty Grosz is surely one of the last of a breed – a jazz guitarist who plays strictly rhythm and chord-style solos and strictly acoustic. He's also a fine singer and scholar of early jazz, not to mention a virtual stand-up comedian (and a great one) on gigs.
Delmark Records tapped him for double duty recently, teaming him with Chicago's Fat Babies and writing informative liner notes for an expanded reissue by jazz guitar legend George Van Eps.
In his 85 years, Van Eps never became the household name he should have, but he was a big influence on Ted Greene, Bucky Pizzarelli (who adopted his 7-string approach), and others who may not even realize that he dug the well from which they're drinking.
His early idol was Eddie Lang, but Van Eps sought to establish jazz guitar as a self-contained medium, the way classical guitar gained acceptance. He simultaneously combined chords, melodies, counterpoint, and bass lines – not to mention improvisation!
Most of the 25 tracks (two previously unreleased) on Once In Awhile, recorded in the late '40s, feature Van Eps with tenor saxophonist Eddie Miller and pianist Stanley Wrightsman, sans bass or drums. Multiple takes of standards like "Stars Fell On Alabama" and "Peg O' My Heart" typically begin with Miller stating the melody and soloing, although Wrightsman and Van Eps solo unaccompanied. Four cuts showcase Van Eps with just bass and drums, although his original "I Wrote It For Joe" is interesting in that an earlier take of Van Eps alone shows him still working out sections, then the trio version represents a more fully realized arrangement.
On his website, Grosz states, "Electrified rhythm guitar is rarely successful, if at all, particularly when we mean rhythm in the accepted swing-era sense – that is, strumming chords in a 4/4 time. When the production of the beat becomes too easy, when there is no resistance, then there's no bite, no incisiveness, and usually no swing." He proves his point with the Fat Babies, whether kicking the four-horn ensemble in its collective ass or soloing alone, as on Isham Jones' "Why Couldn't It Be Poor Little Me?"
The 75-year-old is the son of George Grosz, the legendary German expressionist artist whose raw satire and political/social commentary resulted in his exile to America. Marty took up ukulele at eight, before graduating to banjo and guitar, and made his first appearance on record in 1950, as part of a group that included pianist Dick Wellstood and New Orleans legend Pops Foster on bass.
Though young enough to be Grosz' grandkids, bassist Beau Sample and drummer Alex Hall not only excel at classic Chicago jazz but are also members of roots guitarist Joel Paterson's Modern Sounds. This generation-bridging session is a delight throughout, but when Grosz lends his Fats Waller-inflected vocals to "Sweet Sue," it just doesn't get any better than that.
---
This article originally appeared in VG's July '15 issue. All copyrights are by the author and Vintage Guitar magazine. Unauthorized replication or use is strictly prohibited.
---