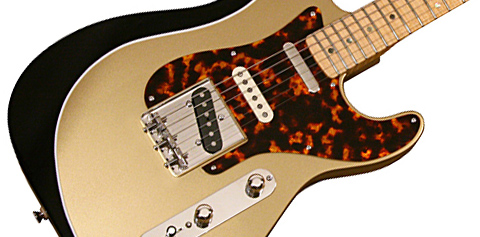 DeTemple Spirit Series Stellacasta
Price: $9,000 (list)
Info: www.detempleguitars.com
As an accomplished musician since the 1960s and more recently as a guitar builder and vintage collector, Michael DeTemple has long been aware of the demand for guitars that retain the sound and feel of vintage instruments but fit the needs of contemporary musicians. With this in mind, DeTemple created a line of custom guitars and basses.
The built-to-order Stellacasta evolved from DeTemple's Spirit '52 and '56 Series, and was designed with a lightweight/one-piece swamp ash body. Its nitrocellulose lacquer high-gloss finish is eyecatching alongside its tortoiseshell pickguard and traditional T-style bridge with titanium barrel saddles.
The Stellacasta is equipped with SweetSpot Alnico II Stella pickups – a '52 model in the neck (5.9 K ohms) and bridge position (7.9 K ohms), and the '56 model in the middle. With the push/pull rear Tone knob engaged, the five-way switch offers seven pickup selections. The push/pull knob adds the neck pickup to work alongside all the other selector settings. This configuration offers a variety of tonal options using the bridge and neck pickups combined, as well as all three pickups combined.
Stellacasta necks are made to customer specifications from one piece of quartersawn flamed maple (the review model measured .930″ thick at the first fret and .960″ at the 12th). It has a reverse taper, a soft-V shape, and a proprietary pre-tensioned stainless-steel truss rod. Is medium-tall frets were made 18 percent nickel alloy, while its open-back tuners are a custom design by Gotoh. The nut, string tree, and selector switch tip are made from handmade fossilized mastodon ivory.
For fans of hybrid tones and made-to-order guitars, the Stellacasta might just be the ticket.
---