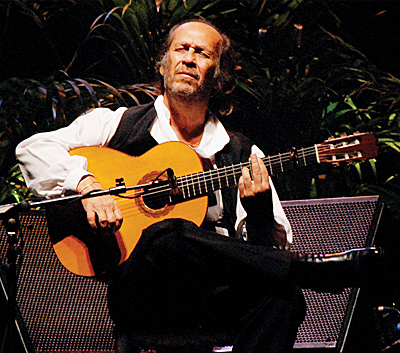 Spanish flamenco guitarist Paco de Lucia died February 26 after suffering a heart attack in Cancun, Mexico. He was 66.
In the U.S., de Lucia was best known for his collaborations with jazz-rockers like John McLaughlin, Chick Corea, Larry Coryell, and Al Di Meola, with whom he recorded "Mediterranean Sundance" in 1977. This seminal recording featured intense flamenco improvisations from both players, exposing this Latin guitar style to a new generation of young rock and fusion fans. In the ensuing decades, de Lucia would become regarded as the world's leading flamenco guitarist and, in some players' minds, the world's greatest living guitarist. When he played, there were no effects, no electricity, and no tricks or mirrors – not even a pick. A melding of man, wood, and strings, de Lucia displayed pure, raw ability and a peerless musical sensibility when he held the nylon-string guitar.
Flamenco is an art form of the Roma – the Spanish gypsies who live in the Andalusia region – and involves dance, singing, clapping, playing guitar, and using hand percussion. Though not a Roma himself, de Lucia was exposed to it via his father and brothers, who were flamenco musicians, and he began playing guitar at age seven. Born as Francisco Sanchez Gomez in 1947, he started performing at 11, cutting his first album at 15. In the late '60s, he began a partnership with flamenco singer El Camarón de la Isla and the two invented an electrifying new style of flamenco that catapulted them to national fame.
Paco's break in Amercia came via "Mediterranean Sundance" and two years later, he began working with John McLaughlin and Larry Coryell in what later became known as the Guitar Trio, fusing jazz, flamenco, World, and more than a little rock attitude, but entirely on acoustic guitars (McLaughlin and Coryell flatpicking on roundback Ovation acoustic-electrics, while de Lucia picked with fingers and nails on a traditional nylon-string). As Paco de Lucia once told NPR about his style, "My flamenco is not a fusion. I have always been careful that it doesn't lose the essence, roots and tradition of what is flamenco. I have incorporated other things, but things that have not altered the philosophy of the music. I have, as my only interest in all this, to grow as a musician who plays flamenco and not to bring things that some way or another changes the identity of this music."
In 1981, Al Di Meola replaced Coryell in the Trio, and the three recorded Friday Night in San Francisco. Surprising everyone, the LP hit the pop charts and eventually sold seven million copies. de Lucia, McLaughlin, and Di Meloa followed up with a studio album – the excellent, but lamentably overlooked Passion, Grace & Fire – and toured for the next few years.
The three performed to sold-out audiences of screaming fans and received glowing reviews from the most jaded critics. Even with McLaughlin and Di Meola's prodigious skills, de Lucia always stole the show with his high-speed ("picado") picking chops, and those jaw-dropping strumming and string-raking techniques ("rasgueado"). The Trio's 1983 tour further featured Dixie Dregs leader Steve Morse on solo acoustic guitar and, each night, he joined them for an explosive four-way guitar finale. In the mainstream pop world, de Lucia also played on singer Bryan Adams' 1995 hit, "Have You Ever Really Loved a Woman."
Upon hearing of his friend's death, McLaughlin was quick to note, "Paco was passionate, but had true compassion and a deep understanding of the human condition. All this was revealed in his music and marvelous guitar playing. To have worked and played music with him is one the greatest blessings in my life. In the place where he lived in my heart, there is now an emptiness that will stay with me 'til I join him."
"I was part of Chick Corea's Return to Forever when I was 19 and we toured Spain," added fellow six-string master Al Di Meola. "It was there that I heard the buzz about Paco and saw the potential of our collaborating one day. His technique far surpassed any other flamenco-type players and I envisioned an amazing collaboration between us. That day happened in 1977. We made history when I invited him to New York and we recorded 'Mediterranean Sundance' at Jimi Hendrix's Electric Lady Studio. Surprisingly, it became the equivalent of a major pop hit around the world and was played on the radio everywhere, something unheard of in non-vocal music up until them.
"Right now, I am so sad at his passing and will forever miss Paco. But, I will remember our thousands of great memories and musical camaraderie. RIP, my dear friend!"
---
This article originally appeared in VG June 2014 issue. All copyrights are by the author and Vintage Guitar magazine. Unauthorized replication or use is strictly prohibited.
---