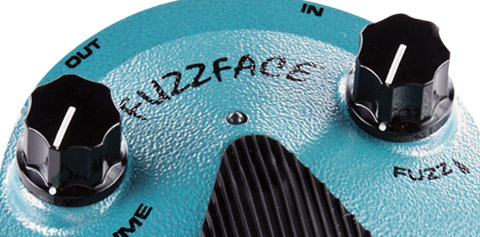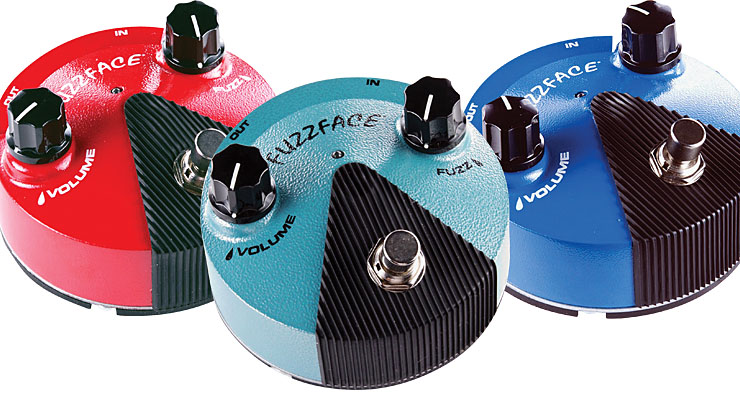 Dunlop's Fuzz Face Mini Distortion Pedals
Price: $129.99 (Germanium, street);$99.99 (Silicon and Jimi Hendrix, street)
Contact: www.jimdunlop.com.
When it comes to fuzz pedals, the one that comes to mind for most players is the iconic Fuzz Face. With its cool, round spaceship design and classic fuzz tone, it's been a favorite of legends like Jimi Hendrix and modern shredders like Eric Johnson and Joe Bonamassa.
While most love the look, vibe, and tone of a classic Fuzz Face, it does take up a lot of real estate on a pedal board. It also lacks a few critical modern features. So the folks at Dunlop put the Fuzz Face on a diet, shrinking its diameter in half, from 7″ down to 3.5″. During this shrinking process, Dunlop took care to retain the cool round shape, classic textured enamel paint finish, funky rubber foot pad, and retro knobs of the original, while adding a few modern features like a no-tools battery door, an on/off status LED, and a 9-volt AC power jack. To top it all off, Dunlop offers the Fuzz Face Mini Distortion Pedals in three varieties: a version featuring a pair of slightly mismatched germanium transistors like the original Fuzz Face; a version with silicon transistors like the later '70s Fuzz Face; and a version of the JHF1 Jimi Hendrix Fuzz Face.
We plugged them in between a Fender Custom Shop 1960 Relic Stratocaster and a Marshall JCM 900 head and a Celestion-loaded 4×12 cab.
The Germanium Mini offered the classic warm-fuzz sound with a moderate amount of gain and a nice percussive pick attack. The Silicon Fuzz Face Mini exhibited more gain/sustain with more of the midrange scooped out and a more biting top-end. The Jimi Hendrix Fuzz Face Mini combined the best of both – a lot of sustain, great percussive pick attack, and a smooth-yet-aggressive sound – and it worked well both as a stand-alone fuzz and as an added drive on top of the Marshall's overdrive. All three pedals maintain good note separation and clarity, even with the fuzz control cranked. There's no mushy low-end or overly scratchy highs – all are very musical and articulate.
True to the intent of the folks at Jim Dunlop, Fuzz Face Minis are pedal-board-friendly versions of classics with some modern features. Most importantly, they don't sacrifice any classic Fuzz Face sound or vibe – and they accomplish it at half the size.
---
This article originally appeared in VG May 2014 issue. All copyrights are by the author and Vintage Guitar magazine. Unauthorized replication or use is strictly prohibited.
---