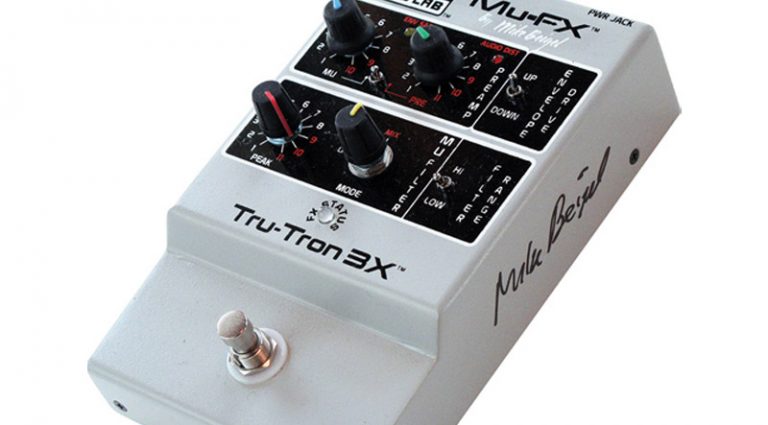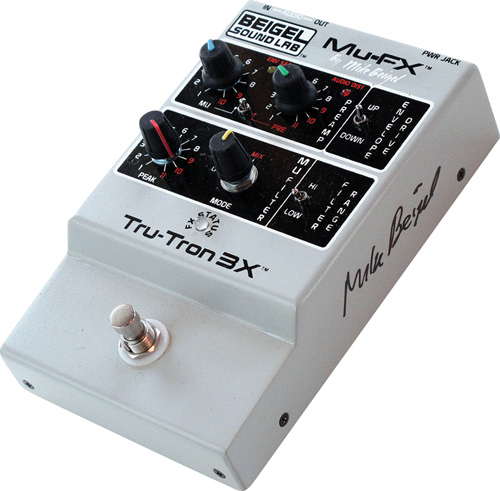 The Mu-FX
Tru-Tron 3X
Price: $369.63
Contact: www.mu-fx.com.
Think funk. Think Bootsy Collins' wacked-out Parliament Funkadelic Space Bass lines. Think Stevie Wonder's wah'd Clavinet on his '73 hit "Higher Ground." Think Mu-Tron III.
The secret mastermind behind that sound was engineer Mike Beigel, creator of the original Musitronics Corporation Mu-Tron. When that pedal hit the market way back in 1972, it was the music world's first envelope-controlled filter, establishing a whole new category of guitar effect that we didn't know we had to have. Some called it an "auto wah." But thanks to guys like Bootsy and Stevie, the Mu-Tron became known more fondly as "funk-in-a-box."
By 1979/'80, the original Mu-Tron was history. Despite several clones, copycats, and other attempts to bring it back in the interceding years, nothing since has sounded quite like the real deal. Today, originals sell for as much as that bejeweled necklace your sweetheart's been hinting about. If you can even find a vintage Mu-Tron, that is.
Happily, Beigel is back. With his new Mu-FX company he's offering the Tru-Tron 3X, a modernized and miniaturized version of the famed Mu-Tron III. Attention, shoppers: This is not a reissue. The Tru-Tron does everything the Mu-Tron did – and a whole lot more.
Beigel says he used the original Mu-Tron circuitry "mojo" and paid careful attention to keeping the authentic sound and response of the vintage units. The Tru-Tron can be operated exactly like the original, if you wish. But it also has added features and extra range capability that provide more intense effects than a Mu-Tron.
To feel what Beigel is feeling, we plugged a '56 Strat into a Tru-Tron (just the 58th one built) and then into a tweed Deluxe 5E3. With just a little effect dialed in, the Tru-Tron acts like a compressor, increasing the subtle "pop" to each note and enhancing the "tube sound" quality of even such a vaunted amp as a tweed Deluxe. But there's more.
Via its Envelope Drive section, the Tru-Tron allows you to shape both the up-sweep of notes (which was what made the Mu-Tron famous) and now the down-sweep as well. And by choosing between the unit's Hi and Low settings in the Filter Range section, you can select which range of the notes are peaked and tweaked. The possibilities, as they say, are near endless.
Fiddling with the settings, you can produce deep, warm tones and then swing the sound to aggressive and harsh. Indeed, the Tru-Tron offers much more gain than the original. The gain is "redlined" at 9 – like a car's tachometer – but it goes to 11. This extra gain allows the aggressive player to drive the signal into almost constant overload. Nigel Tufnel would be happy.
A few technical notes: the Tru-Tron is smaller and more robust than a Mu-Tron, but it's still big and will require extra space in a pedal board. Second, the Tru-Tron runs on a 12-volt power supply (which Beigel says aids tone quality), so it won't hook into your typical 9-volt chain. Also, the 12-volt adaptor itself needs to be set either flat or upright; it doesn't seem to work properly when laid over on its side.
Comparing a Mu-Tron and Tru-Tron side by side, the new pedal simply offers more. The sounds range from subtle to funkified to absolutely psychedelic. Jerry Garcia fans will be, well, grateful. In engineer-speak, the Tru-Tron makes more "mu," as Beigel terms that special sound for which the envelope filter is famous. Dial in your sound, strike a 7#9 chord, and you can taste the funk – and it tastes good.
---
This article originally appeared in VG May 2014 issue. All copyrights are by the author and Vintage Guitar magazine. Unauthorized replication or use is strictly prohibited.
---