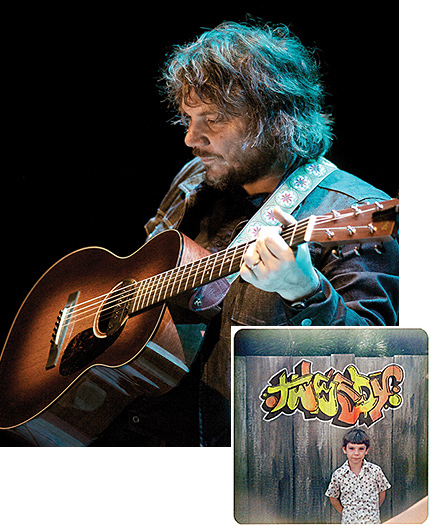 Where does time go? In 1996, the liner notes to Being There, Wilco's masterful two-disc paean to American music, included a dedication from ringleader Jeff Tweedy to his wife and their newly born son, Spencer. Fast-forward 18 years and we find Wilco's frontman releasing another double LP – this one with Spencer and under the eponymous handle "Tweedy." Having originally intended Sukierae to be his first proper solo record, Tweedy the Elder reconsidered his firstborn's role behind the drum kit and decided to bill the project as a duo.
Whatever moniker it goes under, Sukierae is, of course, a record for Wilco fans. And upon their first few listens, even some among that adoring legion might be inclined to cite the old maxim that every double album is a missed opportunity at an even better single album. Indeed, double LPs throughout rock history have suffered artists with too much time and resources at their disposal. And this one was, after all, recorded at the Loft, Wilco's well-stocked Chicago clubhouse. But a bit of patience reveals two thoughtfully paced albums with plenty of ear candy.
The proceedings kick off with the urgent and angular "Don't Let Me Be So Understood" (interesting, and no doubt coincidental, side note: Being There launched with the alt-country-meets-aggro "Misunderstood"). Disc one also features the flighty rocker "Low Key," featuring gorgeous background vocals from Jess Wolfe and Holly Laessig of Lucius. Young Fresh Fellow and R.E.M. fifth man Scott McCaughey also pops up here and elsewhere to lend a hand on keys.
But Tweedy the Duo always keeps it interesting, following "Low Key," for example, with "Pigeons," which finds Pa Tweedy presumably addressing Spencer ("Now that you're older, now that you're grown/Now that you're getting to know the unknown"). The equally reflective "Nobody Dies Anymore" ("I'm going to where nobody dies anymore… no badge knock on the dark front door") is one of the release's best tracks.
But such sober fare is always countered. Disc two includes the sunshiny pop of "Summer Noon," complemented by rootsy numbers like "Flowering," "New Moon," and "Fake Fur Coat." It should be noted that while Jeff Tweedy has long performed solo during downtime from Wilco, it's a treat to hear a proper release in which he completely steps out from the shadow of that brilliant ensemble, and Sukierae offers a nice combo platter of his loud guitars, fine flatpicking, and even a tasteful Willie Nelson-like flourish or two (e.g., "Wait for Love").
In the past, Jeff Tweedy has been justly dismissive of descriptions of Wilco as "dad rock." Here, he – and his son – have subverted that reductive tag by giving it quite literal meaning.
---
This article originally appeared in VG's November '14 issue. All copyrights are by the author and Vintage Guitar magazine. Unauthorized replication or use is strictly prohibited.
---