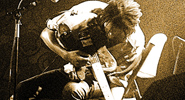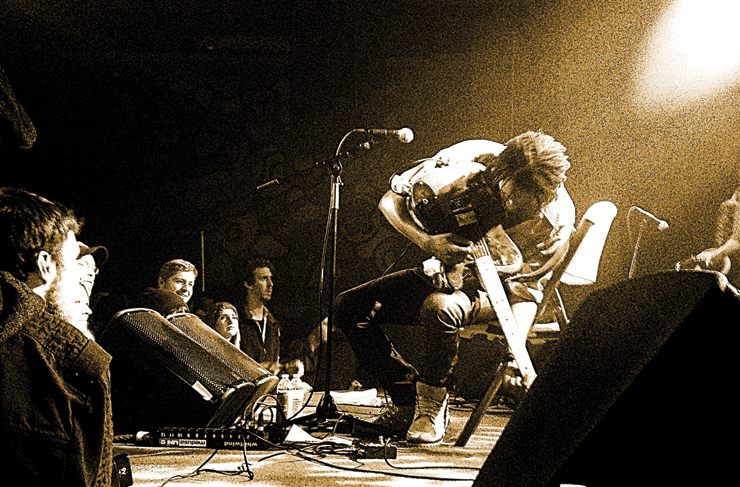 Eectric Slave is the third album by Black Joe Lewis, and marks a return to the sound of his roots – Hound Dog Taylor, Elmore James, Ron Asheton, and Jimi Hendrix. It features garage band sonics, mellifluous horns, and gnarly fuzz tones. The shadow of his old band looms ominously, but Lewis has his eye on the prize.
Electric Slave sounds like the band you originally wanted.
I'd been playing around for years before I had this band. This actually sounds more like what I use to do. This is going back to the style that I did when I was coming up. We had to make some changes in the band and used different producers. I think everybody is more on the same page this time around.
The '60s soul thing isn't what you're about?
Most people who say that haven't see us live, and anyone who has seen us live gets it. The first two albums were too produced and a lot of the guitar parts I play live weren't on there, which I think give a lot of character. I just wanted to do something that made us sound like what we actually sound like.
How are you handling being the only guitar player?
It's great! It's complete freedom. I'm not doing anything much different from the last two albums. We weren't much of a soul band in the first place; we were kind of a rock band with a horn section.
If you were a typical soul crooner, it wouldn't be as interesting.
We wanted to be a bit more original, and sound like us. I didn't want to get into the whole, "Let's do a song that sounds like…" On this album, we wrote the songs from the floor up.
Are you concerned Electric Slave won't be as successful?
If it in't, it won't be because we're not doing the soul thing. We might lose some of the easy-listening suburban crowd. I don't want to lose anybody, but honestly, I don't really care. I'm still happy with it. It's hard being a black dude trying to do this type of thing because people don't listen, and you have to put your foot down.
How have you stepped up your guitar playing?
I've been on a big Nile Rodgers kick, listening to a lot of Sister Sledge and Chic. You can kind of imitate it, but there's a lot of nuance. He uses a lot of jazz chords, which I'm not too good [at].
What's your number one guitar?
Tom Oatley, of Oatley's Guitar Garage, built one. It was actually an old Squire Tele we had as a backup. I told him, "I want a red guitar," and he built it – stripped it down and put in a P90 and a kill switch. I like Telecaster necks and P90 pickups.
How about pedals?
I use a Dunlop Fuzzface, but it broke. Now I'm using a Daredevil Real Cool Fuzz. It has Ron Asheton's face on it. That's why I got it (laughs)!
---
This article originally appeared in VG April 2014 issue. All copyrights are by the author and Vintage Guitar magazine. Unauthorized replication or use is strictly prohibited.
---