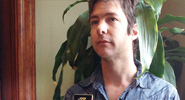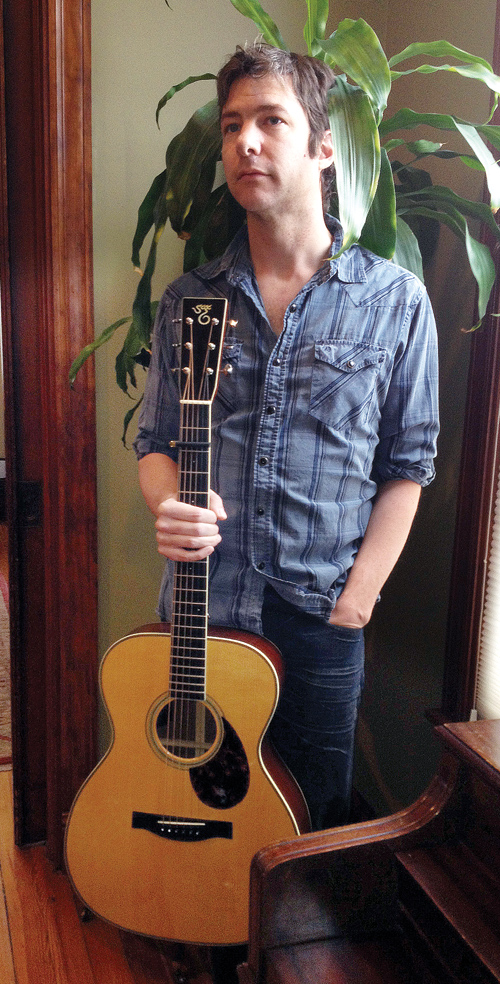 James Elkington tweaked the paradigm when he began working at a luthier shop before hitting his stride as a guitarist. Born and raised in a small English village northwest of London, his interest in the guitar blossomed relatively late.
"It seemed the coolest instrument on offer and, as most of us guitar players have found out, it's immediately kind of gratifying; compared to the violin, you can make quite musical sounds on the guitar without having any idea of what you're doing."
The aesthetics of guitars were also appealing to the aspiring player.
"Clarinets all look the same, but the fact that a Fender Jazzmaster can be as different to look at as a Gretsch White Falcon, and still operate the same way, was amazing to me," Elkington said.  "I used to spend entire math classes drawing Vox Phantoms. When I was 13, the first Smiths album came out, and it struck me that I wanted to do exactly that."
Moving to London to purse his musical fortune, Elkington became frustrated when his ideas didn't pan out, and a sour experience working at a music store added to his disenchantment. However, a move to the U.S. and employment at Specimen Products turned his quest in the appropriate direction.
"When I moved to Chicago and met Ian Schneller at Specimen, I had to change my policy," he said. "Working for him was so completely unlike working at a regular music store that you can't even compare them. He's an artist, and he works on guitars and amps as a means to fund his sonic experiments. Even though I'd been tooling around with guitars most of my life, I didn't know much about the mechanics of them, and he taught me all about it."
Among the musical aggregations in which Elkington has gigged is the Horse's Ha, and that group's recently-released second album, Waterdrawn, is decidedly different.
"Janet [Bean] and I had started out as a duo, but the band had expanded to a quintet by the time we put the first album together," he recounted. "Everyone in that band is an in-demand musician in Chicago, and scheduling became difficult, plus the band really wasn't making enough money to justify dragging everyone out of town, so instead of making the next album the same way, I shelved all the songs in favor of writing and recording a record that Janet and I could play and promote by ourselves."
Waterdrawn has a stripped-down sound that evokes comparisons to English folk artists like Pentangle, and, not surprisingly, Elkington is a fan of the late guitarist Bert Jansch.
"That music is a big influence, for sure, though the content of the songs is quite personal to us – there aren't any 'Reynardine' covers in there," he said.  "Folk music was very derided in England when I was growing up in the '80s, and as a result, I didn't hear very much of it.  It was only when I moved to the U.S. and started writing songs that someone mentioned to me that they thought I must be into Bert Jansch – which I really wasn't – and when I finally got hold of some, it was a revelation. Jansch continues to be an influence, and I'm glad to say that I got to meet him a couple of times before he died."
Elkington used a budget-model Martin 000-1 on the album, as well as a Yamaha 12-string tuned down, and a National lap steel. Bean played a Weber mandola, and both used alternate tunings and capos to evoke unique sounds on songs such as "A Stoney Valentine" and "Stick Figure Waltz."
With other bands, Elkington uses electric guitars, and espouses a utilitarian view of them.
"I've seen so many collectible guitars that are absolutely no fun to play, and I really have no interest in that for myself, so almost every guitar I have has different pickups from stock and has been re-fretted. I play Telecasters, for the most part, and my main guitar is a red one with a pre-CBS neck and an '80s body. I've also got a couple of parts Teles I take on the road, and they all have Lindy Fralin pickups, which are wired in series as well as parallel to make them a little thicker-sounding. I have a Danelectro and a Teisco from the '60s that I like, a '66 Fender Jaguar that I've had since I was 18, and a Sho-Bud pedal steel I haven't been able to make any sense of yet."
An expectant parent when VG conversed with him, Elkington, stresses that family comes first. "I have so many unfinished projects at this point that I'll be glad just to be in Chicago working on those between diaper changes," he said.
---
This article originally appeared in VG April 2014 issue. All copyrights are by the author and Vintage Guitar magazine. Unauthorized replication or use is strictly prohibited.
---