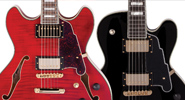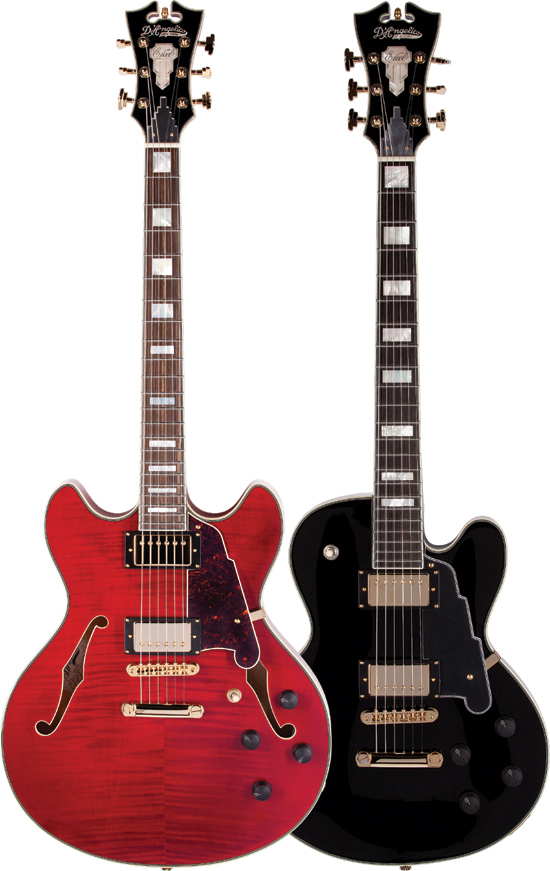 D'Angelico's EX-DC and EX-SD
Price: $1,769 list/$1,259 street (EX-DC); $1,659 list/$1,185 street (EX-SD)
Info: www.dangelicoguitars.com
John D'Angelico produced just 1,164 guitars during his career on Kenmare Street in New York City, but each was a remarkable instrument created at the height of the jazz era. Today, the brand is in revival, and while new D'Angelico guitars are still sought after by jazz cats, the current designs are produced with modern features for modern music.
The EX-DC is a semi-hollow double-cutaway with laminated-maple body and a 22-fret neck set at fret 19 for good upper-fingerboard access. It has all the, er, D'Accoutrements, including D'Angelico's famous key motif and logo in inlaid pearl, gold hardware, a beveled tortoise pickguard, and a multi-bound top, back, neck, and headstock. A tune-o-matic bridge and stop tailpiece, two Kent Armstrong humbuckers with individual tone and volume controls, and Grover Rotomatics with Imperial buttons comprise the EX-DC's functional hardware. The maple/walnut C-shaped neck has slight shoulders, and the scale length is 24.75″.
The EX-SD has the same decorative styling and gold hardware as the EX-DC. It also offers a time-tested combination: flamed maple top and mahogany back (both carved), one-piece mahogany neck with a 24.75″-scale rosewood fingerboard, two humbuckers, tune-o-matic bridge, and stop tailpiece.
High build standards match the ambitious aesthetics of both guitars, which feature well-dressed frets, nicely slotted and shaped bone nuts, tight inlays, flawless bindings, and glossy poly finishes. The cherry finish on the test EX-DC was too dark to easily show off its fantastic flamed maple top and back, while the EX-SD had a black finish that really set off the gold hardware and headstock detail. Players who score either guitar in a 'burst finish will have a real showstopper in their hands.
None of this would be worth its weight in pearl if the guitars didn't perform so beautifully. Both models exhibited easy, stay-in-tune playability, even with hefty string bends played with variable left- and right-hand techniques.
Plugged into a '50s Ampeg Jet, the Armstrong pickups immediately showed who's boss: powerful without being strident, and never muddy, even with the tone controls rolled off. Each guitar easily pushed the Jet into overdrive with a smooth, singing tone and the kind of bite from the bridge pickups that made digging in and popping out false harmonics a visceral pleasure.
The EX-DC, whose sound spectrum ranged from delicate timbres to full roar, showed the versatility that has made the semi-hollow double-cut design a favorite of B.B. King, Dave Grohl, Leo Nocentelli, and John Scofield. Middle-position tones were conducive to funky, skanky rhythm work, but with enough bite full out to solo effectively. The neck humbucker produced fat blues tones and, with tone-control manipulation, a rounder jazz voice. The bridge pickup was reasonably well-balanced with its partner.
The EX-SD immediately distinguished itself with extraordinary sustain at low volumes (remember, Les Paul's initial solidbody concept evolved as a jazz design with sustain.) Fingerstyle chord melodies were a breeze thanks to the forgiving setup and the responsiveness of the pickups. Cranked up, the old Ampeg Jet practically walked across the studio floor as the EX-SD was put through the paces with crunchy power chords, wailing blues bends, and fusion-oriented single-note lines. The EX-SD has power and tone to spare, fully equal to its decorative design elements.
With the EX-DC and EX-SD, D'Angelico definitely offers big-bang-for-the-buck instruments. Their fantastic sounds, great playability, and high build standards, combined with irresistible visual presentation, should appeal to guitarists of all stripes – not just jazz cats.
---
This article originally appeared in VG March 2014 issue. All copyrights are by the author and Vintage Guitar magazine. Unauthorized replication or use is strictly prohibited.
---