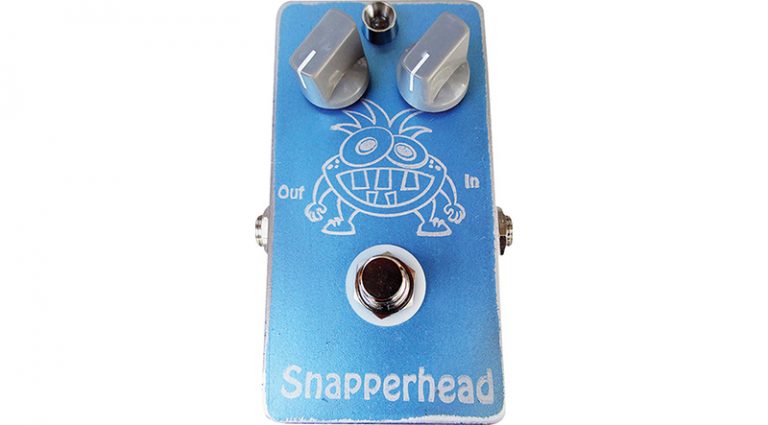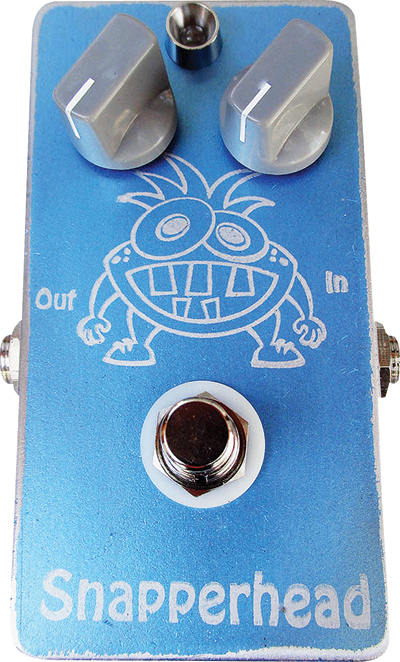 With their first offering, Benjamin Harrison and Chrystal Gilles of SynapticGroove set out to fill the gap between heavy effects users and straight-into-the-amp players. Apparently, they're on to something. They can already count Peter Stroud (Sheryl Crow), Richard Fortus (Guns N' Roses), and Dan Boul (65amps) among fans of their Snapperhead Overdrive/Distortion.
Lightweight, powdercoated, and relic'd, the true-bypass analog Snapperhead showcases the SynapticGroove design philosophy, borrowed from Charles Mingus: "Making the simple complicated is commonplace; making the complicated simple, awesomely simple, that's creativity." The pedal takes up very little space, and its simple layout comprises Level and Drive knobs, a 9-volt input, and In/Out jacks. A rapid-fire tricolor LED, while a nice cosmetic touch, alerts the user of a low battery by ceasing to fluctuate. While its lack of a tone control exposes an amp's bad qualities as well its good, according to the manufacturers, the pedal is a tool for guitarists seeking to drive their amplifier, not color it. "With the right guitar and amp, an effects pedal is merely an intermediary," Harrison explains.
Tested with an assortment of Strat- and Les Paul-style guitars, and a variety of combo amps and high-gain signature heads, the Snapperhead revealed that it definitely comes from the hairy side of the street – even with the Drive knob lowered, it has a fuzz-like quality. At higher drive levels, the dirt increases with a raw but focused grittiness.
Even with the Snapperhead's grainy parameters, it exhibited plenty of variation. Dialing the Drive knob clockwise, light breakup gave way first to gravelly crunch and eventually to full-on furbearing saturation. At higher settings, it offered just enough compression to hold it all together, and punching out of a dense band mix was no problem. Notes popped with sensitivity to the guitar's volume control and to picking dynamics. And despite the pedal's lack of tonal range, chords and single notes had great definition and organic flavor.
The Snapperhead Overdrive/Distortion mirrors the amp and adds raspy overtones more suited to dirty rock than liquid metal or fusion. It also lends a slight treble boost that falls somewhere between '70s fuzzy Brit rock and uncivilized but slightly fine-tuned American punk and garage. Those looking for a smooth, warm overdrive with a slight bump in midrange for fluid single-note soloing should avoid the Snapperhead. However, for those looking to replicate the classic sound of a woolly amp pushed to the brink, but at manageable volume with no sweeteners, the Snapperhead might be the perfect "intermediary" to which Harrison alludes.
---
This article originally appeared in VG January 2014 issue. All copyrights are by the author and Vintage Guitar magazine. Unauthorized replication or use is strictly prohibited.
---