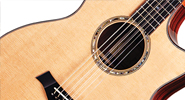 The Taylor Baritone-8
Price: $3,998 list; $3,200 street
Info: www.taylorguitars.com
Some guitarists are happy with conventional guitars and basses. Others, however, feel the urge to explore other sonic ranges. In recent years, several new configurations have made their way to the market; five- and six-string basses; extended-range harp and "touch" guitars; and seven- and eight-string solidbodies that transport metallers to pure shred bliss. Never one to be left behind, Taylor offers their premium Baritone-8 acoustic.
The Baritone-8 is an interesting concept intended primarily for the solo guitarist. The basic skinny on this single-cutaway instrument is that it's a baritone-scaled acoustic with an upper-octave string paired with both the third and fourth strings as on a 12-string guitar. The logic behind it sounds like a head-scratcher until one actually picks up the Baritone-8 and gives it a few strums. That's when the ah-ha! moment strikes and the light bulb goes on. But even before that first strum, the details and construction of the Baritone-8 are bound to draw the player's attention.
The Baritone-8, which falls under Taylor's Grand Symphony shape and dimensions, has Indian rosewood back and sides with a Sitka spruce top that supports baritone bracing beneath to deal with the extra tension and bigger strings. Being a bari, the guitar has a scale length of 27″ and 19 frets, while the rosewood fingerboard caps a mahogany neck with a nut width of 1.75″. In a series of handsome appointments, the headstock has an overlay of Indian rosewood and sports an inlaid mother-of-pearl Taylor logo, a truss-rod cover, and eight gold Taylor tuners. In addition, there are diamond fretboard inlays, a fancy abalone rosette, and ebony bridge pins with abalone dots. Rosewood lovers will also dig the deeply figured grain on the back and sides.
For electronics, the Baritone-8 offers Taylor's Expression system, which has a 1/4″ input jack and 9-volt battery compartment at the end pin, and three cleanly designed knobs on the upper bout for Volume, Bass, and Treble. The magnetic pickup delivers a warm, pleasing acoustic sound. Why more acoustic guitarists don't use magnetic pickups is a mystery – they're arguably superior to piezo technology and usually sound nice and warm, but that's an argument for another day.
Upon picking up the Baritone-8, the most immediately noticeable feature is the aforementioned longer-scaled neck. After it's played for a while, however, it proves (perhaps somewhat surprisingly) to be incredibly comfortable. This guitar is also set up beautifully and quite fast. It's almost a wonder that a 27″ neck can play with such low action and speed. Yet it does – this is a truly great acoustic neck.
Dig a little deeper into the Baritone-8, and more of its genius emerges. The ringing pairs of strings add a 12-string effect, but they don't encumber the shreddability of the first and second strings or the bass dimension of the fifth and sixth (because the guitar is normally tuned B to B, the string pitches can be adjusted in the player's head. However, it can still be played exactly like a guitar in standard tuning, and it leaves open the options for any open tunings, too).
The Baritone-8 was tested at an acoustic gig and it killed with some flatpicked flamenco-style solos. The bass notes spun up the drama, while the paired strings created the magical chime. The finale included shredding all over the neck, inducing pure flamenco glory, much to the audience's delight. Of course, many players attracted to the Baritone-8 will be ethereal fingerpickers and tappers of the Michael Hedges or Andy McKee school; it's easy to see how the guitar's extended baritone range will delight them.
In all, the Taylor Baritone-8 may seem like a bit of an oddball guitar, but such judgments should definitely be reserved until the would-be judge has tried one out. The incredibly constructed Baritone-8 is not inexpensive, but once its advantages become apparent, it might be difficult indeed to resist this guitar's "extended" charms.
---
This article originally appeared in VG January 2014 issue. All copyrights are by the author and Vintage Guitar magazine. Unauthorized replication or use is strictly prohibited.
---