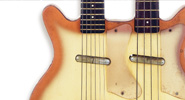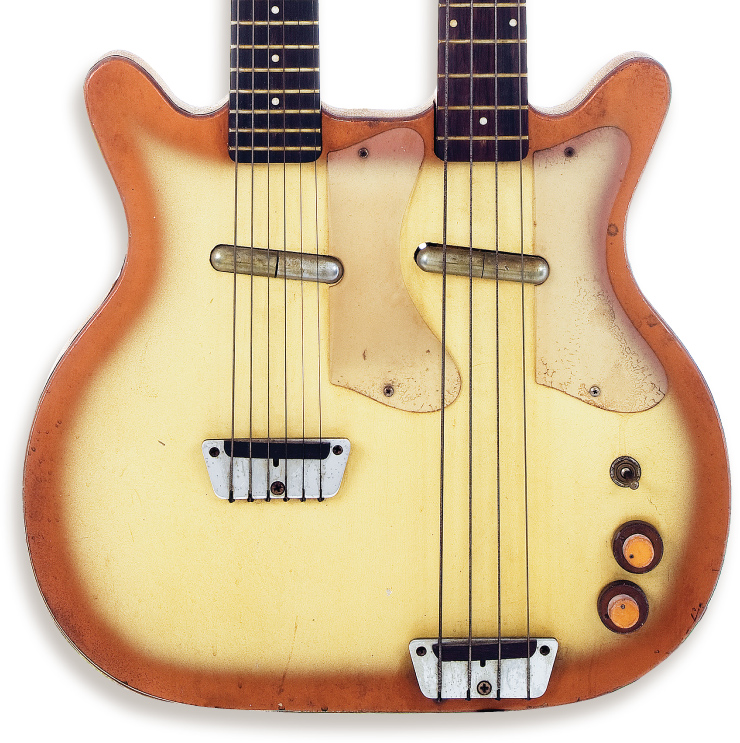 The guitars and basses made by Danelectro in the '60s epitomized "no frills." And though they were considered the nadir of American-made electric instruments of their time, many a babyboomer cut their musical teeth on one.
The construction of most "classic" Danelectro-made guitars and basses – whether they were branded as Danelectro or the more-popular Sears Silvertone – had a body with a poplar frame covered in Masonite with grained side trim applied with adhesive, a neck with a Brazilian rosewood fretboard, a non-adjustable truss rod (which the catalog cleverly labeled as "Two steel I-beams"), a primitive but slightly intonatable bridge/tailpiece, aluminum nut, and pickups wherein Dano founder Nate Daniel enclosed magnets and wiring in actual lipstick tubes from a supplier to the cosmetics industry.
Danelectro's first bass (VG, January '09), debuted in 1956, and it was a true bass guitar, sporting six strings but with a short bass scale, tuned down an octave. The instrument was the first of its kind, preceding the Gibson EB-6 (first listed in '59) and Fender's Bass VI (late '61). But Dano quickly realized the four-string bass was the sonic path its low-end instruments needed to follow.
The company's first four-string electric bass was the model 3412 Short Horn, introduced in late 1958. Sporting a copper finish and a white "seal" pickguard (per its silhouette when horizontal), the instrument's neck had only 15 frets (joining the body at the 13th fret), and a short scale, which meant that between its light weight, smaller fretboard, and scale, it was easy to play, especially for converted guitarists.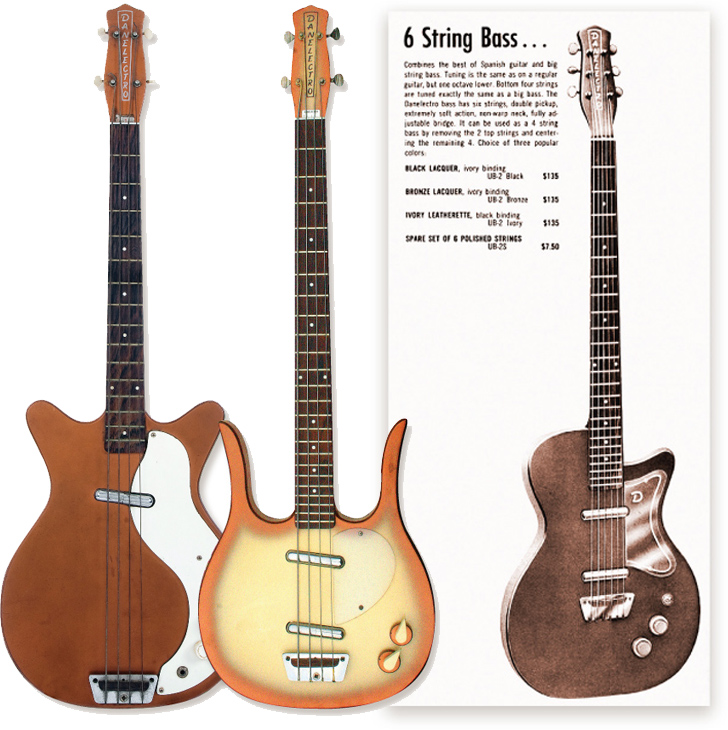 In the vernacular of guitar collectors, its headstock silhouette is known as the "Coke bottle" shape, and the small metallic label on the headstock (just above the nut) proclaims the instrument is "Totally Shielded" (against interference from fluorescent lights, electric motors, etc.).
The Short Horn 3412 was only available in a bronze finish, which was also applied to as the six-string model 3612.
Combining two instruments, the 3923 Double-Neck debuted in '59. Its body was 171/2″ wide and its necks symmetrical, but fretted for a guitar scale and a bass scale. Controls were simple and appropriate – the three-way toggle switch turned either neck on or off; centered, both necks were on. The concentric knobs controlled the volume and tone for each neck.
It appears the 3412 maintained a retail price of $85 throughout its existence (it was out of the catalog by '66), and the 3923 stayed at $175 until the late '60s. In a 1968 catalog and on a '69 price list, it was proffered for $189, its finish by then known as Bronze & White Sunburst.
The coolest-looking Dano bass was the 4423 Long Horn, also introduced in '59. With a name derived from its body silhouette, it was also available in a six-string version dubbed the model 4623. "Continued refinements have resulted in a superb instrument," an early-'60s catalog said of the 4423. "Used in many recent recordings, TV programs, and motion pictures."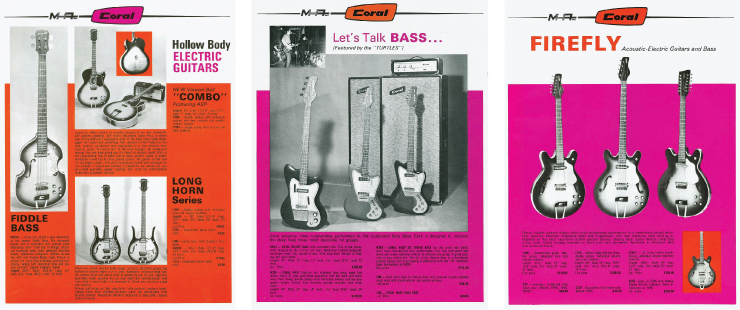 In 1966, the Danelectro brand was sold to MCA, which then attempted to exploit the '60s guitar boom by diversifying the lineup and introducing an alternate brand – Coral. Later Danelectro and Coral basses had more-traditional/popular silhouettes and wood bodies (solidbody, chambered, or thinline/hollow). There was also the transitional Dane line; the A series had Masonite-and-poplar bodies, while the B, C, and D series had various wood construction.
Interestingly, basses weren't catalogued in the Dane B series, but there was also a four-string bass in the Dane E series "…with Extended neck for the big bass sound and the big stage look."
Basses proffered with the Coral brand included Deluxe and Wasp solidbodies, the Firefly thinline double-cutaway hollowbody bass, the hollowbody violin-shaped Fiddle Bass, and a hollowbody Long Horn.
MCA closed the Danelectro guitar factory in mid 1969. In the pantheon of vintage instruments, the original Masonite-bodied Danelectro four-string basses still have a well-deserved "cool" factor. And, these days, many music enthusiasts appreciate their unique sound, and readily acknowledge they were underrated in their time.
---
This article originally appeared in VG January 2014 issue. All copyrights are by the author and Vintage Guitar magazine. Unauthorized replication or use is strictly prohibited.
---