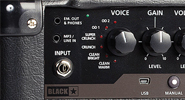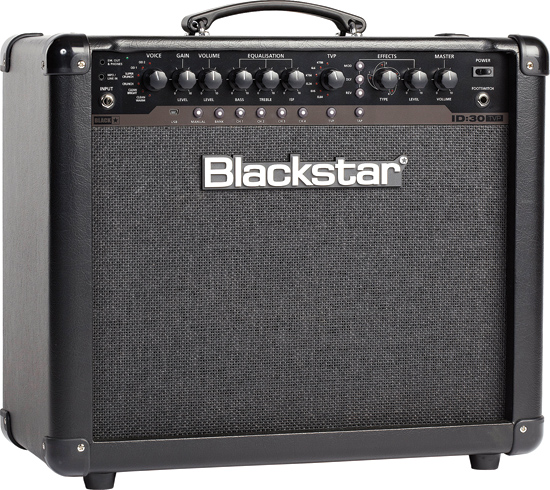 Blackstar ID:30TVP
Price: $399.99
Info: www.blackstarampsx.com.
Since forming in 2007, Blackstar has been building user-friendly amplifiers and attracting high-profile artists like Leslie West, Neal Schon, and Gus G. The company's ID series would seem to represent the next logical step: Blackstar's first digital non-tube amp line.
The 30-watt entry in the ID series has many of the same features and functions as the larger ID models in a smaller package, making it a great practice amp or recording tool. Its functionality allows guitarists to create and store a variety of guitar tones with effects, connect to a computer, and establish a quick setup for gigs.
The ID:30TVP's trump card is its variety of preamp and power-amp tube emulations delivered through a 12″ speaker. Six preamp voicings (Clean Warm, Clean Bright, Crunch, Super Crunch, OD1, and OD2) are controlled by a Voice knob and give the guitarist everything from crystal clean to dangerously distorted. The TVP (True Valve Power) knob and accompanying On/Off button allow players to select emulations of six different power tubes: the EL84, 6V6, EL34, KT66, 6L6, and KT88.
Other controls include Gain, Volume, and three EQ knobs: Bass, Treble, and Infinite Shape Feature (ISF), which is a contour control that can be adjusted to the left for more American-voiced sounds, or to the right for more British ones. The amp's built-in effects section features Reverb, Delay, and Modulation buttons, along with a Type knob that attempts to provide further versatility via four settings for each effect (more on that below). A second knob to control the level has a Tap Tempo button beneath it.
The ID:30TVP also has a Master Volume; an emulated output for connecting to a mixer, recording device, or headphones; and a line-in for an MP3 or CD player. There's also a USB connection, a Bank button, and a row of Channel buttons that allow the user to manually save settings. The optional FS-10 multifunction foot controller comes in handy for scrolling through the amp's 128 presets, tuning up, or switching effects on the fly.
Blackstar's insider software can be downloaded from their website for both Mac and PC platforms. This includes a workspace to create a personal library of patches, deep editing options, a cassette library of audio tracks, and re-amping capabilities. It also allows the user to meet other Blackstar ID users in the company's online community. Setup was a breeze.
The Blackstar ID:30TVP was put to the test with a range of Les Paul- and Strat-style guitars. Setting the preamp to OD2 and the TVP for 6L6 while maxing the Gain and Volume unleashed shred metal fury – i.e., smooth sustain, singing single notes, boosted mids, and plenty of crunch in ample supply. It never got out of control but rather elicited awesome room-temperature heavy rock tones. OD1 is similar but with fewer mids. The ISF knob comes in handy, allowing a tighter midrange sound when turned to the left, or a woolly Vox-ish sound dialed to the right. Chords were full, clear, and defined. Backing off the gain produced entertaining Cheap Trick and early Rush power chords with fantastic articulation.
Using the Clean Bright setting, the ISF knob, and the TVP tube selections was an enjoyable experience. The ID:30TVP's replications of tighter Class A American sounds and Class A/B British sounds, along with the option of mixing and matching tubes provided a ton of options. Same with the Crunch and Super Crunch settings. The TVP settings displayed varying degrees of compression, headroom, and familiar tonal characteristics.
As alluded to earlier, the ID:30TVP's effects section features a Type knob that bestows four settings upon each of the three effects: Reverb (Room, Hall, Spring, Plate); Delay (Linear, Analogue, Tape, Multi); and Modulation (Phaser, Flanger, Chorus, Tremolo). The quality of these sounds, though, was adequate at best.
Sitting in front of the ID:30TVP and auditioning sounds is one thing; playing it onstage at the local blues-rock jam with a full band and alongside two popular tube amps is something else altogether. Using factory presets and one customized bank of clean, dirty, and effected sounds at stage volume, the Blackstar ID:30TVP sounded glassy and dark, and lacked warmth and complexity. Despite this dearth of humanity on stage, however, it shines as a practice amp and as a computer-ready recording amp. In fact, it would be hard to top its number of features for the price.
---
This article originally appeared in VG December 2013 issue. All copyrights are by the author and Vintage Guitar magazine. Unauthorized replication or use is strictly prohibited.
---