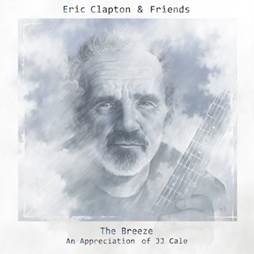 To honor the legacy of J.J. Cale, Eric Clapton recently gathered a group of like-minded friends and musicians to record Eric Clapton & Friends: The Breeze, An Appreciation of JJ Cale, scheduled for release July 29. It features performances by Clapton, Mark Knopfler, John Mayer, Willie Nelson, Tom Petty, Derek Trucks and Don White on 16 Cale songs.
"I would like people to tap into what J.J. Cale did – that's the point," said Clapton. "I'm just the messenger; I've always felt that that's my job. I try to interpret things so that the public at large, or at least the people who listen to what I do, will become intrigued about where I got it from."
After years admiring Cale's work and covering songs such as "After Midnight" and "Cocaine," Clapton  collaborated with Cale for the first time on the 2006  album Road to Escondido. At the time, Clapton said, "This is the realization of what may have been my last ambition, to work with the man whose music has inspired me for as long as I can remember."
Learn more at www.ericclapton.com.