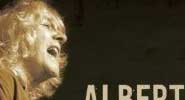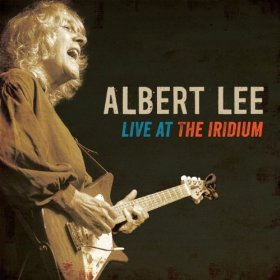 Some find it ironic that Albert Lee, an Englishman, ranks as one of the all-time greatest country guitarists. Which is odd, since it's a given that the Beatles and Stones are two of the greatest-ever rock and roll bands and Eric Clapton and Peter Green are among the top blues guitarists – both American musics, the latter black American.
While Lee is at home playing blues and rock, it's country where he's exerted the biggest influence (on such heralded stars as Vince Gill and Brad Paisley) and has earned a spot in the genre's history alongside fellow legends like Don Rich, Jerry Reed, and James Burton.
This live CD/DVD set celebrates Lee's 70th birthday – more than 50 of those years spent as a professional musician. Best known as a sideman (to Clapton, Chris Farlowe, the Crickets, Joe Cocker, Emmylou Harris, and the Everly Brothers), he's also served as session ace (for Jackson Browne, Jerry Lee Lewis, Rosie Flores, Herbie Mann, Rodney Crowell, Rosanne Cash, and Dave Edmunds, to name a few) and was founding member of the eclectic Heads Hands & Feet. But a recent uptick in solo albums over the past 10 years, in his adopted U.S. and as leader of Hogan's Heroes abroad, has been equally welcome and impressive.
Though he wrote the much-covered "Country Boy," Lee is most comfortable interpreting other people's material. In fact, "Country Boy" is the only original here; the remainder are culled from Fats Domino, Little Feat, Ray Charles, and others, all given Lee's indelible stamp.
Though he jokes about there being no Viagra for guitar, he clearly hasn't lost a step, and seeing him center stage, leading a quartet in such an intimate setting is a rare treat. And there's plenty of fret burning, from Carl Perkins' "Restless" to his showcase with Harris on Gram Parson's "Luxury Liner."
The CD contains four more songs than the DVD. Switching to his first instrument, piano, Lee delivers perhaps the definitive reading of Crowell's "Til I Gain Control Again."
Returning to the Music Man guitar named for him, typically in middle/bridge position, he closes with fiery renditions of "Country Boy" and Johnny Burnette's "Tear It Up," showing that he's not just England's greatest country-rocker; he, like Clapton or the Beatles, belongs to the world at large – and, more specifically, the guitar world.
This article originally appeared in VG's June '14 issue. All copyrights are by the author and Vintage Guitar magazine. Unauthorized replication or use is strictly prohibited.