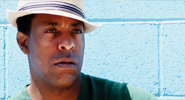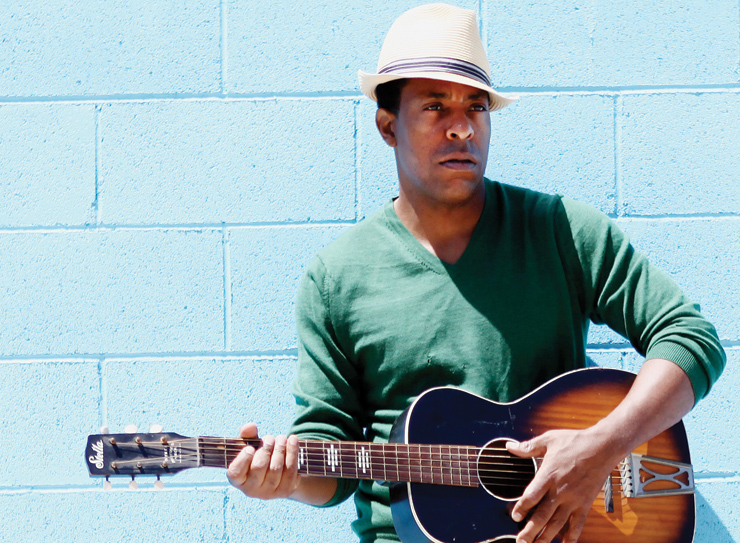 I want to bring The Soul Of John Black a little bit closer to the root – me singing and playing acoustic guitar, and a couple of girls singing like the Staple Singers," explains John Bigham. "I want to break it down and get to the joyful noise."
Bigham's act, The Soul Of John Black, continues his soulful excursions mixing jazz, R&B, and gutbucket blues. A Sunshine State Of Mind is his current release, and its DIY philosophy continues to push his art forward as the Miles Davis alum channels iconic soul stylists, funk pioneers, and rock pastiches with inspiring results.
What went into putting together A Sunshine State Of Mind?
Since I was staying in L.A., I made the record about being in L.A. My wife talked me into writing happier songs, so that was part of the process (laughs)! So, the songs were obvious, like "Beautiful Day" and "Summertime Thang." It just started building.
You do a great job with early-'60s R&B and blending it with blues.
When I end up doing songs about myself, I try to take it back to Lightnin' Hopkins or John Lee Hooker. I want to be able to sit and play it by myself. I want that old blues sound, so I'm rough with it. I want the guitar to ring.
When you sing, are you thinking about Al Green or Bobby Womack?
It's natural because that's part of me. I've always gravitated toward that stuff. When I sing, I try to be like those guys. When you hear Bobby Womack, you hear his family's church thing, Sam Cooke's thing, almost getting shot, and the turmoil of his life. When you hear him sing, "La-de-da-de-da," you hear his whole life in that sound. I have to sing with a lot more force than I want because I'm just not there yet.
The album has great vocals.
I'm working on it. I didn't think I was ever going to sing. It was out of necessity when I was with Fishbone. One of the guys left and they needed somebody to sing background.
You came to singing pretty late.
I sang on a couple of my demos [but] I couldn't do it well, and people told me I needed to get it together (laughs). I just started doing it until it got better. At first it was really hard.
When Frank Sinatra passed away there was a lot of stuff about him. One of his musical directors was talking about his vocal range. He was like, "Sinatra never goes past middle C." That opened up a new world for me. I didn't know you could do that. I thought you just had to be able to sing (laughs)!
I hear Ronald Isley of the Isley Brothers…
Thank you. There's some P-Funk in there too. I like that raw gritty sound. Another person I like is Larry Graham. I wanted to do the Larry Graham thing when he did Graham Central Station. I also love Eddie Kendricks and Philip Bailey. I do all the falsettos on the new record.
Where do you come from as a guitarist?
I come from Hendrix, Led Zeppelin, Sly Stone, The Rolling Stones, and a lot of weirdness in the jazz-fusion zone. I started with rock and when the fusion stuff came a long, I started listening to that. For me the R&B stuff was there in the house. From James Brown to Wilson Pickett to Nancy Wilson. Growing up in a black neighborhood, I'm hearing that all day. I didn't feel like I needed to sit down and listen to that. If you're a rock guy and you're a teenager, everybody's going to ask, "Can you play like Ernie Isley?" It was all right there. Sly Stone was ingrained in me already. I knew those songs by heart.
What guitars are you playing these days?
My number one guitar is a Fender '62 reissue Telecaster, and I have a '50s Stella for slide. I love that guitar – it sounds like a resonator, like it's in a giant room. For amps, I have a Fender Deluxe Reverb reissue. I just got a Fender Champ that sounds great. I also have an Amp Eleven and a Gen 5 Echo by Love Pedal, and a Sparkle Drive that's on almost all the time. I have a gold Dunlop 535Q wah that is cool as hell.
What's next?
I'm trying to do something I never did before, which is take the time to go out by myself and play the music first, then play nine or 10 festivals with my band. I'm just trying to set my own path where I'm not gone forever. I want to see my daughter grow up.
---
This article originally appeared in VG December 2013 issue. All copyrights are by the author and Vintage Guitar magazine. Unauthorized replication or use is strictly prohibited.
---