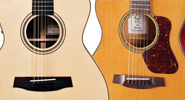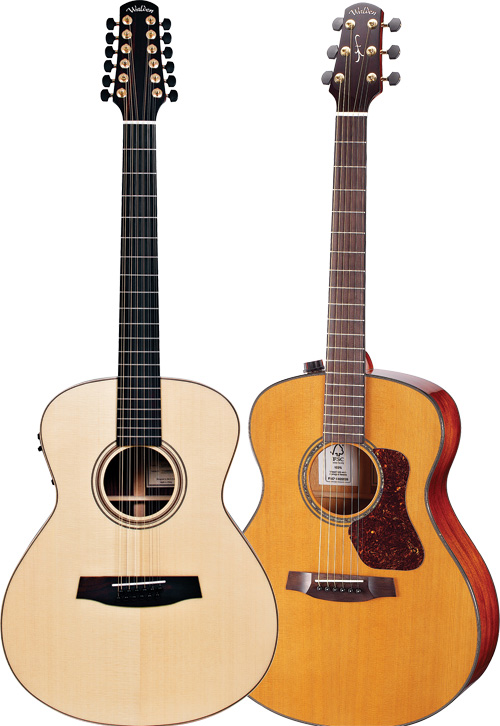 Walden Sean Harkness 12-String, CG4070E
Price: $1,100 (Sean Harkness Model); $1,350 (CG4070E-CERT)
Info: www.waldenguitars.com.
With 16 years of producing attractive, understated instruments, Walden Guitars puts an accent on quality materials and environmental awareness. If you are looking for a heavily inlaid showpiece to hang on your wall, look elsewhere; Walden specializes in guitars that emphasize sound, playability, and subtle decoration over ostentatious decor. And to keep things affordable, the guitars are designed in the U.S. and manufactured in China.
The G1012EQ-SH is Walden's first pro-level 12-string offering. To find inspiration, builder Jonathan Lee asked master fingerstylist Sean Harkness what he would look for in a 12-string guitar and later developed it into the Harkess signature model. Part of the SupraNatura line, the G1012 features a fine-grained Englemann spruce top, with solid Indian rosewood back and laminate sides. The rosette is a simple maple and mahogany adornment, and the maple-bound guitar is finished in satin nitrocellulose lacquer. Its Grand Auditorium body is well-sized for this multi-purpose instrument – it's big enough to generate serious volume, but small enough to have a more focused body resonance than typically found in a dreadnought or jumbo size. The 12-string is further equipped with the Fishman Prefix Pro pickup system, making it a useful tool whether at home, in the studio, or onstage.
For construction appointments, the guitar has an non-inlaid rosewood fingerboard that sits on a bolt-on mahogany neck. On top is a graceful snakehead headstock fitted with gold tuners. The Walden logo is inlaid in pearl on the unbound, curved-top headstock in the form-follows-function aesthetic that characterizes Walden Guitars. Scale length is a lengthy 25.6″, and the neck is 17/8″ at the bone nut. Interior construction is neat, if not overly fussy.
Playing a 12-string can be an exercise in tuning frustration, but the intonation on the Harkness model was good when tuned to pitch with D'Addario EXP36 strings. The A and B chords of Dave Mason's "We Just Disagree" voiced at the fifth and seventh frets with open E and B strings were right on the money, without a sour note to be heard. The C-shaped neck felt substantial though comfortable, with its stability enhanced by interior carbon graphite reinforcements and two-way truss rod. After a few minutes of playing, the G1012EQ-SH didn't feel like just a folky strummer's guitar, but a fine player's instrument able to handle upper fingerboard excursions, single note exploration, and the kind of playability a six-string player might expect.
Plugged into a PA, the acoustic's ringing chime translated nicely with good sustain and string separation. String to string balance was fine, and the general balance across the audio spectrum was notable. EQing the Fishman Prefix Pro by pushing up the Bass and Brilliance sliders and dialing in a Holy Grail reverb on Hall setting enabled the Walden 12 to achieve that big church-organ sound so beloved by 12-string fans. In all, it was hard not to like the Sean Harkness 12-string – it's a fine, good-sounding guitar.
Another Walden in the comfy Grand Auditorium size is the CG4070E-CERT from the Madera Line. With materials certified as responsibly harvested by the Forest Stewardship Council, the CG4070E also has an environmentally friendly, rechargeable MiSi Align preamp with an LR Baggs undersaddle pickup. No batteries required.
Dressed up with headstock inlay of a Chinese character that represents wood, the CG4070E also has an abalone rosette and tortoise pickguard. The six-string shares body dimensions with the Harkness 12-string, though the neck at the nut is correspondingly smaller at 13/4″. Neck, back and sides are central American mahogany, stack-laminated at the heel and headstock, and the top is an even grained western red cedar. Katalox, which is very similar to ebony, is used for the bridge and fingerboard. These responsibly sourced timbers do not represent a compromise in quality level, and the neck showed a subtle curly figure. The body is bound with plastic tortoise-shell binding, matching the pickguard. If the polyurethane finish doesn't sound environmentally conscious, consider that it is sprayed in far fewer coats than a typical nitrocellulose finish. A few finish ripples show around the fingerboard, and some players might prefer a beveled pickguard.
Setup and frets are excellent so the playing experience was immediately inviting. Cedar has the reputation of sounding "played in" and the test model was no exception. We heard warmth and presence when strumming chords, and individually picked notes had a round, sculpted sound, as opposed to the twang that a harder tonewood like spruce can produce. Classical pieces and fingerstyle improvisations were right at home on the CG4070.
The MiSi Align system needs to be plugged in through the supplied battery charger for 60 seconds for eight hours of performance time. This battery-free operation is a step forward in technology that allows for much easier functionality than having to change an interior-mount battery. The Volume and active Treble and Bass controls are mounted on the bass side of the upper bout, which unfortunately is a favorite strap-button location for many players. With bolt-on necks such as the one used by Walden, it is important to install the strap button away from the attachment bolts.
Through the small P.A., the CG4070E sounded natural with good string balance and a high feedback threshold. The tone control knobs featured a center detent which happened to be the golden EQ for quick startup playing. The treble control added brilliance more than edge, and the bass control allowed for a fatter sound without muddy boominess. With its feedback resistant response and natural sound, the LR Baggs and MiSi Align combination provided an accurate amplified interpretation of the acoustic qualities of the redwood/mahogany tonewoods.
Walden strings its guitars with longlasting EXP D'Addarios and supplies a Planet Waves humidifier, truss-rod adjustment wrench, and an extra saddle, allowing their instruments to have a "winter and summer" saddle set. These thoughtful add-ons reflect the general nature of the company, giving players fine, environmentally friendly instruments with a distinctive look, and professional sound and playability.
---
This article originally appeared in VG September 2012 issue. All copyrights are by the author and Vintage Guitar magazine. Unauthorized replication or use is strictly prohibited.
---