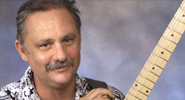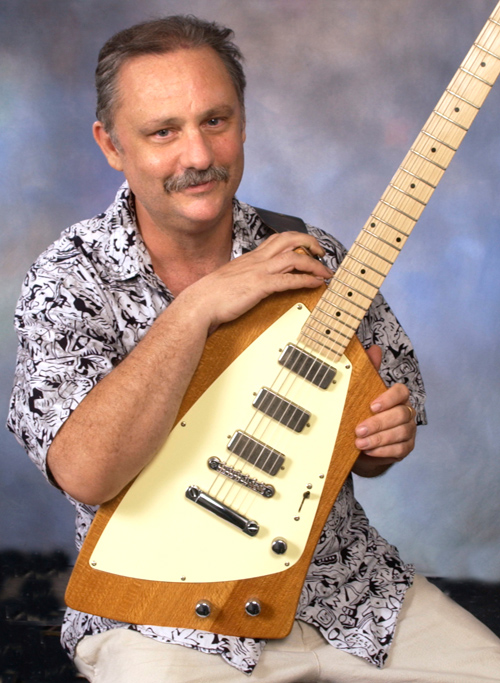 One of the most enigmatic brands in the recent history of American guitars was Hendrick, the funky solidbody electrics created by designer Kurt Hendrick. • The son of an aerospace engineer, Hendrick grew up in the 1960s near the National Aeronautics and Space Administration's Space Center Houston (when it was called the Manned Spacecraft Center) and studied at the Roberto-Venn School of Luthiery. He quit halfway through the course, choosing instead to work at the Apprentice Shop in Tennessee before becoming an instrument repairman with Houston retailer Rockin' Robin in the early 1980s, about the time the store began importing guitars bearing the Robin brand name. Since that time, he has literally traveled the world while working for various manufacturers.
Things recently came full circle for him, though, when he returned to Houston and began working with Alamo Music Products, which now makes Robin guitars (see this month's "Bass Space" for a profile on the Robin Ranger).
The veteran designer/builder recently imparted the details on the brand that bears his name and was inspired by (and created with the input of) ZZ Top co-founder Billy F Gibbons, and its best-known model, the Generator.
"I drew from a lot of influences, including NASA and 'I Dream of Jeannie' stuff, Vegas 'shapes'… but Billy took me over the edge!" said Hendrick. "And it wasn't really his sense of design – he could take any shape, put double binding on it, have it hand-made, and it would look cool. But he opened my eyes to the fact that anything was possible and that I had the ability to design guitars."
The first guitar Hendrick made went to Gibbons in the summer of 1982, while the second went to Willie Nelson.
"All of a sudden, I was selling guitars to famous people," he said. "I was in my early 20s, making guitars in my garage, and while it was nice to spend the day working at my own pace, I started missing the interaction with people. Today, at 48, working alone is cool, but at 22 it was pretty lonely! I just wasn't ready to settle down and be a little old guitar maker. Plus, I liked the idea and dynamics of production – big or small. And it seemed like all the guys I was selling to were very wealthy, while I was driving around on just two wheels. So (going into production) seemed like the logical progression."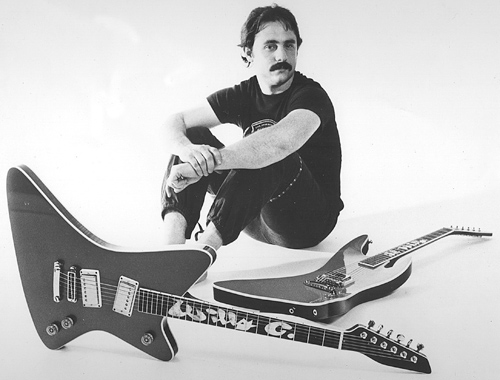 Hendrick designed three body silhouettes – the Generator, the more traditional-looking Transformer, and the tailfin-equipped Catalyst – in, as it turns out, three different states.
"My first models were one-offs made in my garage while I was working at Rockin' Robin. I had enough business from Texas guys to keep me alive – one or two guitars a month – but I was making pretty good money. And I was making acoustics, as well."
In 1983, when his girlfriend was transferred to Ohio for work, Hendrick followed, and it was there he made an attempt at mass-production. "I was working at a music store when I met some people, and one thing led to another," he noted. "But I was young and didn't know how to mass-produce; the budget wasn't there, and it was an expensive proposition. So it fizzled."
Hendrick then sent his tools to Kalamazoo, where he had a number of instruments made by the folks who later started what would become the Heritage company.
"They needed something to cut their teeth on," he recalled. "They were good guys, and they could probably see my inexperience – I was 24 years old. Then they got their wheels going, while I was hanging on by a shoestring and didn't have enough to continue it by myself. The Hendrick guitars from Kalamazoo were made entirely there, and anything with Schaller hardware was made in Kalamazoo."
Some Hendrick necks were supplied by ESP and were unusual in that they were bolt-on mahogany.
"You can always tell those because they were laminated a hundred different ways," he observed. "It looked like they were making an acoustic neck, then turned it into an Explorer neck and slapped a Fender-scale fingerboard on it. But the guys at Heritage had an original Explorer tooling kit somewhere."
The visual aspects of Hendrick guitars were certainly attention-getting. "It wasn't really cowboy, it wasn't rock and roll. It was definitely its own flavor, but I think you could see maturity in those later guitars, as well. The Generator was the one I was really proud of. Gibson had gotten away from thick binding, but companies like Hamer and Dean were into it.
"A lot of it came back to my experience at Rockin' Robin – seeing an old-school guitar and trying to revitalize it."
Two-pickup Hendricks usually had a single-coil pickup in the neck position and a humbucker in the bridge; Hendrick's explanation was succinct: "It just looked cool." Individual examples of bizarre "Curved" versions of the three Hendrick models were also made. It was an arduous process bending the bodies, especially in the days before CNC machines. And Hendrick never made a production bass, but said, "I made a Generator-shaped bass for (ZZ Top bassist) Dusty Hill that was really cool."

In addition to the publicity afforded to Hendrick by Gibbons, instruments also showed up in the hands of a number of famous players in the '80s, including Stevie Ray Vaughan, Ted Nugent, Aerosmith guitarists Brad Whitford and Joe Perry, the Scorpions' Rudolph Schenker, and Dez Dickerson with Prince's band. "We could have stayed busy selling just to those people," he recalls.
Today, Hendrick readily acknowledges that his inexperience led to his guitars' ultimate flash-in-the-pan status – less than 100 were built and the only three curved guitars made were those shown in his one and only catalog.
"The only ones the Heritage folks made was the Generator," he detailed. "We never got that far with the other models."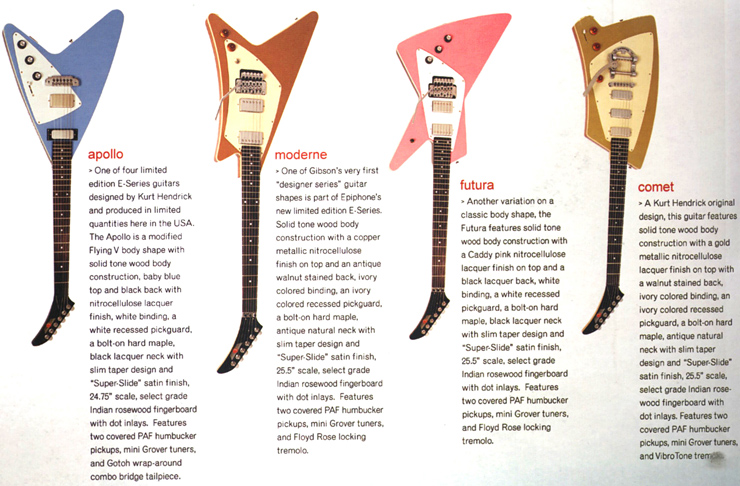 Following the demise of his own brand, in '85 Hendrick went to work with Schecter, in Dallas. One of his more intriguing creations with that firm was a classsic offset double-cut instrument with a reverse headstock and what appears to be a piece of striped cloth under a bound top on the body.
"That's a Mexican serape," Hendrick said with a chuckle. "I made a Generator like that for Mick Jones of Foreigner. I forgot who the Schecter was made for, but it's really cool, and it's something I want to do again. It's really hard to find old serapes with really nice colors; the new ones are so bright they look really cheap."
From August, 1987, to January '91, Hendrick worked in Madras, India, overseeing production for Greeta Musical Instruments.
"What was exciting about the Indian factory – and different from anything in the U.S. – was that it was so far away that they had to do stuff that we take for granted," said Hendrick. "For example, they had to cut logs for lumber; they kiln-dried timbers to make guitars. There wasn't much room for error, especially when we were shipping about 6,000 guitars a month."
His next stop was the Fender factory in Ensenada, B.C., Mexico, from March of '91 to July of '93.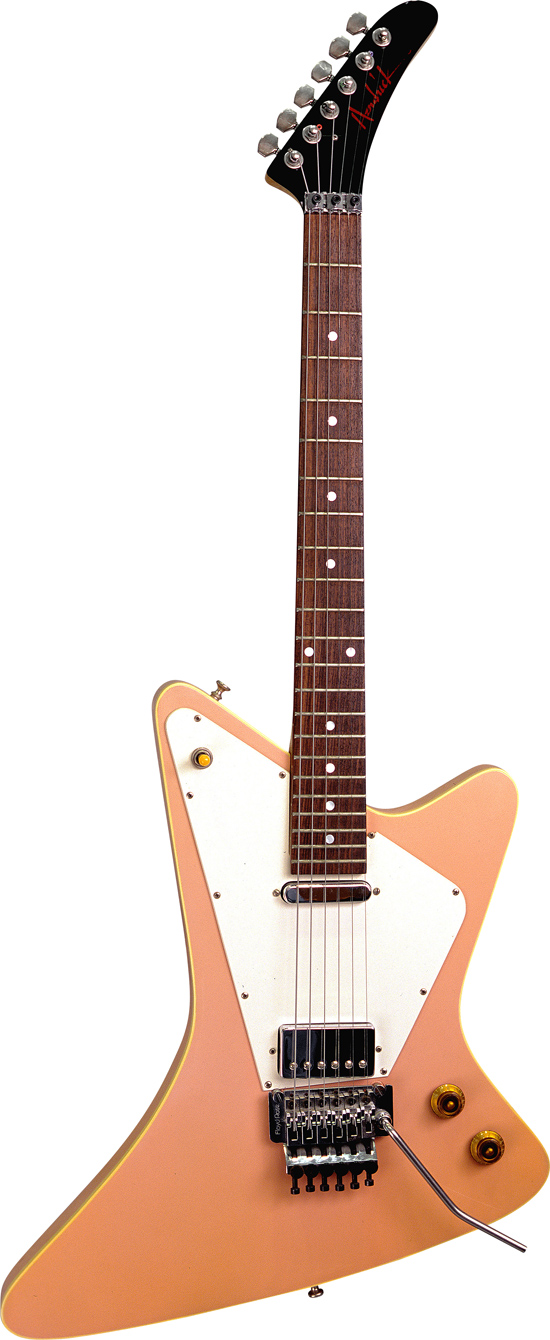 "Fender Mexico is where I really learned a lot about production," Hendrick recalled. "It was different from Fender in Corona (California), and personally, I liked (the Mexican factory) a lot better. It's really efficient."
The world traveler then journeyed across the Pacific once again, spending almost seven years with factories in South Korea and India, working for Jackson Guitars.
"Jackson had previously been made only in the United States and by (Japanese manufacturer) Chushin," he detailed. "I was sent to find a factory in Korea. It turned out that we actually built a factory from scratch, with a guy who made acoustic guitars for Epiphone."
Hendrick later moved to India, and when his contract ended, he got in touch with Epiphone in Nashville, and was hired under contract to design an E-Series of solidbody electric guitars to be produced in Malaysia. Four E-series limited-edition instruments were ultimately seen in an Epiphone catalog; two of them – the Moderne and the Futura – were based on their original '50s Gibson modernistic forebears but had Hendrick-designed pickguards. The Apollo was an offset V-shape with a slightly rounded silhouette and a stereotypical Hendrick pickguard design. The Comet was an original design and had three pickups, plus a vibrato. Not surprisingly, all four had body binding. They also had 251/2″ scales, with the exception of the Apollo, which was 243/4″.
"I came to Epiphone with the intention of working in Nashville," Hendrick clarified. "They had all the bases loaded but were in a real hurt for new designs. After looking over my portfolio they signed me on to what turned out to be a substantial design contract. After a month in Tennessee, everyone realized that I would be overly influenced by what was going on in the plant, so they allowed me to go back to my factory in Malaysia, where there was no interference.
"The four models were actually designed in a hotel room in the short time I was in Nashville. These were to be made in Malaysia and assembled in the U.S. There were four samples made for the NAMM Show, and the Comet ended up making the cover of the Guitar Player in May of '01. Shortly after, there was the 9/11 tragedy, then Gibson restructured the Epiphone team and canceled all these projects. Prior to 9/11, we had only sent samples for production clearance. So, basically, there were no production models made. The samples are in the office of my good friends at Epiphone. Man, I would sure like to get my hands on them!"
From 2000 to 2004, Hendrick worked at a small Malaysian factory that produced necks and bodies, with Epiphone as a primary client. He then returned to the U.S. in early '04 and worked briefly with RKS Guitars in California before going back to Houston. Today, he is enthusiastic about his production work with Alamo Music Products, noting, "I like making traditional guitars." And perhaps not surprisingly, Hendrick still has the ol' design bug nipping at him on occasion, as he references the prototype of an updated Comet.
"The bottom area and the knob locations are different," he explained. "The head shape is different, as well. The Epi Comet looks more like a Jetsons space vehicle in player position, whereas the new prototype kinda reminds me of an old TV. It's made of Malaysian maranti wood, which looks like mahogany, with slight flame. Most of the woods from Malaysia have some or a lot of flame due to cross winds on the peninsula. The top is seven millimeters of Malaysian oak – beautiful wood with a butterscotch color, similar to Korina. The Comet was actually designed on paper in India in 1998, and this one was built in Malaysia in 2003, after the Epi Comet."

As for the interest in those rare guitars from the mid '80s that bear his surname, Hendrick summarized, "I'm pretty amazed. Three years after the company closed, they were already getting into the 'rare' category at guitar shows – that's pretty unusual. True vintage guitars have gotten so high-priced that there's a need now, more than ever, for small, hand-made guitar companies, like what I tried to do. And there are brands out there, like Hamer and Robin, that are kind of like the 'vintage' companies of today."
---
This article originally appeared in VG February 2007 issue. All copyrights are by the author and Vintage Guitar magazine. Unauthorized replication or use is strictly prohibited.
---
You can receive more great articles like this in our twice-monthly e-mail newsletter, Vintage Guitar Overdrive, FREE from your friends at Vintage Guitar magazine. VG Overdrive also keeps you up-to-date on VG's exclusive product giveaways! CLICK HERE to receive the FREE Vintage Guitar Overdrive.