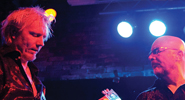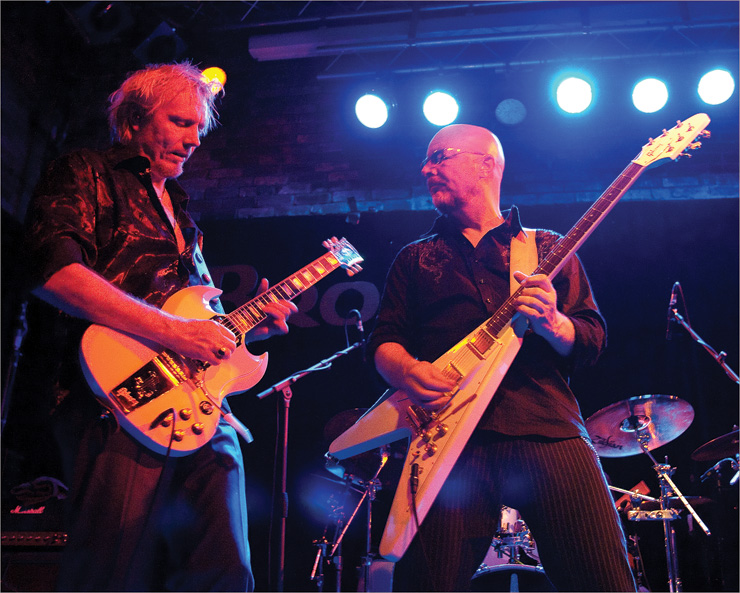 Fans of Wishbone Ash will consider the group's newest release, Elegant Stealth, the type of innovative guitar music they've grown to expect.
Since 2004, guitarist/vocalist Andy Powell and his V-shaped instruments have been accompanied by Finnish guitarist Jyrki "Muddy" Manninen.
In the liner notes for Elegant Stealth , Powell cites himself as a singer first.
"That must have been a subconscious thing," Powell observed. "But yes, singing is very much my role in the band now. It's a workout every night, and I'm developing as a singer, which has helped with the songwriting."
The album contains numerous examples of Wishbone Ash double-/harmony lead guitar passages in interesting segments. "Man With No Name" has note-for-note riffing by guitar and bass.
"You can blame me for those lines," Manninen chuckled. "But on some stuff, like the ascending passage in 'Big Issues', we worked together while writing. Doubling the lines in certain places creates a bit more orchestrated feel."
Other instruments include a fiddle on "Can't Go It Alone" as well as a Hammond organ played by Don Airey on the instrumental "Mud-Slide"
One of the longer tracks is "Heavy Weather," which has a tick-tock/cowbell groove that lends itself to jamming.
"The song came out of a jam initiated by the rhythm section, (bassist) Bob Skeat and (drummer) Joe Crabtree," Powell explained. "Because the groove was so strong, Muddy and I didn't have to do much other than embellish. Its psychedelic section was one of several occasions where we spontaneously lapsed into that mindset, and we were definitely not taking drugs. 'Man With No Name' was really out there in one version, but we decided it was a little too 'Sergeant-Pepper-meets-the-Lemon-Pipers' and eventually cooled a little on the psychedelia."
In the studio, Powell used a John Suhr Classic, a Music Man Silhouette, his '52 Fender Telecaster, a Chilcott Angel Flying V, and a Duesenberg TV model.
"I'm a Les Paul man," Manninen noted. "My main guitar is a Custom Shop '58 reissue with Kloppman pickups. They have the open sound of '58s, but with a little more mid bite. For slide, I usually use a lap steel. I have an ancient Arioso lap that I used with the Gringos Locos in the '80s. It's got a DiMarzio Hot P-90 pickup on it and is held together with a lot of gaffer tape! I used a Firebird V on 'Migrant Worker,' and the slide bit at the end was done with a Tokai Les Paul copy that just happened to be in the studio; I raised the action a bit."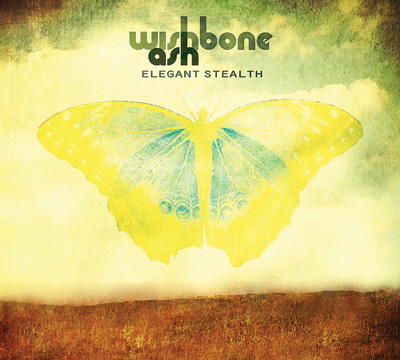 He used a Yamaha 12-string acoustic on "Man With No Name" and a Burns 12-string electric on "Searching for Satellites." As for the increase in slide guitar heard on the album, Manninen noted, "Slide guitar has always been a part of the Wishbone Ash sound. Ted (Turner) used to play it, and later on, he played some nice lap-steel, as well. I haven't introduced anything new to the sound. In general, we just go by what serves the song. Obviously, you have a different kind of vibrato when playing slide; mine is wide and low, and I'm not able to do fast runs. It creates a kind of lazy, laid back feel, which is great for songs like 'Migrant Worker.'"
"Simple, melodic lines often sound better or more concrete with slide guitar, because it's a more square-wave-sounding instrument," Powell added. "Also, rock guitarists often shy away from clean, undistorted guitar sounds, but we don't. We're happy to go there."
As for working out the harmony-guitar lines (which may or may not ultimately include slide), Powell noted, "Sometimes, I'll have an idea, and can't wait to work it out on my actual instrument, so I'll sing it, then figure it out later. Sometimes, the guitar gets in the way and ideas can come out sounding clichéd, and you don't always want that. In short, we'll use different means and approaches. An idea can be riffed or jammed together in real time, or carefully worked out in a compositional way. No rules."
Powell is "very satisfied" with Elegant Stealth , saying it's an "honest, total group effort that shows people where Wishbone Ash has evolved to at this moment in time."
Future projects may include an album of covers, but, Powell says, "Wishbone Ash is still a work in progress, and there is no creative need to look outside the band. That's not to say we're blind to what's going on around us. We are very much stimulated by the scene right now, but we're also comfortable in our own skin."
---
This article originally appeared in VG September 2012 issue. All copyrights are by the author and Vintage Guitar magazine. Unauthorized replication or use is strictly prohibited.
---