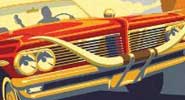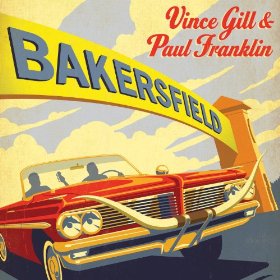 Vince Gill emerged in the mid '80s as part of country's New Traditionalist movement. The style was partly built on Bakersfield's twang-heavy honkytonk, especially the music of Buck Owens and Merle Haggard. Coincidentally, 2013 marks anniversaries for both. Owens, who died in '06, had his first #1 single with "Act Naturally" in 1963; later that year, Haggard's "Sing A Sad Song" became his first single to reach the national country charts.
For their new album, Bakersfield, Gill and Nashville studio pedalsteel ace Paul Franklin (who works with him in the Western swing band the Time Jumpers) chose five tunes each by Owens and Haggard. By recreating them with gusto and avoiding imitation, they capture the energy and power both generated in the Capitol Tower decades ago. Backing them are some Time Jumpers cohorts and other Nashville studio players.
Gill handles vocals, yet he and Franklin also honor the sidemen peculiar to both singers. Gill demonstrates his mastery of the Telecaster picking of Buck, Don Rich, and the late Strangers guitarist Roy Nichols. Franklin pays effective tribute to three players: Ralph Mooney, who defined Bakersfield style steel; Tom Brumley; and the Strangers' Norm Hamlet, who's still with the band today.
The repertoire's not always predictable. Buck is represented by his 1961 hit "Foolin' Around," 1962's "Nobody's Fool But Yours," and his classic 1965 hit "Together Again." Two others are obscurities:
the little-known 1966 ballad "He Don't Deserve You Anymore" and "But I Do," written by Bakersfield singer Tommy Collins.
The Haggard covers are just as freewheeling: the 1966 honky-tonk hit "The Bottle Let Me Down," his successful 1967 prisoner ballad "Branded Man," and 1970's "I Can't Be Myself." Aware that Reggie Young played a Strat on the obscure 1974 Haggard ballad "Holding Things Together," Gill switched to a Strat to retain the feel of the original.
The sole puzzling choice: "The Fightin' Side Of Me," Haggard's 1970 follow-up to his witty 1969 anti-hippie chestnut "Okie From Muskogee." It's commendable that Gill wanted to honor veterans, and his performance is superb. But "Fightin' Side," written to slam '60s anti-Vietnam protesters, feels dated in today's world compared to other eloquent Haggard tunes about soldiers.
That Gill and Franklin more than did the music justice gets no better endorsement than Haggard's enthused liner notes. Anyone unfamiliar with his original material, and Buck's, will seek it out after hearing Bakersfield.
This article originally appeared in VG's November. '13 issue. All copyrights are by the author and Vintage Guitar magazine. Unauthorized replication or use is strictly prohibited.