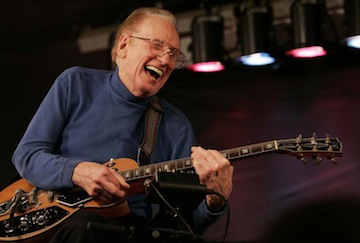 The Les Paul Foundation has announced that it has awarded grants to organizations whose work reflects Paul's enthusiasm for music education, engineering, and innovation, as well as medical research. Paul formed the foundation as a means to encourage young people to pursue their curiosity and innovation about music, sound, and engineering. Recent grants include funding to multiple music education programs and to museums.
"Les Paul always encouraged youth to learn about music and to be innovative so the world would become a better place. The organizations we support help perpetuate his philosophies and ideas," said Michael Braunstein, Executive Director of the foundation.
Organizations which will benefit from the Les Paul Foundation this year include:
The Blues Foundation, Memphis, received a grant toward construction of the Blues Hall of Fame. The project will honor inductees year-round and provide an environment in which visitors can listen to and learn about The Blues.
Center Stage: Queens Center for the Performing Arts, received funds toward development of a new location to increase students' access to affordable music and arts education.
Wisconsin Foundation for School Music received backing to develop a curriculum based on the contributions of Les Paul. The Wisconsin organization promotes and perpetuates music education in Wisconsin schools.
Music Unites of New York received a contribution for its music programs for youth in under-served school districts throughout the country. Music Unites partners with established and emerging artists to present concerts which raise awareness and funding for music programs in inner city schools.
The Soulsville Foundation/Stax Music Academy, Memphis, received funding for its Les Paul "Soul School" Spring Break Workshops. The innovative programs motivate the 200 middle and high school students. Academy students have performed locally and nationally and overseas.
Birch Creek Music Performance Center, Wisconsin, received backing to support the guitar portion of two summer jazz sessions. The Birch Creek Music Performance Center provides intensive, performance-based instruction to promising young musicians by immersing them in a professional, mentoring environment.
Discovery World, Milwaukee, is home to the Les Paul House of Sound, a comprehensive exhibit on the godfather of the solid body electric guitar. The Les Paul Foundation is supporting Discovery World's exhibit expansion, its enhanced educational experiences, classes and events that focus on Les Paul with a grant.
The Wisconsin School Music Association's Launchpad garage-band competition, where student musicians are offered a day-long workshop, "Makin' It in the Music Biz."
Learn more at www.lespaulfoundation.org