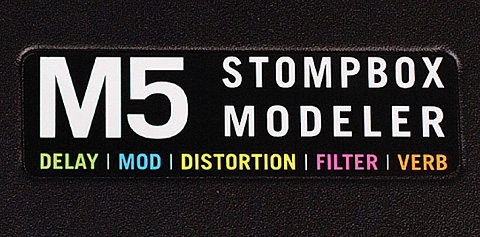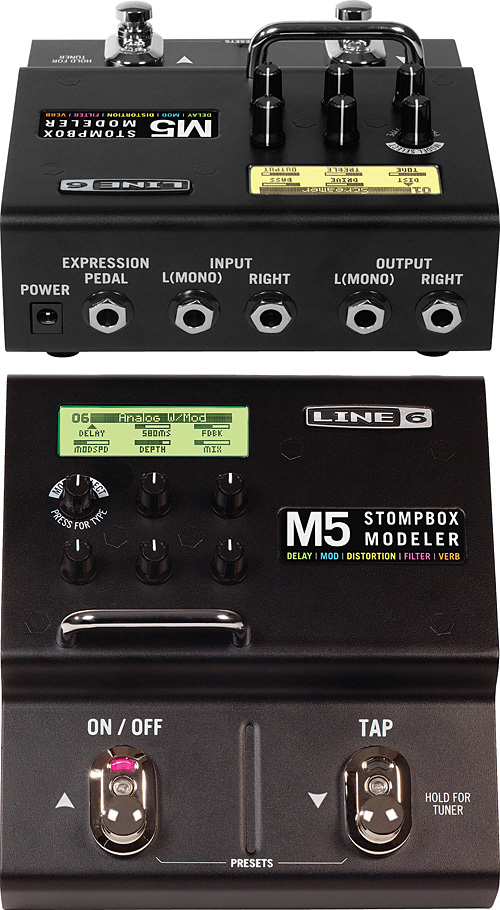 Line 6 M5 Stompbox modeler
Price: $279.99 (retail)
Info: line6.com
Have you ever thought, "Maaaan, I wish I had that [fill in the blank with the name of that rare vintage stompbox], but I can't afford it. Dang!"
It's a common malady.
Enter the Line 6 M5. Simple in concept – sort of a "secret weapon" that can conjure more than 100 classic stompbox sounds, it isn't intended to replace your pedal collection, but rather to serve as a go-to box that delivers rare/little-used effects in a pinch.
Offering a huge menu of sounds, unlike the M5's Line 6 big brothers, the M13 and M9, this box provides only one effect at a time. There are 20 echoes, 20 modulations, 20 fuzz and distortion units, and piles of compressors, reverbs, and filters. What there aren't are cheesy combinations of overdrive/reverb/echo or chorus/compressor/reverb. Rather, the M5 endeavors to give the user one effect at a time without silly algorithm mixes.
What sounds will you find in this sturdy little unit? Within the delay section, there's the expected Echoplex pre-set… But there's also the super-rare Binson Echorec (as used by Syd Barrett and David Gilmour on early Pink Floyd recordings), and in the "mod" department, there's a UniVibe, a Jet Flanger that sounds like a vintage A/DA, a Leslie simulation, and various Mu-Tron, MXR, and Ibanez phasers. If you're into the dirty stuff, look for the ubiquitous Fuzz Face and Tube Screamer sounds, along with the less-common Colorsound Overdriver, Vox Tonebender, and weird-ass PAiA Roctave Divider. And there's even a Tap-Tempo button so you can make any time-based effects groove with the rest of the song. Or, plug in an expression pedal to stomp on everything from wahs to pitch-shifting effects.
Guitarists will further appreciate the user-friendly manual, which includes photos of all the classic pedals that Line 6 modeled for the M5.
To get going, plug in (input and output jacks can be run in mono or stereo) and take a look at the bank of six knobs; in the uppermost left is one called Model Select, which allows you to pick the effects family you want – Delay, Modulation, Distortion, Filter, and Reverb. Then, twiddle the remaining five to see which parameters you can adjust on the LCD display. Find a sound that you want to save? There are 24 user spaces. Other goodies include a built-in tuner and a True-Bypass model when you don't want to hear any artifacts from the M5 in your chain (or use DSP bypass if you do).
Using a variety of amps, we ran the M5 through its paces and were impressed overall; naturally, the better your amp, the better the M5 will sound. The unit is absurdly easy to use despite having five unlabeled knobs – when you plug it in, you'll see how they control parameters like Speed, Mix, and Drive. All the effects sounded full and accurate – that Binson Echorec nails that '60s Floyd sound. You may be especially blown away by the Filter and Reverb sections. In the former you'll find otherworldly effects and synth sounds that'll make your guitar sound like it's from the other side of Pluto. The reverbs are cool, as well, from the traditional '63 Spring to the amazing Octo, which, with the Mix parameter cranked up, makes a guitar sound like orchestral strings.
With more than 100 models, it's super-versatile. And if you break down the price per effect, well… you do the math!
---
This article originally appeared in VG December 2011 issue. All copyrights are by the author and Vintage Guitar magazine. Unauthorized replication or use is strictly prohibited.
---