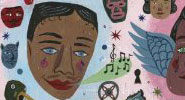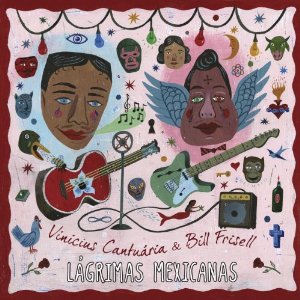 It's hard to say which event stirs more anticipation, a new Bill Frisell solo album or a new project featuring him in an accompanying role. The guitarist is in demand as much for the way he listens as for the way he plays. A "short list" of people Frisell has played with includes Jim Hall, Lucinda Williams, Ginger Baker, Charlie Haden, David Sanborn, Marianne Faithful, Elvis Costello, Jack DeJohnette, John Scofield, Rickie Lee Jones, Joe Lovano, Viktor Krauss, Mike Stern, Lyle Mays, and Danny Barnes. He gets such varied calls not because he's a Tedesco-like chameleon but because, in his case, uniqueness equals versatility. He invariably plays something different and unexpected, but it always somehow fits whatever environment he's placed in.
Frisell played on Cantuaria's Tucuma (1999) and 2001's Vinicius (Cliché Do Cliché), and Cantuaria (whose credits include Los Super Seven, Marc Ribot, Brian Eno, Arto Lindsay, Brad Mehldau, and David Byrne) previously appeared on Frisell's 2003 album Intercontinentals. But this is their first full-fledged collaborative project.
All 10 songs were co-written by the pair of 60-year-olds, with Brazilian Cantuaria writing the lyrics (in English, Spanish, and Portuguese) and both fleshing out the music – the sole instruments being their guitars (Cantuaria's gut-string and Frisell's electric and acoustic), with Frisell's occasional loops and Cantuaria doubling on percussion.
The title song (which translates to "Mexican Tears") is a hypnotic cumbia, while the breezy bossa nova of "Briga De Namorados" takes a sudden left turn into dark dissonance. A wah-wah funk line doesn't jar "Mi Declaracion," nor do Frisell's distorted loops clash with his deep twang (and extra-widetremolo) on "El Camino."
Not surprisingly, they turn a multitude of rhythms, textures, and melodies into a brand-new but cohesive whole.
This article originally appeared in VG's June '11 issue. All copyrights are by the author and Vintage Guitar magazine. Unauthorized replication or use is strictly prohibited.