Surfin' With the Irishman
Gary Moore's 20 Greatest Guitar Tracks
By Pete Prown
With Gary Moore's passing, guitarists the world over paused to reflect on his massive contributions to the six-string universe. The Irish guitar hero covered a lot of ground in his 40-year career, playing with George Harrison, Bob Dylan, and Cream's Jack Bruce and Ginger Baker, as well as blues giants such as Albert King, Albert Collins, and B.B. King. It's no understatement to say that Moore's legacy is immense and will continue to unfold as more musicians examine his songs and, particularly, his brash guitar style.
The first half of Moore's career was largely spent in the rock arena with Thin Lizzy, a Dublin-based trio called Skid Row, and as a metal artist in the '80s, but he also delved into furious jazz-fusion with Colosseum II. In 1990, he finally found commercial triumph as a blues artist who rekindled echoes of the British blues era. The eclectic guitarist was not without his critics, however. To the jazz-rock school, he seemed an unschooled musician, while some in the rock crowd considered him a technical "muso," to use an often-derogatory English term. And blues purists cringed when he played super-fast licks over the blues (and often through a cranked Marshall!). Yet, just as easily, he could turn the volume down while he sang a pretty pop song. Obviously, Moore was no purist, yet he had an instinct to blaze new, exciting trails on the fretboard, critics be damned.
With that setting the stage, let's take a look at some of Gary Moore's greatest songs, recordings, and performances, and celebrate his joyous, no-holds-barred approach to the electric guitar. Better yet, many of these are available as online videos, and we've compiled those you'll read about here plus 10 more for your enjoyment at VintageGuitar.com.
Gary Moore Channel
Videos of the iconic guitar legend Gary Moore.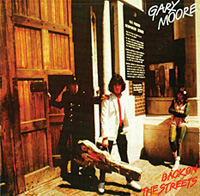 "Don't Believe a Word"
Back On the Streets (1979)
In the '70s, many people already knew that Moore was a skilled guitarist, but this is the moment when he became a great one. He and frequent musical partner, Thin Lizzy frontman Phil Lynott, took the band's raging "Don't Believe a Word," slowed it down, and turned it into searing British blues gem. With both gents sharing vocals, Moore reveals the profound influence Peter Green had upon his playing in a sultry, smokin' lead. The coup de grâce is an uptempo jam at the end featuring Gary trading blues licks with himself, using no less than Greeny's own '59 Les Paul (which Moore had purchased nearly a decade earlier). In just a few minutes, this recording put the 26-year-old guitarist on the map of hot, rising axemen.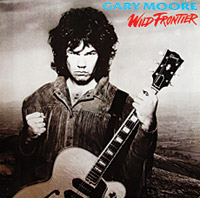 "Over The Hills and Far Away"
Wild Frontier (1987)
Following the sudden, drug-related death of Lynott in 1986, Moore returned to his Irish roots on this powerful album, mixing Celtic influences with pounding rock grooves. This song is one of the standouts, a blistering piece of metal with Gary mimicking a bagpipe on his guitar and delivering monster power chords. The solo is one of his most ferocious ever, exhibiting equal parts Jeff Beck daredevilry, neo-classical arpeggios, and pure Gary Moore scorch. Looking back, the man was on a mission to prove himself.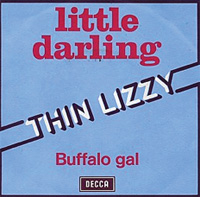 "Little Darling"
Thin Lizzy single (1974)
This single from Moore's initial stint with Lizzy is one of his best ever, a rock-and-roll firecracker barely three minutes long. While Lynott and British soul singer Frankie Miller trade vocals, ace drummer Brian Downey pounds away in the background. At 1:40, the guitarist kicks in with double-tracked slide licks that evolve into urgent, single-note bends. The crescendo builds as Moore continues the unison bends straight through the final chorus and a brilliant horn arrangement that brings the house down. "Little Darling" should probably be on every critic's Top 100 rock and roll tracks, but alas, it remains criminally obscure.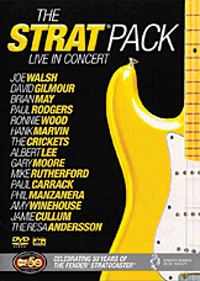 "Red House"
The Strat Pack: Live in Concert DVD (2005)
Check out this live clip from the 2004 concert that marked the 50th anniversary concert of the Stratocaster. Taped at Wembley Stadium in London, Moore performed an incendiary version of Jimi Hendrix's "Red House." It's interesting to note that, later in his career, Moore took greater care in conjuring good guitar tone and seemed less interested in the displays of blazing speed that marked his early years. It's the performance of a mature player blazing on all cylinders.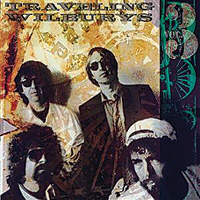 "She's My Baby"
The Traveling Wilburys, Vol. 3 (1990)
Moore walked in exalted company when asked to play lead on this track from the second Traveling Wilburys album. The song is typical Wilburys, modifying a vintage-rock vamp into a contemporary rock song and featuring vocals from George Harrison, Tom Petty, Bob Dylan, and Jeff Lynne. Moore peppers the backing track with hot blues licks, deftly holding back on the notes-per-minute shred in favor of rockin' string bends and string squeals. And if you like this tune, check his cool collaboration with Harrison on "That Kind of Woman" from (Still Got the Blues.) It's a joy to hear Moore trading slippery licks with the sublime slide work by the "quiet Beatle."
"Cowboy Song"
Thin Lizzy, The Boys are Back in Town DVD (1978)
In 1978, Thin Lizzy traveled down under to play a giant gig outside the Sydney Opera House and show off the band's newest addition – Gary Moore – who pulled out all the stops for Australian fans, ripping through song after song with his unparalleled lead work. Co-guitarist Scott Gorham plays the stellar first solo on "Cowboy Song" and, after a quiet vocal interlude, Moore tears into one of his more explosive leads ever. Even in this brief break, he effortlessly jumps between major and minor blues scales and executes a heart-stopping run of trills… one handed. If you're frothing at the mouth and jumping up at down by this point, stay tuned for the rest of the performance, as "Cowboy Song" segues into "The Boys are Back in Town" (in a separate clip) for an absolutely thrilling climax. After this, you'll know why Thin Lizzy was long regarded as one of the best live acts in rock and roll.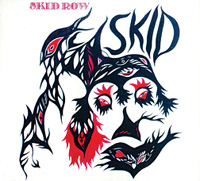 "Unco-Up Showband Blues"
Skid Row, Skid (1970)
Here's a vintage TV performance from Skid Row, Moore's psychedelic power trio from the early '70s (not to be confused with the '80s hair band, who reputedly paid Moore $35,000 for ownership of the name). It doesn't take a rocket scientist to detect the obvious Cream posturing going on here, but it's also a great glimpse of early Moore, here playing a Les Paul with P-90s going through an Orange amp. And despite the young picker's unfortunate wardrobe, his lead work is impressive and telling of greater things to come.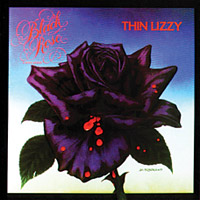 "Toughest Street in Town"
Thin Lizzy, Black Rose (1979)
It's hard to pinpoint exactly when "shred" made the jump from fusion into hard rock, but this might be it. This full-knuckle rocker features Phil Lynott's street-wise snarl and the harsh, chorus-drenched chord slashes of Moore and Gorham. Moore's solo, however, is pure frenzy, the guitarist splatter-painting notes all over the wall with his humbucker-modified Gibson Melody Maker. Five years before anyone had ever heard the name "Yngwie," the Irish axe demon was already rippin' a million notes per minute and this is the unequivocal proof.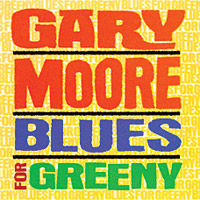 "Long Grey Mare"
Blues for Greeny (1995)
Here, at last, was proof that the maturing guitarist could throttle down and play authentic '60s blues without ladling on the heavy gain or speedy runs. This beautiful recording is just over two minutes long, yet is full of super-tasty Les Paul licks that pay tribute to Moore's beloved hero, Peter Green. An absolute treasure.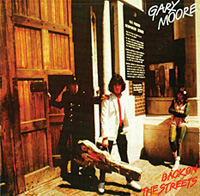 "Parisienne Days"
Back on the Streets (1979)
Little did composers of traditional French "bistro pop" know that someday a rock-and-roll guitar picker would borrow their style and crank it through a Marshall amp. This collaboration with Phil Lynott is a ballad featuring Moore playing an über-melodic solo inspired by Carlos Santana and including one single, insanely long sustained note. One interesting sidenote is that, unlike many guitar stars, Moore never tried to hide his influences. He worshiped Santana, Peter Green, Jeff Beck, Jimi Hendrix, and a bevy of other guitar heroes, and was always happy to wear that on his sleeve.
"Out in the Fields"
Out in the Fields: The Best of Gary Moore (1998)
In 1985, Moore and Lynott reunited to cut a few new tracks, two of which had anti-war messages directed at the troubles in Northern Ireland. Here's the better of the two, the flat-out rocker "Out in the Fields." Moore had finally shaken off the Deep Purple clichés that bogged down his early '80s material and created a slick hard-rock style that was polished like a Def Leppard radio hit, but still kicked like a Thin Lizzy record. Playing a solidbody Ibanez Roadstar RS1000 in this video (along with that '80s relic, the SynthAxe), he executes a wonderfully blitzkrieg guitar solo. Dig especially the "axe cam" that captures the lead from a fingerboard perspective.
"Still in Love with You"
Thin Lizzy, Nightlife (1974)
Moore recorded this Lizzy favorite just before he left the band in '74, but his solo was so good that it was left on the subsequent album. The soulful ballad became a staple of Thin Lizzy concerts, so much so that his successor, Brian Robertson, played Moore's solo nearly note-for-note. And as with Gary's other slow tunes, it's hard to miss the Santana influence here.
"End of the World"
Corridors of Power (1982)
If Eddie Van Halen used "Eruption" to show the world his guitar mastery, then Moore had this track, which kicks off with a stunning solo performance. The intro fades in with a Jeff Beck-styled fusion melody before diving into power chords and fast, open-string pull offs that skitter down a natural-minor scale. After that, Gary shows off his picking-hand of doom as he races around the fretboard with gleeful abandon. It's thrilling early-shred stuff. (And if you dig this Reagan-era rumination on atomic war, check out Moore's performance the previous year on Greg Lake's FM hit, "Nuclear Attack.")
#898989;">"Róisín Dubh (Black Rose): A Rock Legend"
Thin Lizzy, Black Rose: A Rock Legend (1979)
Although Gary Moore's third and final stint in Thin Lizzy was brief, it was the only one that yielded a full LP and it was a classic. The Black Rose album cooks on all burners—not only does Moore play his heart out, but he also pushed Scott Gorham to new levels of fretboard excellence. The crowning achievement is this extended Irish epic, featuring folk melodies ported over to a hard-rock setting. The climax is a blazing breakdown of Celtic runs played on electric guitar—a speedy "call and response" featuring Moore trading solos with himself on both a Les Paul and a Stratocaster. Interestingly, this instrumental bit had been a live staple during his 1974 tenure with Lizzy, but it took another five years until the band was finally able to nail it on tape.
"Still Got the Blues"
Still Got the Blues (1990)
This single marked Gary Moore's commercial breakthrough, a sultry Euro-ballad that even earned airplay on US AM radio. Throughout, the guitarist's chameleon-like personality is in full evidence, as he blends a torchy blues song with fat, smokin' guitar solos and sexy lyrics that got radio programmers' attention. It may not contain Moore's most mindblowing guitar break, but "Still Got the Blues" opened a whole new chapter of his career and cannot be underestimated in that regard.
"Walkin' Thru the Park"
Bad for You Baby (2008)
Armed with a raging Tele, Gary Moore just wails through this hot cover of the Muddy Waters classic from his final studio album. Compared to his earlier blues work, Gary's tone is much more vibey and he seems less intent of showing off his prodigious chops. Instead, he just wants to conjure up a steamy bar-room vibe and, in that regard, succeeds mightily.
"Sitamoia"
Thin Lizzy, Remembering, Part 1 (released 1976)
This uncanny song from 1974 defies simple description, other than to say it reveals Thin Lizzy's Irish roots with drama and elegance. Along with Lynott's impassioned vocals,  Moore layers his guitars over the drums to create an urgency that is guaranteed to deliver chills. The wistful guitar solo that follows helps conjure up the Celtic vibe even more. If you check it out online, listen to both the original version and the alternate "Peel Sessions" take. Both are intriguing and, even 37 later, the song remains a strange, joyous wonder of Irish rock 'n' roll.
"The Inquisition"
Colosseum II, Wardance (1977)
A Seventies guitarist of Moore's technical caliber would inevitably have flirted with jazz-rock fusion and that's just what he did in the middle of the decade. Gary cut three albums with drummer Jon Hiseman's popular UK fusion group Colosseum II, further adding to his reputation as one of the UK's best soloists. Clearly inspired by Return to Forever at this point in his career, Gary lets fly numerous fast electric melodies and solos, as well as performs a flamenco-fusion lead on an Ovation roundback. If you love '70s jazz-rock, you simply must check out Colosseum II.
"Empty Rooms"
Victims of the Future (1984)
Despite his ferocious metal excursious, Gary Moore loved to sing slow tunes and this one is a classic '80s power ballad. Over lush keyboard pads, Gary whips out his nylon string in a pre-solo and then grabs an overdrive- and echo-laden Strat to whip up electric nirvana. While the hair-metal production sounds dated today, "Empty Rooms" was a fixture of his live set for years and there are innumerable live versions online, including this barnburner from 1987. Prepare to get your lighter out.
"The Thrill is Gone"
Live Blues VHS (1993)
This summit between BB King and Gary Moore is not to be missed. Anyone who calls Moore a "shredder" will be effectively shut up by his restrained, tasty lead work here. Throughout the performance, he interacts beautifully with King and the two guitarists trade some heavenly call-and-response licks for the finale. This is heavenly electric blues from two masters of the genre.
---
This article originally appeared in
VG
's May 2011 issue. All copyrights are by the author and
Vintage Guitar
magazine. Unauthorized replication or use is strictly prohibited.