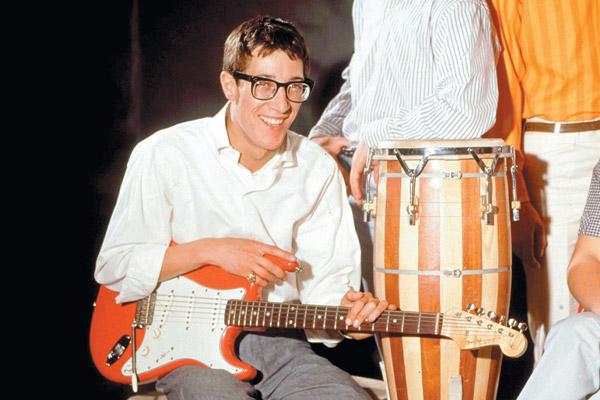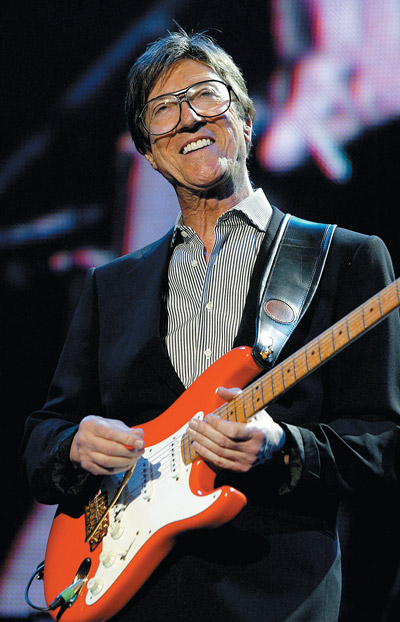 When Pete Townshend writes liner notes for an album that commemorates your career, and guitar players with names like May, Knopfler, Blackmore, Frampton, Iommi, and Green all plug in to participate, you've obviously got some clout. Such is the case with the Hank Marvin tribute Twang! A Tribute To Hank Marvin and The Shadows.
While his accomplishments are not that well documented in the U.S., Marvin is duly recognized in England as one of his country's authentic guitar legends. Born Brian Radkin on October 28, 1941, he adopted the stage name Hank B. Marvin in 1958, a ploy to sound more "American."
Having started out playing piano, clarinet, and banjo, his 16th birthday present was a Hofner f-hole acoustic, to which he attached a small pickup alongside the neck. Like most British guitars at the time, its strings were extremely heavy, in the neighborhood of .024.
That year, 1957, the bespectled teenager joined a skiffle group called the Railroaders, which included a young rhythm guitarist named Bruce Welch. Attempting to adapt to the newly amplified sounds of rock and roll, Marvin purchased an American-made Vega electric guitar.
The iconic musician, who has lived in Australia for the last 36 years, recalls, "It was a black archtop with a huge chrome arch over the pickup. It looked incredible, but you couldn't bend the strings because the pickup covered the area where you put your hand. The interesting thing was that it had very good action, and a real twanging sound that was the nearest to what we'd been hearing on American records."
Marvin was performing with that guitar at the renowned The Two I's club in North London's Soho area, when fate intervened. The aspiring young guitarist was offered the opportunity of joining the band of a then undiscovered teenaged singer named Cliff Richard.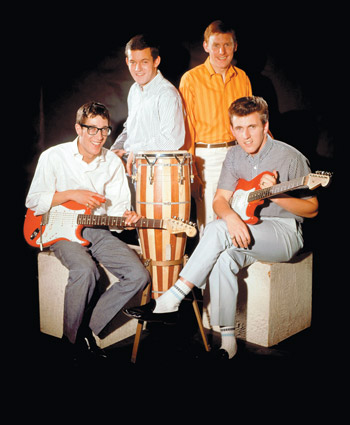 As Richard's career soon took off, the young star wanted the leader of his backing band, then struggling with a cheaply made Japanese Antoria, to have the best available electric. Knowing Marvin fancied the Fender Stratocaster, Richard offered to buy one, which at the time cost the equivalent of five weeks of his guitarist's salary. Marvin's preference for the Strat developed through mistakenly believing it was the model used by his personal favorite, James Burton, who then played with pop idol Ricky Nelson.
"I'd never heard anyone bending strings like that before," he still marvels. "We had very heavy strings, and couldn't work out how he was able to bend them," he said, laughing. "We thought it must have had something to do with his great American diet – you know, steak, orange juice, and milk – that gave him these incredibly strong fingers to be able to bend those thick strings. Of course, I later found out that he was using incredibly light strings."
While Burton was actually playing a Telecaster, Marvin explains why he assumed the guitarist was using the Stratocaster.
"We loved the sound he and Buddy Holly had, and we'd seen the cover of The Chirping Crickets, where Buddy is holding a Strat. We just assumed that James would be using the same, because it seemed to be the top model.
"That's how I got my Strat. And it was a beautiful guitar, [Fiesta Red] with a birdseye maple neck and gold-plated hardware."
Except for a few years in late '60s when he switched to a signature model Burns after losing his prized Strat, he has always been loyal to his trademark red axe. His current Fender signature model is based on the '58, updated with Kinman noiseless pickups, Sperzel locking tuners, and a slightly wider neck and fret finish.
Key to Marvin's love affair with the Strat was its vibrato.
"I took to the it like a duck takes to water," he said of the device, which became key to his sound. "I learned to hit a note, drop off, and just pull it up… Just give it a hell of a shake on certain things to create a kind of dramatic effect. I have never used, except on rare occasions, tremolo on an amplifier."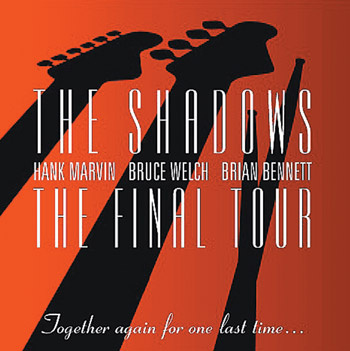 While Marvin and the Shadows were gaining popularity as Cliff Richard's backup band, with their mentor's blessings, they decided to cut some instrumental singles under their own name. The group's breakthrough 1960 hit "Apache" spent 21 weeks on the U.K. charts (six at number one) and would be the first of more than 30 hit singles. Fourteen of them, like "FBI," "Wonderful Land" and "Man Of Mystery" reached the top 10, making them England's most successful pre-Beatles band.
However, newer, harder British outfits like the Rolling Stones, Who, Kinks, Yardbirds, Cream, etc., eventually rendered the middle-of-the road music of Cliff and the Shadows anachronistic. To contemporary rock music fans, they seemed like relics from a bygone era, and the Shadows split from Richard in December, 1968.
Since then, Marvin has mostly pursued a solo career, while stopping along the way in 1974 to form the vocally-oriented Marvin, Welch, and Faraar. After disbanding a short while later, and re-forming the Shadows for several brief spells, the veteran reformed the iconic band again in 1990. That effort ended acrimoniously, but in 2004 Marvin was offered the opportunity of doing one last farewell tour with the band, with one concert captured for posterity on DVD and CD called The Shadows – The Final Tour.
Reflecting on it now, Marvin says with obvious affection and pride, "You know, a lot of years have gone under the bridge with the Shadows going back to 1958. You could see the tears in the eyes of people in the audience thinking they're never going to see us working again.
"This all wells up inside you," the unassuming member of British rock royalty concludes, adding, "Yes, it was very, very emotional. Very involved."
---
This article originally appeared in VG's April '06 issue. All copyrights are by the author and Vintage Guitar magazine. Unauthorized replication or use is strictly prohibited.