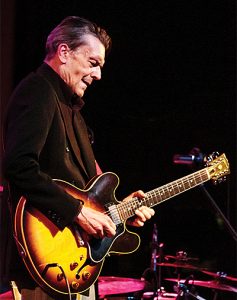 John Warren Geils, Jr., known professionally as J. Geils and Jay Geils, was found dead April 11 at his home in Groton, Massachusetts. He was 71 and officials believe he died of natural causes.
After learning to play jazz on the trumpet, he switched to playing guitar in high school and by the mid 1960s had formed Snoopy and the Sopwith Camels while attending Worcester Polytechnic Institute. The band, an acoustic-blues trio, included bassist Danny Klein and harmonica player Richard Salwitz; soon after forming, they moved to Boston, where in '67 they shifted the band's sound and style by adding drummer Stephen Jo Bladd and frontman/singer Peter Wolf, and changing the name to J. Geils Band. In '68, they added keyboardist Seth Justman, then were signed to Atlantic and released their debut album in 1970.
As a pop/rock band, they spent the following years building an audience in the Boston area and gaining an initial taste of broader success with the albums The Morning After (1971), Bloodshot  ('73), and Nightmares… and Other Tales from the Vinyl Jungle ('74), which included its first U.S. Top 20 single, "Must of Got Lost."
In late '81, the band released its 12th studio disc, Freeze-Frame. Sporting a smoother pop-oriented sound than most of the band's earlier bar rock/blues, its initial single, "Centerfold," and accompanying MTV video pushed the band to #1 on the album and singles charts for the first time.
In '83, Wolf left to pursue solo work, and the band released two more albums before breaking up in 1985. It reunited in 1999, then again sporadically through the years before Geils stopped participating due to legal issues. In recent years, he performed as part of The Jay Geils Blues and Jazz Review, playing East Coast clubs and covering classic blues and jazz songs while using highly collectible guitars along with amps based on classic designs. He was featured in Vintage Guitar four times, most recently in 2012 (http://www.vintageguitar.com/27325/jay-geils/).