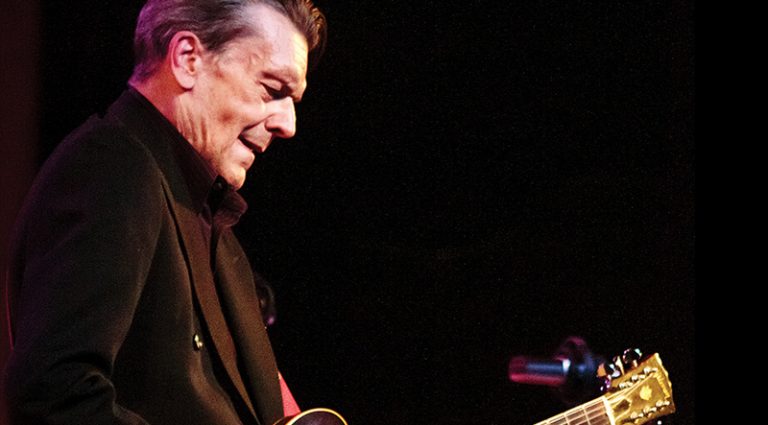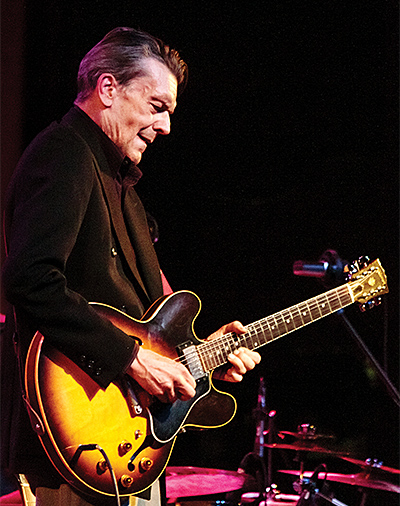 Guitar maestro Jay Geils is a musical chameleon. In the '70s, the J. Geils Band kicked out nine records that sent killer blues/R&B licks flying off of turntables all over America. In the '80s, the band adopted a more-commercial sound, indicative of the changing times.
Now in semi-retirement, Geils is knee-deep in jazz; The Jay Geils Blues and Jazz Review plays the East Coast club circuit, paying homage to Count Basie, B.B. King, T Bone Walker, and other jazz legends.
"It's bass and drums, Harry Allen on sax, me and Gerry Beaudoin on guitar, and Gerry's son on vibraphone. We do two sets with changing personnel, including a couple of female singers for a few tunes. Straight-ahead jazz; it's a lot of fun."
For the gigs, Geils pulls out an incredible array of vintage jazz boxes.
"I've got all the guitars those guys used. All 18-inchers – a Gretsch Synchromatic 400, a Gibson Super 400, a Stromberg Master 400, an Epiphone Emperor and my D'Angelico New Yorker. I usually take gigs where I never solo, I just play four-to-the-bar rhythm, like Freddie Green with Count Bassie. I'll bring my '39 cutaway L-5 and my Stromberg, and barely turn up the Tone knob on the guitar. On the amp, I usually leave the Treble off entirely; then a little bit of Bass and a lot of Middle. That's how you get that nice, fat, Barney Kessel sound."
When it comes to amps, Geils is predominantly a classic Fender guy.
"I usually use a Super Reverb that's been highly modified by Roy Goode," he said. "He's a whiz and knows all the tricks to get a little more gain and distortion. Depending on the room, I can get almost any note on my 335 to feed back, which is a lot of fun."
Not long ago, Geils hooked up with builder Rob Lohr of Allston Amplifiers, in Boston. Their conversation produced the Allston J. Geils Custom, a.k.a., the Tremulator, now Allston's best seller.
"Jay told me he mostly plays jazz now and he really likes his blackface Vibrolux," Lohr said of its design inspiration. "However, he takes his blackface Princeton to gigs because of its size and convenience. So, what I ended up doing is creating a sort of Franken-Fender; I used a Princeton cabinet, but fitted it with a Celestion G12T-75. We then took a standard Princeton chassis, re-cut the hole for the power transformer, and re-drilled the chassis to accommodate the Mercury Magnetics Vibrolux Fat Stack transformer set; it's basically a Vibrolux in a Princeton suit. I added a Midrange control and a post-phase-inverter Master Volume to the front panel – in case he gets the rock-and-rolls again – and moved the tremolo controls to the back panel."
Geils loves the organic versatility of the amp.
"Its Master Volume is really nice. If you want a little more rip, you turn down the Master, turn up the input Volume, and you get that natural distortion. I don't use stompboxes. I use one cord – from the guitar into the amp. I'm old-school (laughs)! With the J. Geils Band, it was the same thing – I never used anything except some phasing, flanging, echo, or reverb or something; but live, it was all amp reverb."
Geils has also been playing with blues master Joe Louis Walker. "We've been doing a B.B. King tribute," he noted. "To me, there are three guitar players that formed everything on electric guitar – Charlie Christian, who was the first guy to play the guitar like a horn; T Bone Walker, who was the first guy to start bending notes; and then there's B.B., who invented the style everybody uses today where you bend the note up and hold it there to add vibrato. That's the essence of electric-guitar playing for rock and blues."
Known for his collection of vintage guitars, Geils recently parted with several in lieu of his renewed relationship with his first instrument – the trumpet.
"I've sold a lot of guitars, including my '59 Les Paul from the J. Geils Band records and when we played Fenway Park with Aerosmith in 2010. It still screams, and I got six figures for it. When I got back into playing trumpet, I realized that I've never owned a professional horn! I had upward of 60 guitars, now I am down to 20 or 30, but I have 50 trumpets (laughs)."
---
Read Jay Geils' obituary in the VG Newswire.
---
This article originally appeared in VG June 2016 issue. All copyrights are by the author and Vintage Guitar magazine. Unauthorized replication or use is strictly prohibited.
---