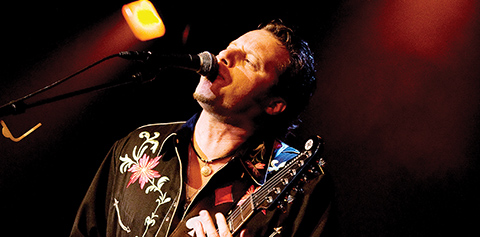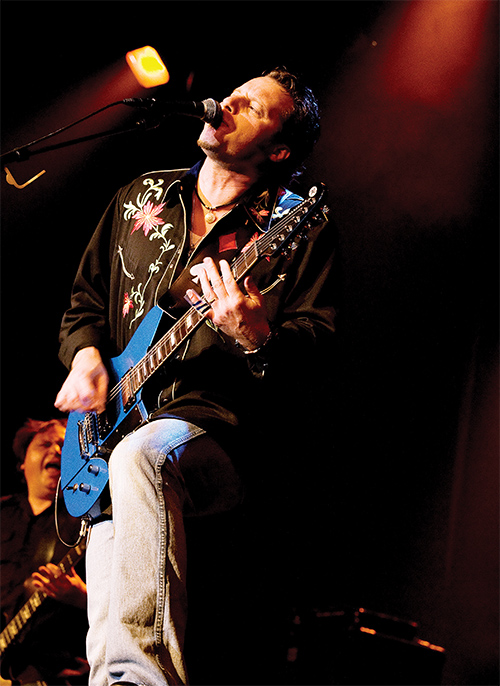 Guitarist Jeff "Jabo" Bihlman has joined forces with King's X bassist Dug Pinnick to release a gritty record that incorporates the blues influences of Texas and Chicago. Grinder Blues is a fresh take on an old tradition. With equal parts ZZ Top, Southern rock, and Delta blues, Bihlman works his mojo via gutbucket slide guitar, earthy production, and moving compositions.
How did you meet Dug Pinnick?
My brother, Scot, and I are buddies with Ray Luzier, the drummer from Korn. Ray was having a barbecue, and Scot met Dug, and they started talking about doing production music. Scot and I have had good luck doing production music and won a couple of Emmys. Dug was interested, so he came to Las Vegas and we started to write songs for commercials. We also started talking about our background in blues; my brother and I are from Chicago, but I wanted to do "seven-string" blues. So, I started messing around with a seven-string guitar, but had a hard time with the gigantic neck. So, Dug said, "Let's just tune down to C." So I slapped some heavy strings on my Tele.
How did you write for Grinder Blues?
The stuff my brother and I do is more Southern rock, and Dug was talking '50s and '60s Chicago blues. So, we started writing from scratch; I started with riffs and ideas and he'd come back with lyrics and melody lines. One of the first tunes I gave him was "Worried Mind," which I had already written, and he came back with a different vocal track. He came to Vegas and we started writing tunes. It came really fast. We weren't trying to reinvent the wheel; we just wanted to have some fun. Everything got a twist. Instead of using a V chord, we'd use a flat V on the turnaround – things like that. We tried to keep the traditional concept, but twist it a bit so it wasn't what people expected.
What gear did you use?
I used one amp on the entire record – my Budda Superdrive 30. It's a 2×12 combo and I use amp distortion. That amp is amazing. I also used an Option 5 Destination Phase – the best phaser ever.
On the slide stuff, I used a Reverend Warhawk. Since then, I got into the Reverend Rick Vito series; the necks on those are humongous. I used a C tuning. Everything else was a Fender American Telecaster and a Fender Powerhouse Strat. We cut the solos live.
I used a Leslie on "Woke Up This Morning" and a wah on a lot of the solos. Most of the delay on the leads was put on after.
Who are your blues influences?
I'm a Stevie Ray Vaughan freak. I grew up listening to Stevie, but I also like Lonnie Brooks, Son Seals, and all the Chicago guys. I was a huge Sugar Blue fan. I cut my teeth playing blues jams in Chicago.
How did your slide playing come together?
I saw Sonny Landreth one time and I was like, "Whoa! Is this even possible?" He turned my life around. I started copping his licks as much as I could… I'm still not in that ballpark.
---
This article originally appeared in VG's April 2015 issue. All copyrights are by the author and Vintage Guitar magazine. Unauthorized replication or use is strictly prohibited.
---